CBI scan on phone calls of Bogtui carnage accused
The move follows after sleuths questioned Anarul for a few hours at a temporary camp on Sunday and then followed it up by interrogating three others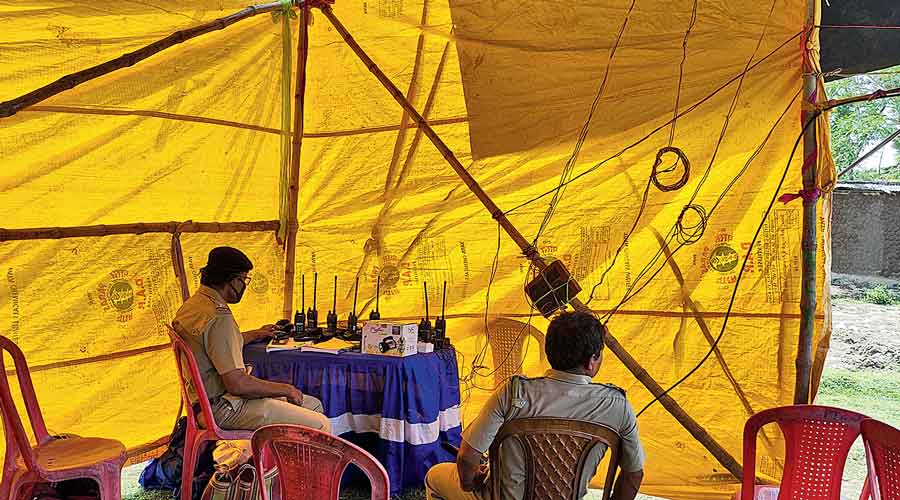 A police camp at Bogtui.
Pritam Das
---
Calcutta
|
Published 28.03.22, 03:00 AM
|
---
There was a series of telephonic conversations between Anarul Hossain, the arrested Trinamul president of Rampurhat 1 block, and several residents of the Boguti village before and after the murder of Bhadu Sheikh on the night of March 21, the CBI has come to know.
In an attempt to get concrete proof, the central agency has begun tracking mobile phones of over a dozen villagers as they want to explore whether there was a clear plot in place leading to the carnage at Bogtui in Birbhum district. Eight persons were massacred at Bogtui following the murder of Bhadu.
The move follows CBI officers questioning Anarul for a few hours at a temporary camp on Sunday and then following it up by interrogating three others, including main accused Azad Sheikh, who were arrested in the wake of the Bogtui carnage.
The detailed interrogation of the four accused was an attempt to understand whether a greater conspiracy was in place and if Bhadu was a victim of a calculated vengeance by a group which had been plotting for days, a section of officers said.
"Since there are several layers in this case and it appears many persons were involved, we would like to tower dump all calls that were made immediately prior to and after Bhadu Sheikh was murdered," said an officer. 
A cell tower dump is a trove of data on the location information of typically hundreds of thousands of mobile phones, which is sifted to identify a small set of suspects.
Officers said the cell tower dump would involve tracking the tower locations and even collecting call detail records of mobile phones of police, local political heavyweights, influential villagers and others between March 21 and 22.
This mode of investigation would reveal the location of police in Rampurhat and Nalhati as well as that of several other persons who are under the scanner of the investigating agency, the officer said. Frequent callers would be selected and the duration of their calls will be tracked as a part of the electronic probe, officers said.
The CBI's FIR has 22 accused in the Bogtui killings.  The CBI's plan, multiple sources in Rampurhat said, has created jitters among several ruling Trinamul leaders in Birbhum, especially in Rampurhat, and senior police officers in the area.
"Bhadu was a Trinamul leader and his followers had gathered at Rampurhat Medical College and Hospital where he was taken after sustaining injuries.… The relationship of these people, most of whom are our party leaders and activists, with local police is really warm. And there is every likelihood of our men and police interacting after the incident. We don't know what the CBI probe will reveal," said a senior Trinamul leader in Rampurhat, worried about the fallout of the probe on the party.
Sources said, 300-400 people, including senior Trinamul leaders like Anarul Hossain and many others, went to the hospital. As soon as the doctors declared Bhadu dead, the situation on the hospital premises turned violent. A large number of people present there raised slogans for befitting retaliation, a source said.
"Soon, more people gathered and they moved to the village.... If the call details reveal how the people were gathered and what transpired in phone calls of leaders and police, it will bring several leaders and policemen under the scanner," said a source.