Cash cheer for workers of closed Bengal tea gardens
In Jalpaiguri and Alipurduar districts, 4,537 permanent workers of 13 tea estates have received the money from the state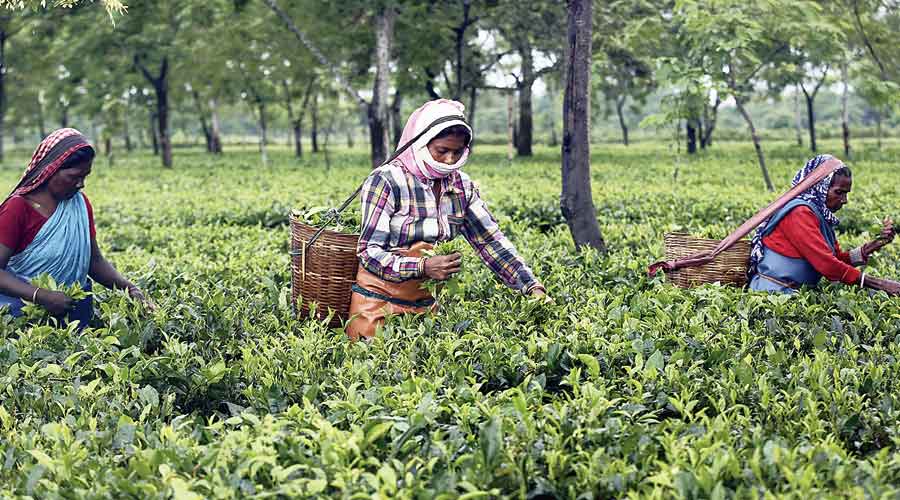 ---
---
The disbursement of financial aid for three months and an additional ex-gratia for permanent workers of 13 closed tea gardens by the state labour department has brought cheers for these jobless workers ahead of the festivities.
In Jalpaiguri and Alipurduar districts, 4,537 permanent workers of 13 tea estates have received the money from the state, sources in the labour department said. 
In closed tea estates, the state government pays a monthly assistance of Rs 1,500 to the permanent workers under the FAWLOI (Financial Assistance to Workers of Locked Out Industries) scheme.
Added to it, the state has paid an ex-gratia of Rs 1,500 for the Durga Puja to each of these workers. 
"In Jalpaiguri district, we have paid three months' assistance, that is, Rs 4,500 rupees, and the Rs 1,500 ex-gratia among workers of Redbank, Surendranagar, Dharanipur, Manabari and Raipur. In all, each worker of these gardens has received Rs 6,000 ahead of Durga Puja," said Rajat Pal, the deputy labour commissioner of Jalpaiguri.
However, the disbursement of cash assistance among workers evoked a mixed reaction among trade union leaders. While on one hand they appreciated the state government's gesture, they also simultaneously demanded that steps be taken to reopen these gardens.
"It is good that workers of closed gardens have been paid assistance and ex-gratia. But a number of tea gardens are lying closed for years now and no initiative has been taken by the state or the Centre to re-open them," said Mani Kumar Darnal, a central leader of Intuc-backed National Union of Plantation Workers.
Tarun Roy, the district general secretary of Bharatiya Mazdoor Sangh in Jalpaiguri, spoke on similar lines.
"This cash can provide interim relief to workers but monthly assistance can never solve the problem permanently. The state should focus on reopening the tea estates," he said.
The dole extended by the state to the jobless workers is yet another attempt by Trinamul to woo the tea population, political observers said.
"A considerable section of the tea population voted the BJP in 2019. Trinamul is desperate to try and win back their support," said an observer.
District Trinamul leaders, however, pointed out that the state government had been doing a lot for tea workers, "unlike the Centre".
K.K. Kalyani, the Jalpaiguri district Trinamul president, alleged that the Prime Minister and other BJP leaders had made certain promises to the tea workers but eventually had not delivered on them.  "Our chief minister and the state government, however, are putting every effort to stand by the tea workers," Kalyani said.