Call for SKM report on quota
Limbus, Tamangs push for Assembly reservation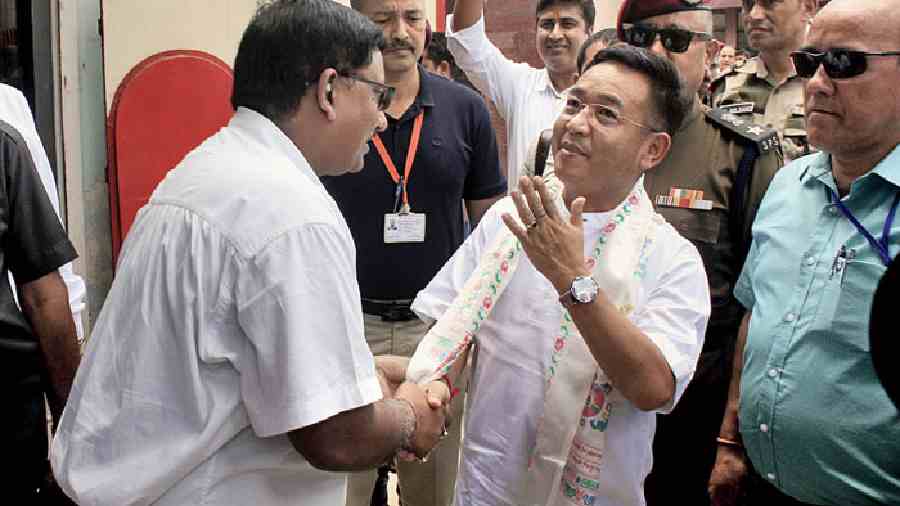 Sikkim CM Prem Singh Tamang
---
Siliguri
|
Published 06.12.22, 05:51 AM
|
---
An organisation representing Limbus and Tamangs has asked the ruling Sikkim Krantikari Morcha (SKM) to make public the formula for reserving seats in the Assembly for the two communities as suggested by the party-appointed panel.
Mukkum Hang Limbu, the publicity secretary of the Limbu-Tamang Voluntary Committee (LTVC), said on Monday that the SKM Consultation Committee on Limbu-Tamang seat reservation was supposed to have submitted its final report to party president and chief minister P.S. Tamang (Golay) last month, but the details were yet to be out in the public domain.  
"The LTVC requests that the formula for Limbu-Tamang seat reservation as incorporated in the final comprehensive report (of the SKM panel), along with its corresponding logic, be made public," said Limbu.
The Limbus and Tamangs were granted Scheduled Tribe status in 2003, but they are yet to be given quotas in the Assembly in proportion to their populations in the state as mandated by the Constitution.
In the run up to the 2019 Sikkim Assembly elections, the SKM had promised to provide quotas to the two communities immediately upon coming to power, but its three-and-ahalf-year-old government has not done so.
The previous Sikkim Democratic Front (SDF) government, too, had failed to ensure the seat reservation for the two tribes despite repeatedly reaching out to successive central governments.
The SDF government had suggested reserving five seats for them by increasing the strength of the Assembly from the present 32 to 40 seats.
The SKM had formed the consultation committee in April with a brief to  reach out to the Limbu and Tamang communities for their inputs and suggestions before preparing a report to be submitted to the party president.
Late last month, the committee had said the final report was ready for submission to Golay. The committee also disclosed the names of various organisations of the two tribes whose views had been incorporated in the report.
They include Sikkim Tamang Buddhist Association, Limbu-Tamang Voluntary Committee, Joint Action Committee, Sikkim Limboo Tamang Apex Committee, Sikkim Limboo Youth Association, Sukhim Yakthung Sapsok Songchumbho, Yakthung Sapsok Saplon Chumbho and Sukhim Yakthung Nichamsa Saplon Chumbho.
The LTVC spokesman said the SKM should also  make public the memorandums and inputs provided by all the participating organisations.
"Sikkim MP Shri Indra Hang Subba should raise the demand of the Limbu–Tamang seat reservation in the Parliament during the upcoming winter session, making clear the formula and official stand of the SKM government," he added.
The LTVC reminded the SKM that it had come to power by promising the seat reservation and the time had arrived for the two communities to seek answers on the issue from its government.