Women help families get back on track in the Sunderbans
The groups are spread across eight blocks — Kakdwip, Patharpratima, Mathurapur I and II, Joynagar I and II, Basanti and Canning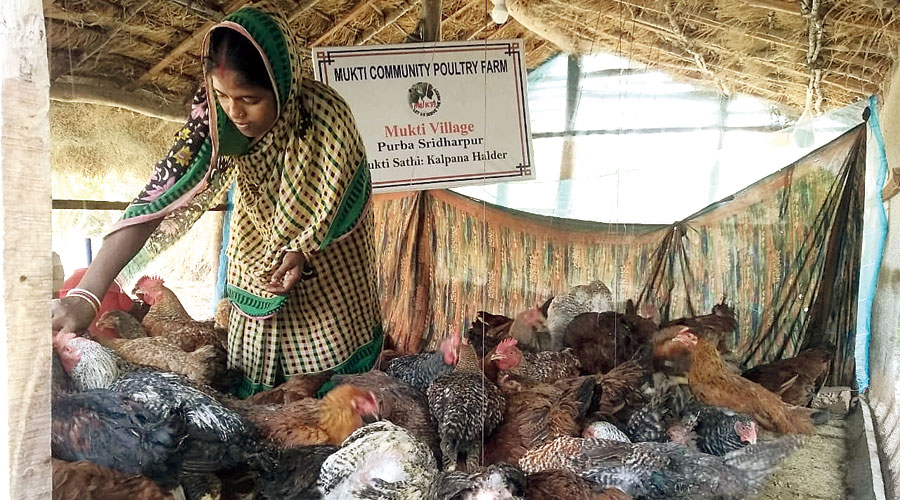 ---
|
Calcutta
|
Published 30.10.20, 02:14 AM
---
Thousands of families in the Sunderbans, ravaged by the twin blows of the Covid pandemic and Cyclone Amphan, are inching towards a marginally better life because of a campaign led by women of the area.
The women are also spreading awareness about the threat of human trafficking — the delta, already infamous as a hotbed, saw a sharp spike in the number of women trafficked in the aftermath of Cyclone Aila, which struck in 2009.
The efficacy of the anti-trafficking drive will be tested after the resumption of trains, said Sankar Halder, the founder of Mukti, the NGO funding and mentoring the women.
A network of women self-help groups, which counted around 5,000 members before the pandemic, has now reached out to over 20,000 people, said a Mukti official.
The groups are spread across eight blocks — Kakdwip, Patharpratima, Mathurapur I and II, Joynagar I and II, Basanti and Canning.
Income
Mukti is funding the first phase of small businesses started by many women — raising chickens, organic farming and making a variety of products from incense sticks to pickle and papad.
A woman each from at least 4,000 families has been getting 10 chicks every month for the past four months. Starting the fifth, a woman has to return one adult chicken every month. One chick grows into a chicken of around 2.5kg in four months. The price of one adult chicken is equal to 10 chicks.
"The wholesale price of country chicken is around Rs 160 per kilo. If a woman sells 10 adult birds (each around 2.5kg), she earns Rs 4,000 every month. Raising free-range chickens does not need investments associated with farming of broilers like cages and regular feed," said Raghunath Bairagi, one of the Mukti volunteers overseeing the project.
The NGO tries to train women in things they are not entirely unfamiliar with.
"For someone who used to be an agricultural labourer, organic farming is a natural progression. We give the members assistance — from production to market sale," said Mahamaya Bhowmick, 36, the president of a committee of 10 women in the Patharpratima block. There are 25 such committees, each with 10 members and mentoring close to 1,000 women in their area.
Leadership
The NGO started with involving women in the distribution of ration and other relief materials in the wake of the twin blows of Covid-19 and Amphan.
Help and donations had come in from various quarters, including the German consulate in Calcutta. The distribution camps were helmed by local women, who were also recipients of the relief. "This gave the women a sense of ownership and empowerment. There was not a single allegation of any wrongdoing," said Halder.
As for earning a livelihood, not every woman has started doing something but many have realised that the fightback has to start somewhere.
"We cannot sit back and watch, weak and hungry," said Bhowmick, who lives in Dakshin Kashinagar village in Patharpratima, over 110km from the heart of Calcutta.
Tens of thousands of houses in the Sunderbans were damaged, many of them grounded, by Amphan. The invasion of saltwater has rendered swathes of farmlands infertile.
Bhowmick's home had its roof blown away. A stationery shop run by his husband was also damaged. Both are now repaired, with money earned by Bhowmick.
She has been supplying incense sticks to retailers and wholesalers for over two years now and makes around Rs 5,000 a month.
Fresh wound
Close to a million people in the delta were said to have been displaced or affected by Cyclone Alia in 2009. A lot many of them were trafficked to other cities and forced into prostitution.
The women of Mukti are desperate to prevent a rerun.
The 250 representatives — 10 members each of 25 such groups — are being provided with smartphones by the NGO. They are also being tutored on how traffickers look for vulnerable girls, what are the "baits" and how a simple message or missed call can lead to grave danger.
Each woman is then spreading the word by holding informal chat sessions with other women in her neighbourhood. They are also keeping an eye on teenage girls.
Many families have landed in abject poverty because of the pandemic. An offer of a job is irresistible for many young women. Many parents are considering getting their minor daughters married to men who do not demand dowry. Traffickers are always on the lurk for such vulnerable girls.
"In many cases, a trusted neighbour or relative turns out to be a trafficker. We are telling these things to the women as well. Caution is the best defence," said Manasi Halder, the leader of another committee in Raidighi in the Mathurapur II block.
Halder, the founder of Mukti, said women were the worst sufferers of any economic crisis. "In the aftermath of Aila, there was a huge spike in trafficking cases. We are determined not to let the same thing happen again," he said.
"Economic empowerment is the key to combat the threat of trafficking. We are trying to do that. But our real test will start when the train services resume," he added.