Death knell for Sunderbans
Surge in movement of water from sea to land feared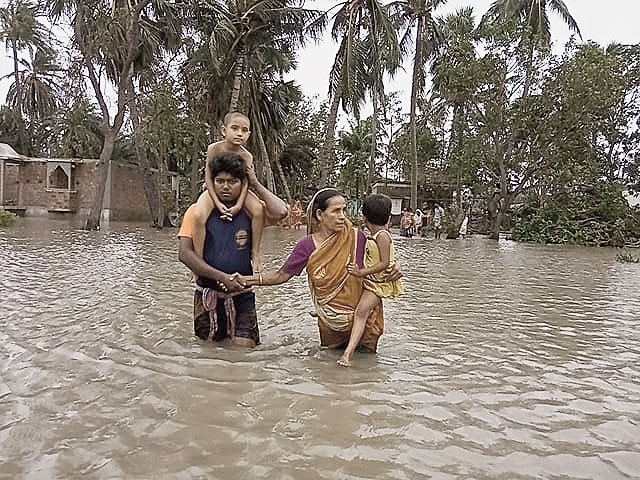 ---
|
Calcutta
|
Published 21.05.20, 09:31 PM
---
Rising salinity in water will put tens of thousands of people out of work in the Sunderbans in the aftermath of Cyclone Amphan, like it did after Cyclone Aila.
But unlike 2009, when Aila struck, affected people do not have the option of migrating to Calcutta or other cities in search of work because of the Covid-19 pandemic.
"A reverse migration is taking place because of the novel coronavirus with tens of thousands of people returning to the Sunderbans. The storm is like a death knell for these people, already dependent on government and NGO support," Sankar Halder, founder of an NGO that works in several blocks of the Sunderbans, said.
A survey by the NGO in five of the 29 blocks had revealed that close to 5,000 families were staring at starvation during the lockdown.
Winds blowing over 150kmph battered the Sunderbans at the time of Cyclone Amphan's landfall, leaving a trail of destruction. But the direction of the wind is feared to cause a more lasting damage than the wind.
"South to north winds trigger a surge in movement of water from sea to land. The cyclone had winds blowing from south southwest to north northeast. Cyclone Aila had north to south winds, but Amphan being a stronger system, the slightly changed direction of the wind was not a hurdle in seawater inundating land," a Met official in Delhi said.
Bulbul in November 2019 had generated faster winds than Aila, causing large-scale destruction but the direction of the wind was north to south, sparing the delta.
The bulk of the river embankment across the Sunderbans has been destroyed by Amphan, aggravating the ingress of saltwater into the land.
"Aman (a variety of rice) seeds are sown in June. The stagnant saline water in the farmland will make it impossible this year. The sweet water bodies will be filled with saltwater making them unfit for irrigation," Chandan Maity, the headmaster of Krishnachandrapur High School in Mathurapur in South 24-Parganas, said.
A forest official, who had spent a lot of time in the Sunderbans in the aftermath of Aila, said pumping out saline water from farm and water bodies was a Herculean task that called for proactive government intervention and international funds. "It is likely to take months with the best efforts."
"We have grown used to damaged houses, uprooted trees and dead livestock after storms. We can rebuild houses but saline water is a monster that kills us slowly. Aila happened in 2009; some areas retained saline water for almost three years," Maity said.