West Bengal Polls 2021: 'My trump card is the work I have done'
Sitting MLA of Trinamul Congress – Sujit Bose engages in a candid chat with The Telegraph Salt Lake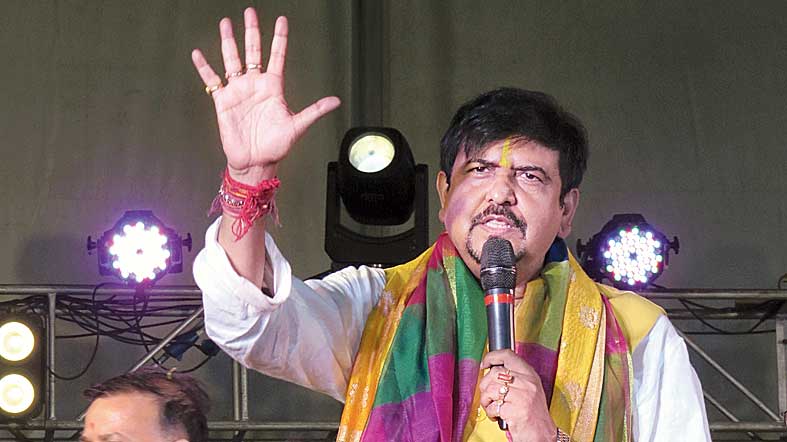 Sujit Bose
Sudeshna Banerjee
---
Salt Lake
|
Published 09.04.21, 05:59 AM
|
---
It may be election time but Sujit Bose's office on the ground floor of his Sreebhumi residence is full of ordinary citizens who have very day-to-day issues to be sorted. The sitting MLA and Trinamul Congress candidate seeking re-election has just returned from the day's first leg of campaigning at lunchtime but lunch is far away, what with the steady flow of visitors. Someone wants help with admission to Bidhannagar Government High School, someone complains about payment being stuck in red tape while another needs help with hospital admission. Bose deals with each case, issuing relevant instructions to his office assistants when needed, and finally turns to take questions from The Telegraph Salt Lake.
Your competitor Sabyasachi Dutta thinks it is a walkover.
He needs to know what walkover means. Being a former cricketer and footballer, I do. You get a walkover when your opponent does not turn up for the match. Here I am very much present!
Would you say it is the toughest contest you have faced?
I have fought against Subhas Chakraborty too. I do not think about who I am contesting against.
Will this be a Narendra Modi versus Mamata Banerjee fight?
Assembly election is about the candidate, whether he has delivered in his last term. I have devoted 18 of 24 hours in a day to serving people. You are seeing what I stay busy with. In his four years as mayor, he (Dutta) could not prepare a single DPR (detailed project report). All that he has done is build a separate lift in Poura Bhavan for the mayor. We prefer to be with people. Obviously he does not. Residents could not get a trade licence or a mutation certificate. Even residents of his constituency come to me to get documents signed as their MLA is beyond access.
What is your trump card?
My work. (He produces a 62-page booklet that lists out the work done in his tenure and the amount allotted by him from his fund for each project over 10 years). The water treatment plant project got stuck when he (Dutta) left. I managed to fast track the project. It got inaugurated in Salt Lake before the Pujas. For long, the roads were crying for repair. He escaped without doing anything. I had to get involved in Corporation matters. Now repairs are being done across Salt Lake.
He was bent on giving the contract to install LED lights to a private firm of his choice. There were regular debates on this in the mayor-in-council meetings. The matter reached Nabanna and the tender was found to be faulty and scrapped. Now the same job is being done across Salt Lake through the government's own Webel at a fraction of the cost his chosen firm had quoted.
In South Dum Dum, we are doing a big water supply project. A Rs 285 crore water treatment plant is coming up in Bangur Avenue. It will produce 15MGD (million gallons per day) water. An intake jetty is being built in Kamarhati from where water from the Hooghly will be pumped in over a 13km pipeline to be filtered and distributed in south Dum Dum. This will take care of the area's water requirement for the next 20-25 years. It got delayed by the lockdown. I expect it to be ready by the year-end. That created a lot of controversy.
Yes, they did their best to derail the project, went to court and what not. What was filled up were ditches of dirty water. We increased greenery and ensured proper drainage. Both sides of the Kestopur canal — Lake Town and Salt Lake — were renovated for 2km. A Bailey bridge now connects the two sides.
Your rival is talking of a banquet hall being developed …
What do (building materials) Syndicate leaders know of development work? Bhojai (Samir) Sardar and Sabyasachi Dutta are Syndicate leaders. Both are contesting this election. Ora eent-bali-chun-surkir jonno thik achhey. I have worked to develop hospital, school, college, playgrounds… This booklet will tell you at a glance what all I have done. Ask him to fill up a single page with his work. He will fail. I have built the clock tower, rehabilitated people from Duttabad displaced by (East West) Metro…
Apparently they have still not got possession papers…
It is under process. They have been given the keys to the apartments. They have all got possession. Railways delayed the paperwork. I spoke to KMDA yesterday. The department secretary said it is ready. They will get it after the election.
We are giving patta to people in slums. We have done so in Dakshindari, Patipukur and Lalkuthi. It is a great decision by the chief minister to give possession to people who are occupying government land for many years. We will give it in Duttabad also. As far as I know, all the land there belongs to the urban development department. If anyone can prove individual ownership, we are not going to snatch away his land. Even he will get possession and get a house built under our Banglar Bari scheme. He (Dutta) did not even give water to Duttabad while he was mayor. In fact, he had opposed water connection. I arranged for the supply. Jedin Duttabad ey mic dhorbo, sedin shob bujhie debo. He had removed hawkers from Salt Lake.
Our government has a policy. If we evict hawkers, we will rehabilitate them. Mamata Banerjee does not snatch livelihood of poor people. Sabyasachi Dutta does not evict hawkers in BF-CF Block but does so elsewhere. Does he know how many poor people from Mahisbathan, Polenite or Nayapatty earn a living from hawking in Sector V? I am their committee chairman. Stalls are being built for them. These poor people provide cheap food to the 50-60,000 people who come to work in Sector V. Jibone ekta eent gnatheni. He has not done a single thing in his mayorship.
Dutta is blaming you for resettling people evicted from Central Park next to Okakura Bhavan. He is saying they are Bangladeshis.
When they were evicted to make space for the Book Fair, they were resettled on land owned by the urban development department. The police checked their voter ID card. Only those who had documents were resettled. O bolbe, or matha cholchhe na. Hotasha theke eshob bolchhe.
Are you worried about the BJP support base among the Hindi-speaking voters?
To me, all voters are same. I do not distinguish. I talk only of my work. Bidhannagar Subdivisional Hospital has developed in front of your eyes. Just as the health department has sanctioned funds for it, so has the MLA. I gave almost Rs 30 lakh there. I had written to the government for fair price medicine shop, ICCU and blood bank there. All three have opened. Dialysis unit is coming up.
Are you worried about the lead BJP got from this Assembly segment in 2019?
The Lok Sabha elections are a different ball game. In the Assembly election, people want the Mamata Banerjee government to continue in office. They will see how much work Sujit Bose has done.
Many of your party colleagues shifted allegiance to BJP recently.
Doler shob Bibhishon chhilo. Dosh bochhor sorkar er shob sujog niyechhe, tarpor paliyechhe. Du ekjon dol-ey thekeo kshoti korechhe. They harmed us even in the 2016 election from inside. I know how they did so. I want peaceful, free and fair election. Bhojai Sardar is also contesting. People know what his background is. He stands as independent candidate every time Sabyasachi contests. I do not want an election conducted by Bhojai Sardar.
Dutta is claiming you tried to join BJP and met the leadership twice.
Who is he that I have to counter him? Not everyone has sold their spine like he has. I have some ideology. Have mad dogs bitten me? I am a minister in the government. I am trusted by the chief minister. Politically I am senior to him. Top people in the world of sports and culture nationally know me. Diego Maradona came to inaugurate his own statue here. Let him say what he wants. The answer will come in the ballot box.