Bengal Polls 2021: With electoral paraphelpia missing, is BC road less political?
Do they talk politics behind the big gates?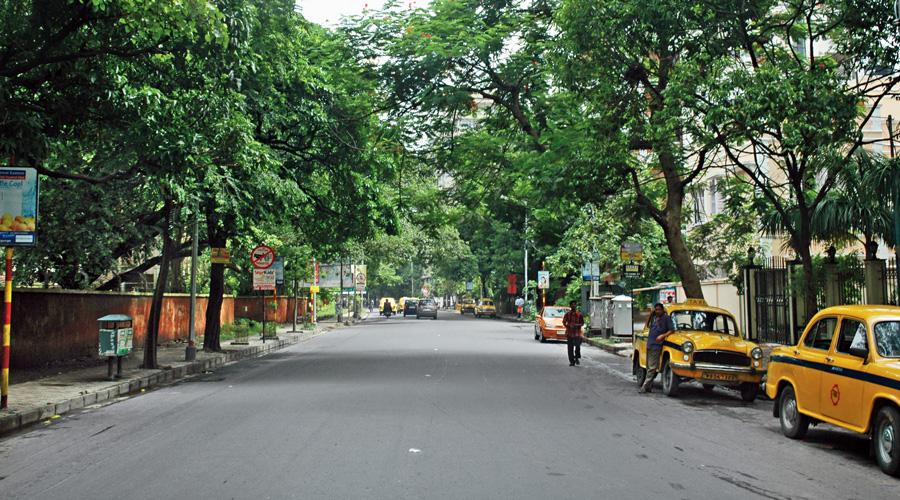 ---
---
There is no more telling an address where the hackneyed Election Juggernaut slows to a crawl. Other than glow signs featuring a beaming Narendra Modi at some bus stops and handbills seeking votes for Subrata Mukherjee, BC Road betrays not too many sights and sounds that must engulf Bengal in election season.
The south Calcutta neighbourhood is usually happy minding its own business — which is considerable, considering the unmistakable signs of wealth that peep through the nonchalant air the stretch affects — and gives the impression that it wants others to reciprocate the disinterest in the affairs of others.
The Telegraph did not risk knocking on the doors because of the pandemic but tried to get past some of the intimidating gates on BC Road over phone to connect with a few residents of the prosperous belt where Old Money and the nouveau riche have learnt to live with each other.
The objective was not to gauge the mood — the sample size was too small to reach any credible conclusion — but to gain an insight into what goes on behind the seemingly placid environs encircled by a choppy sea of electoral politics.
The ground rules were assurances that those who want to remain anonymous can do so and disclosure of their political preferences is entirely voluntary. The sole condition that they should speak their mind.
Quick takeaways from the dial-up:
⚫ Electoral paraphernalia may be missing but BC Road is as political as they come.
⚫ Almost all wanted to be anonymous. Few, including those who live in one of the safest zones in Calcutta, want to take chances when it comes to politics.
⚫ Not all have taken decisions driven by emotive issues. Careful consideration has gone into weighing the pros and cons and then reaching a conclusion.
⚫ In spite of prosperity and good station in life, two persons confirmed that there are takers for the conspiracy theories that are spun about Muslims. One person said Murshidabad looked like a Muslim country, conveniently forgetting that an overwhelming majority of districts in India also have highly visible Hindu symbols. The two persons showed a remarkable familiarity with Amit Shah's discourse on the Bangladesh economy.
⚫ Some did speak their mind. A few were frank, frighteningly so. At least one who got married right after school acknowledged that her source of information is the so-called "WhatsApp University".
Senior citizen
Presidency College alumnus
Former teacher
Lives in a bungalow with spouse
Children settled abroad
Very worried about the election. Cannot tell you which party I will vote for. We grew up in a cosmopolitan society. In school and college, we were taught to be inclusive. We want a better society, a safe country for our children to come back to. But I can see that today there is a lot of divisiveness all over the country.
I have not been travelling much within the country in the last few years but get to hear from friends and relatives living outside Bengal that in other states the economic conditions are probably better. We need economic growth, jobs in the state, especially after the pandemic. But we also need a society where women feel safe and we do not see any human rights violations.
Retired management professional
Ex-IIT, ex-IIMC
Husband of the teacher mentioned above
This might be an Assembly election but it has national significance. We need to think very carefully. The current state government's performance is nothing to write home about. It is a city of retired people, nothing to keep the young generation here.
But if we look at the central government, certain radical economic measures taken did not instil confidence — like demonetisation and the GST implementation. The demonetisation sucked out the liquidity from rural areas and GST implementation was a disaster.
Socially, the country is bifurcated.
Step out of the city and it is very apparent that there is a higher percentage of Muslim population — much higher than the national average. Though we have been brought up not to differentiate between people on the basis of religion, it is alarming.
But again, we also do not need to be at the other extreme. Having to prove one's patriotism, having to chant Jai Shri Ram, all these are extremely worrying. And at our age, we really cannot accept a change in the concept of India we grew up with. India and Bengal are a cosmopolitan country and state where everybody, including the Hindus, Sikhs, Jain, Buddhists, Christians, Muslims should love to live together.
Airlines professional
30-plus
Lives in a bungalow
We need the same party at the helm at the Centre and in the state. Makes processes easier. Look at how Uttar Pradesh is developing. Why do people leave Bengal? Where are the jobs, where is growth?
I don't think demonetisation was a failure, a lot of black money is out of the system, GST implementation has had a few hiccups but most traders, exporters believe things have been simplified.
We are making progress. I wish the intelligentsia, instead of criticising the government, contributes to policy-making. We are from Murshidabad. In Murshidabad, you will feel like you are in a Muslim country. Much of our property has been occupied by Muslims from across the border.
In Bangladesh, the fruits of development are being reaped by the top layer. The poor are still coming here. I have a lot of Muslim friends, I work for an airline in the Middle East. I have nothing against the educated, non-radical Muslims.
But here the population of Muslims has multiplied. In the Burrabazar area, a lot of Muslims are buying up property at exorbitant rates. The money is coming from the Gulf. Suddenly, areas like Lake Town are bustling with burqa-clad Muslims. It's not just Park Circus or Beckbagan.
Former political science professor of a CU college 79
Lives in a bungalow alone
Children are abroad
I will not go out to vote this time because of the surge (in Covid cases) though I have exercised my voting right every election, including the last Lok Sabha polls. My priority now is to keep myself safe. But I try to follow politics and feel Mamata Banerjee will win though her winning margin might be less than before. The BJP might win a few seats but will not be able to capture power here. The party, unlike in other states, cannot make a dent here because Bengalis owing to their culture cannot identify with them. The BJP is a parochial party and cannot understand the Bengali ethos and will try to impose its own hegemonistic culture here.
On the other hand, Mamata has tried to work for the people within the limitations that she has. Her work is mostly for people who form her votebank. She gives them doles, builds roads and hospitals.
The intelligentsia here might vote for the Left, particularly Jadavpur University academics, but the Left's tie-up with the Congress and the ISF does not really bode well. It's an opportunistic alliance for elections.
Senior corporate executive
70
Lives in a highrise apartment
I will vote for the ruling party here. The Left-Congress alliance might win a few seats but ultimately it's a fight between the TMC and the BJP. Of the two, the TMC is the lesser evil.
If jobs and growth are the issues this election, both were going down in the rest of the country from before the pandemic. Covid is not the excuse. The two central government moves of demonetisation and sudden lockdown have dealt a lethal blow to the economy. Of course, the BJP has its strengths, like taking decisions much faster. But when you take decisions fast, you don't consult and you do not consider what can go wrong.
Again, the central government has done a good job with GST, has been allowing other vaccines developed in advanced countries to come here.
But polarisation is the worst thing that has happened this election. And it is a permanent damage. You have stirred the pot. Don't think that things will go back to what it was just by putting out the fire. Look at Amit Shah talking about Bangladesh. Even when his foreign minister asks him not to talk, he still does. All the good that might have come from Modi's visit to Bangladesh gets nullified.
Agree that there has been some Muslim appeasement but it should not have been treated so roughly. Tomorrow you can't tell me to read my newspapers in Hindi and become a vegetarian. You can't kill people because they store beef in their fridge, and form anti-Romeo squads.
Bangalorean
45-plus
Self-employed
Had dropped in at a friend's home on BC Road
Vote for change. Vote for the BJP.
Three major reasons: Jobs. Generation after generation of the youth are out of Calcutta, it's a dead city. Jobs needed at the cost of everything.
The BJP isn't rocking at the Centre or in the states it is in power but even then, we need to give them a chance here, they can do something for this state since nothing is here. They will bring their capitalist cronies here and create jobs. Trinamul has no organised plan or growth strategy
Corruption. It's embedded in Bengal.
Increasing Muslim population: Changing demography. Muslims are still coming from across the border. Bangladesh's growth is skewed, the top 3 per cent are reaping the benefits of growth, the poor in Bangladesh are still seeking better lives here.
India is secular as long as Hindus are in majority.
Beef and mutton are available in Bangalore, it's not as if all shops are shut in Karnataka where the BJP is in power.
Engineer 32
Lives in Baroda and works for an MNC.
Grew up at his BC
Road home and has his vote in Calcutta
Will vote for the Left-Congress combine for change. Can't vote the BJP for its ideology. I don't believe voting for the Left will help the BJP. Want media to give same coverage to the Left as it does to the TMC and the BJP. I have a major grouse against the syndicate culture and corruption. No wonder bridges and flyovers crash in Bengal.
Hindi imposition is not welcome, nor is the TMC's open invitation to people from Bihar, letting them do Chhath Puja….
Content provider
Wife of engineer
mentioned above
Will vote for the BJP. Women are safe in BJP country. I have seen women in Baroda and wish Calcutta women had a life as safe as theirs. Jobs are the main issue. Yes, I know the BJP doesn't have a good economic record but even then, we need change after 10 years of TMC.
Hindi and Hindi culture cannot be imposed by the BJP if Bengalis don't want it.
Homemaker
Lives in Alipore
Visits friends, boutiques on BC Road
We were taught certain things in school like unity in diversity and secularism and all that. But now I read the WhatsApp forwards and I have truly begun to understand the politics that went on during the Independence movement and Partition. Why did Nehru have to make India a secular country? We, like Pakistan, should have been a state for Hindus — Hindustan, Sthan for Hindus.
Because of Nehru's politics and the Congress, and now the TMC, we have extremists from the Muslim community spreading so much hate. I saw on a Bangladeshi television channel a Muslim spreading hate.
I feel the future of the coming generation is not secure in our country. Every religion in the world has their own land, but ours does not.
In 1962, China took Aksai Chin from us, then the Bangladesh war happened, slowly our territory is going. Recently I heard a member of the community saying that north Bengal, the neck of eastern India, "will be ours". They have bought off 10km of land along the border.
And they are being aided by people from the Middle East.
So long we treated the other community members as equals, what is the result? We have been very resilient. And they have spread hatred.
Salim-Javed made so many Bollywood films, not a single hero belongs to the Muslim community but all the Mumbai dons are Muslims.