Bengal Polls 2021: Trinamul Congress hopes to retain Jorasanko
The seat, which votes in the last leg of the polling on Thursday, comprises around two lakh voters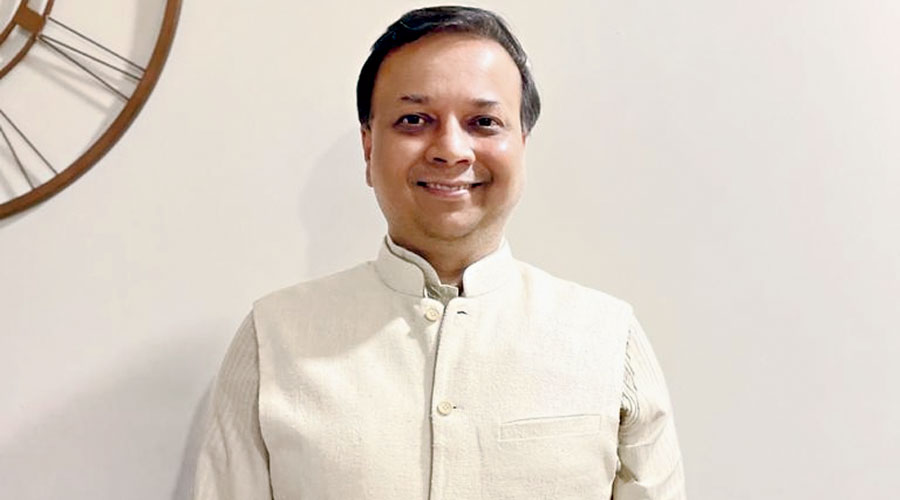 Trinamul candidate Vivek Gupta.
Sanat Kr Sinha
---
Calcutta
|
Published 28.04.21, 01:53 AM
|
---
If there is one seat in Calcutta where the BJP flags and posters match, if not outnumber, those of Trinamul, it is Jorasanko.
The seat, which votes in the last leg of the polling on Thursday, comprises around two lakh voters. A sizeable section of them is from the trading community in and around Burrabazar, a segment the BJP considers its vote bank. The BJP's candidate from the seat is Meena Devi Purohit, the councillor from Calcutta Municipal Corporation's Ward 22 (Burrabazar) for over 20 years.
Hoping to dent the traders' vote bank, Trinamul has fielded Vivek Gupta, a former Rajya Sabha member from the party, editor of Hindi daily Sanmarg and a Marwari himself. Also in the fray is the Congress's Ajmal Khan, the Sanjukta Morcha candidate. Purohit's image as a Marwari homemaker who lost her husband in an accident, had worked to her advantage at the start of her political career. Having won Ward 22 so many times, the 60-year-old — who, for five years from 2000, had been deputy mayor in the Subrata Mukherjee-led Trinamul-BJP civic board — now wields a significant clout in Burrabazar.
Her ward is still not free of the ills of indiscriminate garbage disposal, illegal parking and encroachments. Yet, Purohit, or Meenaji, as she is known in Burrabazar, retains her pull among the electorate.
"She is one of our own. She is accessible, always available on the phone. She has not changed in all these years," said a 54-year-old trader on Kali Krishna Tagore Street, a few metres from Purohit's home and election office.
On Monday, inside her office, a young man touched her feet for a "favour" Purohit had done him. Minutes later, when this reporter was talking to her, an old lady walked up to her and said something in her ears. This time, Purohit bent low to touch the woman's feet. The woman blessed her and left.
"I have been working for people here for the past 25 years. People who have been pitchforked from outside have to prove their worth," Purohit told this newspaper.
A "permanent solution" to the partially fallen Vivekananda Road flyover and special focus on the education of girls will be on her "immediate to-do list" if elected, said Purohit.
Jorasanko is part of the Calcutta North constituency, which Sudip Bandyopadhyay of Trinamul won in 2019. But the BJP candidate, Rahul Sinha, led from the Jorasanko Assembly segment.
In 2016, Smita Bakshi of Trinamul won Jorasanko, defeating the BJP's Sinha by around 7,000 votes.
Gupta, the Trinamul candidate in 2021, sounded upbeat. "I challenge Purohit to list five achievements as a long-standing councillor," he said.
Gupta said a solution to the traffic mess, employment generation for local youth within the trading hub of Burrabazar and development of Jorasanko — the birthplace of Rabindranath Tagore — as a tourism hub would be his priorities if he won.
Asked if it was an acknowledgement that his party was unable to do these things despite remaining in power for 10 years, he said: "The Lok Sabha vote was a wake-up call for us."
Gupta is hopeful of winning a large section of the vote share of the business community. "I am a businessman. I have been getting positive feelers from the clan," he said.
Muslim voters — in the Zakaria Street, Colootola Street, Mechhua and neighbouring areas — make up over 20 per cent of the electorate in Jorasanko. Trinamul poll managers are banking on that, alongside a chunk of votes of the old north Calcutta Bengalis.
"If Gupta manages to dent the Marwari vote, we will win Jorasanko again," said a local Trinamul leader.
Ajmal Khan, the Congress candidate, said the BJP and Trinamul were two sides of the same coin and people would vote for a change this time.
"One party speaks for 70 per cent (of the population), another speaks for 30 per cent. But we speak for 100 per cent," he said.