The untold story of Northern Ireland as it turns 100
'Almost 900 international companies have invested here and nearly 75 per cent of new inward investors reinvest'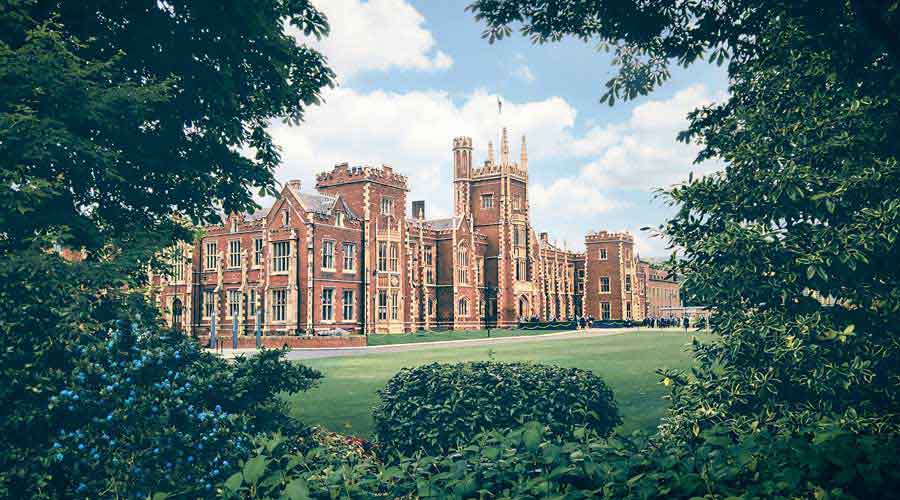 Queen's University Belfast.
K Mitch Hodge
---
Published 04.07.21, 01:46 AM
|
---
In the same way an Indian diplomat in London represents West Bengal, Haryana, Kerala and Maharashtra, I represent the four nations of the United Kingdom: England, Northern Ireland, Scotland and Wales. Those on the island of Britain make up Great Britain. Hence, we use the brand "GREAT Britain and Northern Ireland". 
We are celebrating the centenary of the creation of Northern Ireland. And believe me, as someone who has visited Northern Ireland and fallen in love with the place, it's every bit as GREAT as Britain.  The history of the last century has certainly been complex.  Marking the occasion, Prime Minister Boris Johnson invited people to pause and reflect; but also to celebrate all the brilliant things Northern Ireland contributes. And there is much to celebrate.
The basis of a happy and fulfilled life is education. So, let's start there. Northern Ireland has the best performing education system for primary maths in Europe, and the sixth best in the world. Students consistently outperform other UK regions at GCSE and A-Level. Queen's University Belfast is a member of the Russell Group of 24 leading UK research-intensive universities and ranked in the top 1 per cent of universities worldwide. Ulster University has nearly 27,000 students and one of the largest provisions in computing in the UK and Ireland. It is in the world's Top 150 young universities.
Students flock to Northern Ireland. And so do investors. As Paul Vienneau, CTO of Cayan, puts it "the people of Northern Ireland are some of the most passionate, devoted, dedicated and skilled individuals that I have ever had the opportunity to work with."
Almost 900 international companies have invested in Northern Ireland and nearly 75 per cent of new inward investors reinvest. And why wouldn't they? Operating costs are 20-30 per cent less than the rest of the UK and Europe. Belfast is the world's most Business Friendly City of its size. Let's talk tech. Belfast is the top city globally for fintech development projects and Europe's leading location for new software development projects. Investors include Allstate, CyberSource, Fujitsu, Cayan, BT, Arris and WANdisco. That's not all. Belfast is the leading destination city globally for US investment in cyber security development projects. Gary Steele, CEO of Proofpoint Inc., knows a thing or two about tech. He says "we have been very impressed with the technology ecosystem in Northern Ireland, which shares many of the characteristics of Silicon Valley, including access to world-class cyber security research at Queen's University".
Northern Ireland has a strong engineering heritage with an international reputation. Its companies develop innovative components for the aerospace, automotive, technology, energy and space sectors. One in five of the world'scomputer hard drives has parts made here and Northern Ireland produces over 30 per cent of the world's aircraft seats. CDE Global from Cookstown, whom you'll find across the Hooghly from my office in Calcutta, is the world's number one wet processing equipment company for sand, aggregates and much else.
Innovation is in Northern Ireland's DNA. Lord Kelvin, the father of modern science, was born in Belfast in 1824. John Boyd Dunlop invented the pneumatic tyre there in 1888. In 1917, Harry Ferguson patented the technology that led to the modern tractor. And the portable defibrillator was designed in Northern Ireland in the 1960s by Professor Frank Pantridge. It's a tradition that continues with innovation in the fields of fintech, mobile telecoms, cyber security, digital imaging, AI and remote sensors.
There's more. Much more. Northern Ireland's food and drink products are available in more than70 countries. It's a £5 billion industry and Northern Ireland's largest manufacturing sector. Did you know that Bushmills Distillery is the oldest licensed whiskey distillery in the world?
Northern Ireland is also a global production centre for film and television. HBO's legendary Game of Thrones was filmed in Northern Ireland. Other big names such as Universal Pictures, BBC and Disney have chosen Northern Ireland for recent productions; and Belfast's Titanic Studios is one of the most modern film and television production studios in Europe.
"But what's it really like?" I hear you say. Well, research shows Northern Ireland's people are the happiest in the UK. And with a low crime rate, stunning scenery, fabulous beaches, historical landmarks everywhere, great schools, world-class healthcare and the friendliest people you'll ever meet, it's not hard to see why.
⚫ The author is the British deputy high commissioner to Calcutta. He represents the UK Government in the states of Arunachal Pradesh, Assam, Bihar, Chhattisgarh, Jharkhand, Manipur, Meghalaya, Mizoram, Nagaland, Odisha, Sikkim, Tripura and West Bengal and in the Union Territory of the Andaman & Nicobar Islands. He tweets at @NickDLow