Tallah block on train tracks for 20 days in February
The bridge will replace the one that was pulled down last year after engineers had suggested that it had become unstable and could collapse any moment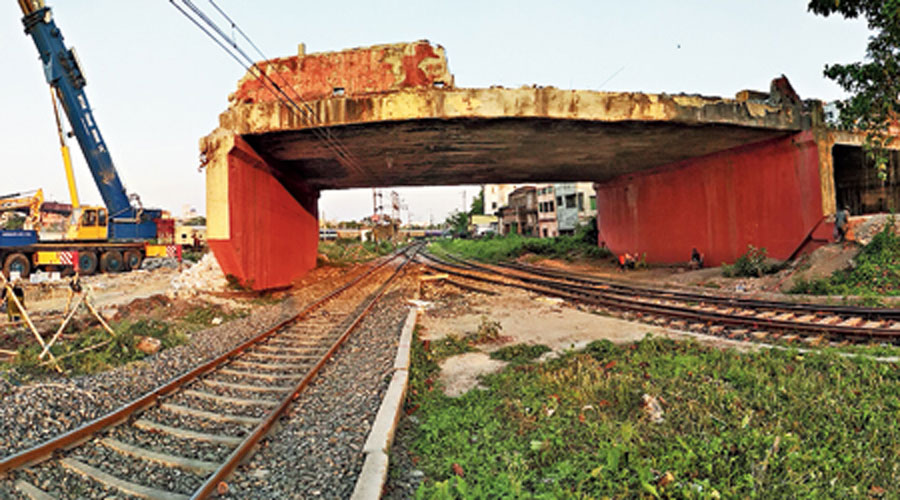 ---
Calcutta
|
Published 29.01.21, 02:16 AM
|
---
Trains on the Circular Railway route connecting Majerhat to Dum Dum will be suspended for a few hours daily for around 20 days in February once the railways allows the PWD to start construction of two pillars of the proposed Tallah bridge.
The 24.58-km Circular Railway tracks run mostly along the Hooghly and through Calcutta's central business district, carrying around 36,000 passengers daily. Railway officials said 14 pairs of trains run on this route, of which Tallah is one of the 14 stations.
A "traffic block" on the route — leading to partial scuttling of the train services — will be required because the PWD wants to start the foundation work of the two pillars immediately. The state government has appealed to the railways to facilitate the construction of the pillars for the proposed rail-overbridge at Tallah, which will connect Calcutta with the northern fringes.
The bridge will replace the one that was pulled down last year after engineers had opined that it had become unstable and could collapse any moment.
Six pillars will hold the 230-metre-long deck of the bridge, which will pass over railway tracks on land owned by the railways.
The two pillars whose construction will necessitate partial suspension of Circular Railway services will come up between train tracks.
"We will try and work out the timings of the traffic block in a manner that would have least impact on movement of trains. The timings will be worked out in consultation with PWD engineers," said a railway official.
"We will require a traffic block from the railway for 10 days each for the foundation work of two pillars," said an official of the PWD, which is executing the Rs 340-crore Talah bridge project.
"Machines will have to be moved in for digging the ground and once the piling work is over, the pile caps will be laid," the official said.