Sleep pays a price in work-from-home regimen
Doctors have suggested that people should stop looking at the computer or mobile screen for at least an hour before going to bed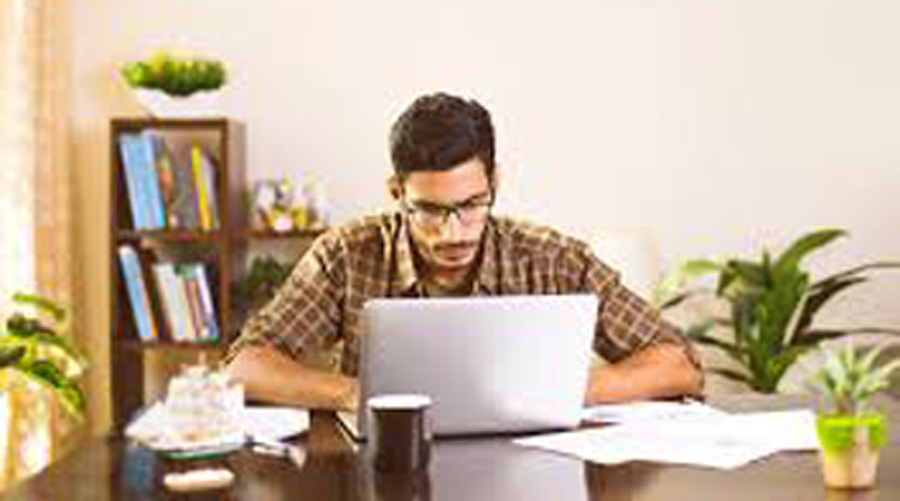 ---
Calcutta
|
Published 20.03.21, 12:57 AM
|
---
Longer exposure to mobile phones and laptop screens and lesser physical activity because of work-from-home schedules have impacted the sleeping habits and led to a surge of complaints about sleep disorders in the past year.
The long-term effects of the disruption to the sleeping habit will be known later but the immediate effect includes fatigue from early morning and irritability.
Doctors have suggested that people stop looking at the computer or phone screen for at least an hour before going to sleep. If the first hour's sleep is disrupted, it will lead to anxiety and irritation, which will further disrupt the night's sleep, doctors said.
"Working from home has meant that people are spending more time on their laptops and phones and this is one of the factors that is disrupting sleep. The number of patients who are now complaining about sleep disruption or change in sleep cycles is about five times more than what I would hear before the pandemic," said Raja Dhar, the head of pulmonology in CMRI Hospital.
"When someone looks at a mobile screen or a laptop screen, the brain receives a photic stimulus. Our brain needs to recover from the photic stimulation before we can fall asleep. So it is always good to stop looking at a mobile phone or a laptop at least an hour before one goes to bed."
Lifestyles changes like lack of activity and being stuck at home also contribute to sleep disruption. A Gariahat resident who has to work till late into the night said he had experienced the problem.
"When I had to go to office, I used to have my lunch at a particular time. Now my lunch time has got delayed. As a consequence, dinner and sleep have also been impacted. Nowadays I often do not fall asleep till early in the morning," he said.
Sleeping disorders are a natural pitfall of urban life and it was growing even before the pandemic, but Covid-19 has increased its spread manifold. Working from home has meant that there is no fixed time for people to log out and relax.
Students are spending a large part of the day in front of computers, attending classes. The elderly are stuck at home, which has meant they are not getting exhausted.
"Earlier, despite all the stress and work pressure in office, people could log out at 8pm or 9pm and then did not have to look at their computer screens at night. But now there is no log out time. People are working even while they are having dinner. Hours of looking at the screen is affecting their sleep," said Arjun Dasgupta, an ENT surgeon who too has been flooded with complaints of sleep disorders.
Spending time outside home also meant that most people experienced some physical exhaustion at the end of the day. That changed following the onset of the pandemic and the subsequent work from home. "Physical exhaustion... conditions the body for sleep. But because of the pandemic everyone is stuck at home. Naturally their sleep is getting affected," said Dasgupta.
Dhar and Dasgupta took part in a discussion on sleeping disorders at CMRI Hospital on Friday.
They both suggested that those who are stuck at home do some physical exercise. People should also fix a time for going to bed and stop looking at their mobile phones or laptops at least an hour before that time. "One has to maintain sleep hygiene," said Dhar.
 Both doctors advised against taking sleeping pills as an easy solution to this problem.