Rain and hail in north Calcutta
Netizens were quick to attribute the hailstorm to the 'reduced pollution and cleansing of nature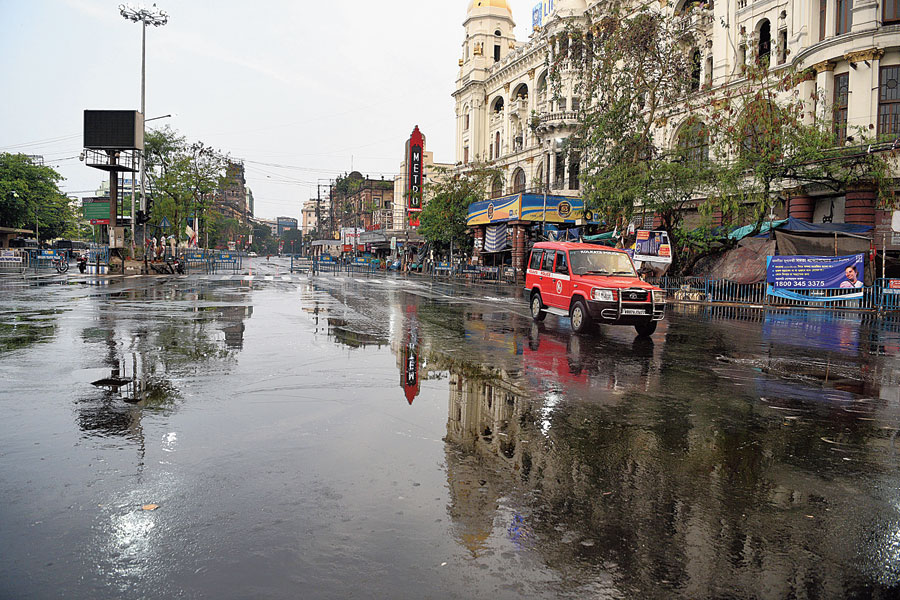 A rain-drenched Esplanade on Sunday evening.
Picture by Gautam Bose
---
Calcutta
|
Published 12.04.20, 08:08 PM
|
---
A brief but sharp spell of rain, accompanied by hailstorm in a few places, came down in the city's northern parts and fringes on Sunday evening.
A local cluster of tall thunderclouds, "shell" in meteorological parlance, over the city brought the showers, a Met official said.
Cossipore and Ultadanga received around 4mm of rain, according to the pumping stations of the Calcutta Municipal Corporation.
Shyambazar experienced a spell of hailstorm around 5.30pm. "A white sheet covered the empty roads in minutes," a resident of the area said.
Netizens were quick to attribute the hailstorm to the "reduced pollution and cleansing of nature" because of the lockdown. But the Met office was not so certain.
The formation of hail could be because of the larger-than-usual volume of thunderclouds that, in places, touched the freezing troposphere, a weather official said. In some parts of the city, the cloud columns were over 12km high from the surface, he said.
"The rain-bearing clouds were formed because of overheating and moisture incursion from Bay of Bengal. There is a cyclonic circulation off the Bangladesh coast," he added.
"The maximum temperature is likely to hover around 36 degrees over the next two days," said G.K. Das, director of the India Meteorological Centre, Calcutta.