Plan to end 'chaos' at airport
Passengers miss flights and several flights delayed because of long queues on first day of resumption of flights to 6 cities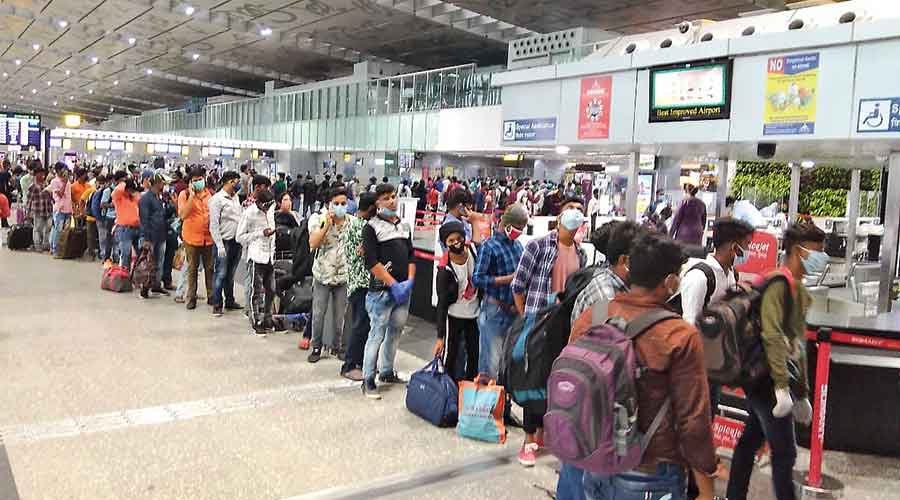 ---
|
Calcutta
|
Published 03.09.20, 05:00 AM
---
Airlines and airport authorities will deploy more people to handle the chaos at Calcutta airport on the days when flights to six cities, including Delhi and Mumbai, will operate, officials said on Wednesday.
Airport and Central Industrial Security Force (CISF) officials and representatives of airlines conducted a survey of the terminal building to find out how the chaos can be prevented.
On Tuesday, many passengers missed their flights and several flights were delayed because of long queues on the first day of resumption of flights between Calcutta and Delhi, Mumbai, Chennai, Ahmedabad, Pune and Nagpur.
"Most of the passengers are first-time fliers and many do not have smartphones to comply with the travel requirements as part of the new Covid-19 guidelines. This is the most significant challenge faced by the airport and airlines and it is slowing down the process of check-in. Airline personnel are helping these people but we will allocate more people to make the process faster from Thursday," Captain Sarvesh Gupta, advisor to the airline operators' committee at Calcutta airport, said.
Airline officials said they would deploy employees outside the terminal building where passengers have been standing in long queues to enter the building.
"They will ask passengers if they have the Arogya Setu app and have done the web check-in, which are mandatory. If some passengers don't have that, they will be taken out of the queue and helped by airline employees to fill up self-declaration forms stating they do not have symptoms of Covid-19 and get the web check-in done," an official of an airline said.
Metro had on Wednesday reported how passengers were stuck at the entrance to the terminal and in the security hold area and that airlines had alleged lack of preparedness on part of the airport authorities.
One of the issues was first-time fliers not having the required documents on their smartphones while some did not have smartphones.
"We have to assist these passengers," Gupta said.
Airport officials said they would deploy more CISF personnel at various points.
"Additional CISF personnel would be deployed at the gates so that those who have all the necessary documents can be cleared by them," airport director Kaushik Bhattacharya said.
He said the automatic tray retrieval system at the security check counters where passengers put their belongings for X-ray scanning have been made fully operational on Wednesday.
"This should reduce the congestion in the security hold area to some extent," Bhattacharya said.
Airport officials said another plan was to deploy airline and CISF personnel to ensure all security check counters were utilised to the optimum.
"Many first-time fliers are standing in one long queue while the other counters for security check are not that congested. These personnel would redirect the passengers to counters that are less congested," an airport official said.