NGO to help rebuild homes lost to fire
Pandemic and blaze double blow: over 300 people need clothes, blankets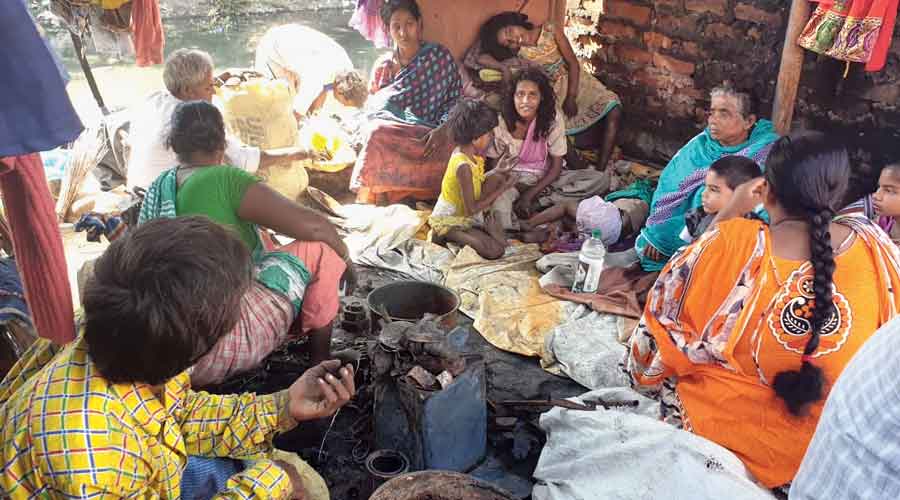 ---
|
Calcutta
|
Published 15.11.20, 01:36 AM
---
An NGO has reached out to 100-odd families to help them rebuild their lives after their homes got gutted in a fire on Tuesday.
Many of these families have children and pregnant women who had to rush out of their shanties leaving behind their belongings and documents, an official of the NGO, Ek Tara, said.
The fire had broken out around 3.30pm on Tuesday and it had taken 22 fire engines to bring it under control by 6pm. Those in the locality said the fire had spread from one shanty to another.
The NGO had earlier conducted mobile school projects in the slum for the children to teach them numbers and letters and held empowerment programmes for women.
A team from the NGO visited the locality on Wednesday to speak to people and assess losses they have suffered.
A woman in her third trimester had run out of her home with her younger brother when the fire broke out. "I thought of carrying some of our belongings with me… but it was not possible," she said.
"We found out more than 300 people had been affected… most had lost everything," Manjusmita Bagchi, the associate director of Ek Tara, said.
"They need clothes and utensils… most of their documents and identity proofs have been damaged. We are arranging clothes, blankets, mosquito nets, utensils, ration and solar lamps for these families.
The area has poor families and our priority is to reach out to those who have lost everything."
The area is commonly referred to as Mazdoor para and most men in the area are involved in garbage segregation or are daily labourers, Bagchi said. The women work has domestic helps. The pandemic has hit their income and the fire has taken away whatever they had, she said.
At least two other NGOs are working in the area to help these people rebuild their lives.
Ek Tara has appealed on social media, too: "The massive fire has completely destroyed one of our slums in Topsia. Over 300 people have been displaced. Children are without food and clean water. We urge everyone to help us rebuild the lives of those affected by the fire."
"We have made a list of requirements… we are sending that to our connections. We could see the fire from the roof (the NGO office is nearby)," Vinita Saraf, founder and trustee of Ek Tara, said.
The NGO mostly works in the Tiljala-Topsia area.
"The pandemic had affected their lives and earnings. Now, with the fire they have to deal with a double blow," Saraf said.
In approximately two days, Ek Tara has been able to raise close to Rs 80,000. The NGO has received donations in kind as well — blankets, saris, clothes and milk for children.
The team members who have conducted outreach programmes in the locality in the past have been moved by the sight of helpless men and women. "Some appeared completely blank and they did not know where to start from," Anupriya Bhattacharya, the NGO's executive programme manager who has worked in the locality for the past seven years, said.
"As it is they have tiny houses and now even those are gone. But there are resilient… it perhaps comes from the fact they have seen so much hardship," Bhattacharya said.