Feast after the fast
Nazish Pervez Khan, who runs a home delivery service in Uniworld City, offers recipes for a sumptuous Eid-special meal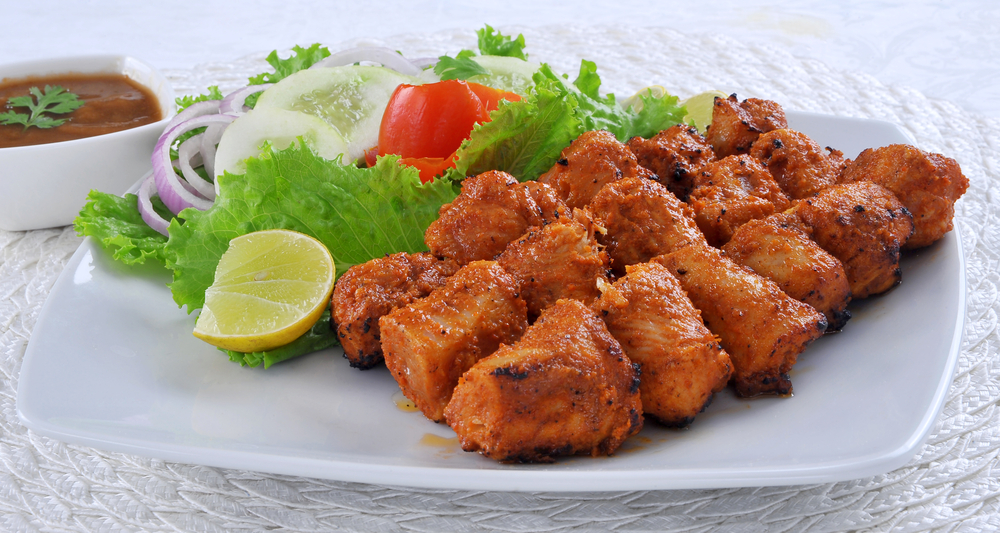 ---
---
Boti kebab
Ingredients
Boneless chicken (breast) 500g
Lemon 1 piece
Red chilli powder 1tsp
Vinegar 1tsp
White pepper (crushed) 1tsp
Mustard oil tbsp l
Cashew paste 15 to 20
Ginger-garlic paste 1tbsp
Salt as per taste
Black salt 2 pinches
Turmeric 2 pinch
Hung curd 2 tbsp
Garam masala ½tsp
Ghee 1tsp
Butter 2tbsp
Skewers
Method
Marinate the chicken with lemon juice, salt as per taste, red chilli powder, turmeric powder, black salt. Keep the marinated chicken in the fridge for about 20 to 25 minutes.
Now, take another bowl and add the hung curd, ginger-garlic paste, black pepper, garam masala and mustard oil. Make a paste of these ingredients and coat this on the marinated chicken. Keep this in the fridge for two hours. For best results, keep it in the fridge overnight.
Now carefully insert the chicken on the skewers. Remember to maintain space between the kebabs.
Smear butter on a pan and keep the skewers with chicken on it. Cover the pan with the lid for about 5 to 7 minutes until the water is soaked. Then leave it on high flame for three minutes until it turns golden brown in colour with grilling marks appearing. Your Chicken Boti Kebab is now ready to be relished.
Serve with green chutney and salad.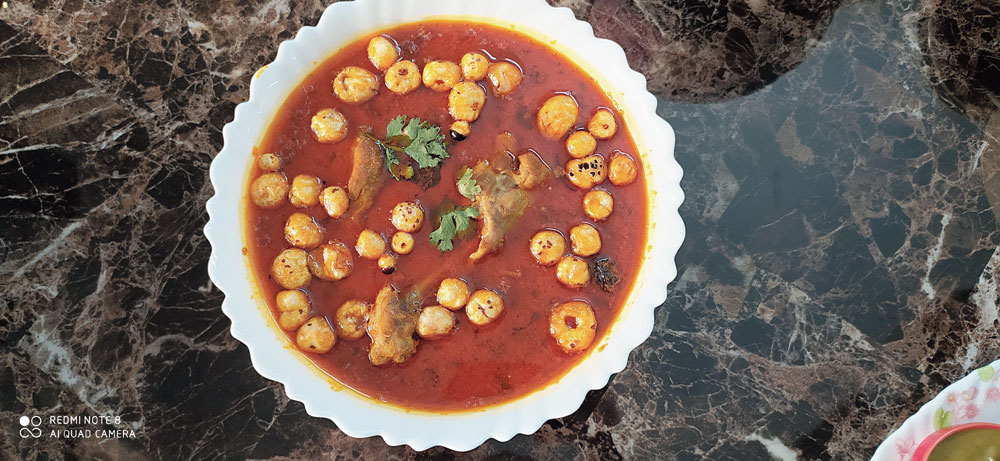 Ramadan Special Mutton Daleem (Haleem)
Ingredients
Mutton (with bone) 1kg
Wheat 300g
Barley 100g
Chana dal 100g
Split moong dal 100g
Red dal 100g
Pigeon pea (toor dal) 100g
Black gram (urad dal) 50g
Short basmati rice 3tbsp
Rose petals ½ cup
Cardamom 10g
Cinnamon stick 2 inch
Cloves 10g
Pepper corns 10g
Kabab chini 5g
Cumin seeds 1tsp
Shahi jeera 1tsp
Sesame seeds 1tsp (optional)
Ginger-garlic paste 4tbsp
Turmeric 1tsp
Red chilli powder 2tsp
Onion 200g lSalt to taste
Green chilli 3 pieces
Ghee ½ cup
Method
Heat a pan and add 1tbsp of ghee, whole spices, shahi jeera, cumin seeds. Dry roast them and add channa dal, moong dal, masoor dal, toor dal, urad daal, rice, wheat, sesame seeds. Roast this and let it cool down. Pour this into a blender and add dry rose petals. Blend this like coarse powder.
Next, heat the ghee in a pressure cooker and add half of the whole garam masala. Saute and add chopped onions. Add salt and saute again. Add ginger-garlic paste and cook till the raw flavour is gone. Add green chilli, ½tsp turmeric and 2tsp chilli powder. Add the mutton and saute for a few minutes. Add water to cover the meat and put the lid on top of the pressure cooker. Let it whistle once then cook on slow flame till the mutton is tender and soft.
Take another pressure cooker and add the prepared coarse powder and 2½ litre water. Put the lid on and let one whistle blow. Then simmer the flame and cook for 30 minutes.
Add more water after you open the pressure cooker and cook the lentils till they are cooked. Next, take a potato masher and mash the lentils in the mixture.
Take another vessel and add the cooked mutton and lentils mixture to it. Cook on slow flame for about 15 minutes. Add half of the fried onions and kewra water or two or three drops of meetha itar.
Lastly, garnish with the left over fried or birista onions.
Serve the haleem hot with coriander leaves, green chillies and lemon.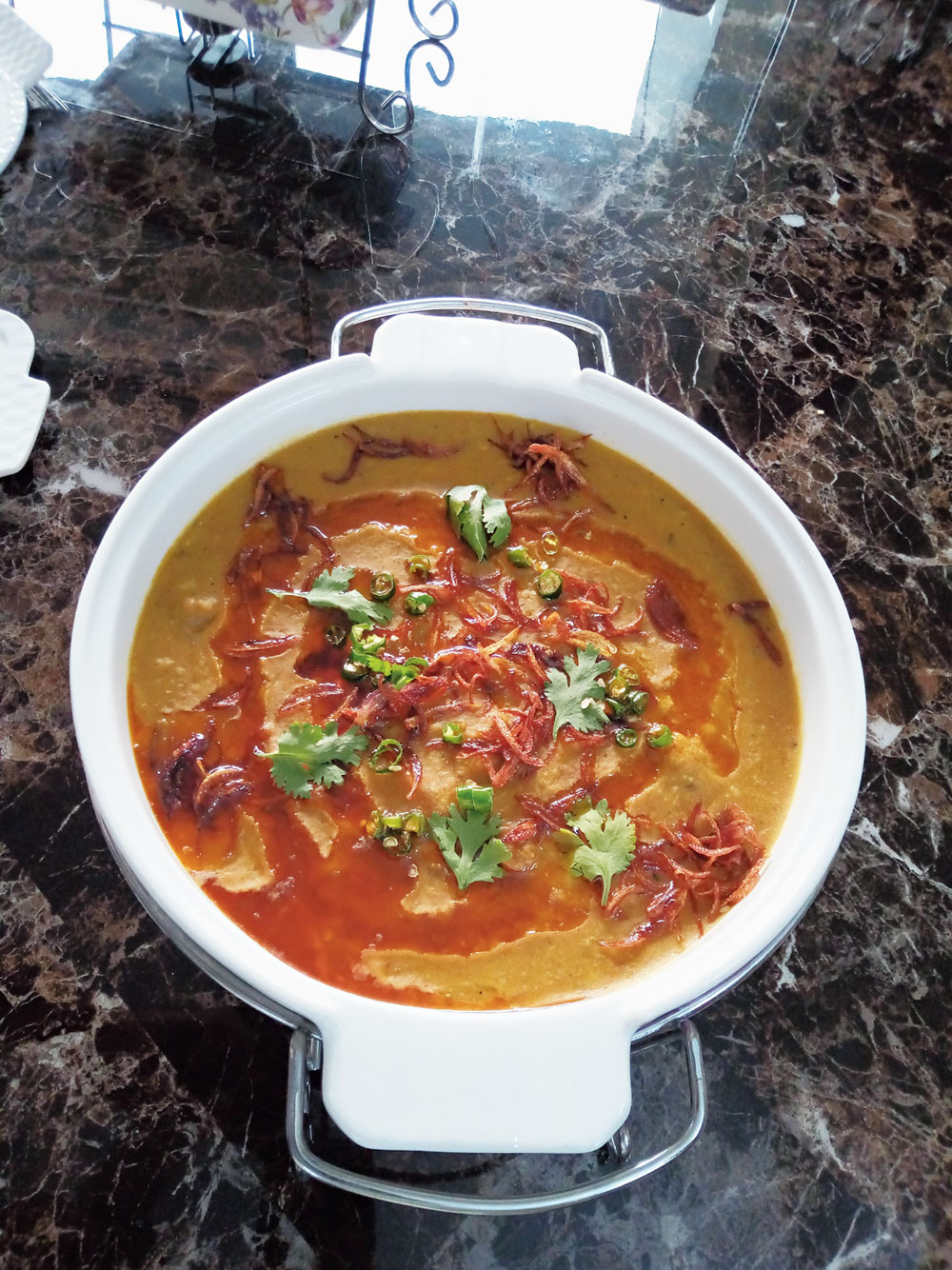 Special Mughlai Chicken Curry
Ingredients
Chicken 1kg
Ginger-garlic paste 4tbsp
Tomato puree (from medium-sized 2 tomatoes) lYogurt 2tbsp
Milk 1 cup
Chilli powder 1tbsp or as per your taste
Turmeric ½tsp lCumin seeds 1 tsp
Green cardamom 4 pieces
Black cardamom 1 piece
Clove 2-3 pieces
Garam masala powder ½tsp
Fried crushed onion ½ cup lCashew nuts 10-12 pcs
Fried foxnut 10-12 pcs
Oil 100g lSalt as per taste
Method
Wash the chicken and keep aside. Take a deep pot, add oil and let it heat. Add garam masala when it splutters, along with ginger-garlic paste, cumin seeds and stir well. Then add turmeric and red chilli powder and stir a little again. Add the tomato puree to it. Now cook on slow flame until the oil is seen separated. Now add the chicken to the pot and cook on high flame for about five minutes. Next, add hot water and cook until the chicken is soft and tender. Then add garam masala powder.
On the other hand, grind the cashew, crushed onions and milk. Now add this paste into the chicken and mix well on low flame for 2-3 minutes.
Lastly, turn off the stove and add the fried foxnut to it. Your curry is now ready to serve. Team with lacha paratha, naan, kulcha or pulao.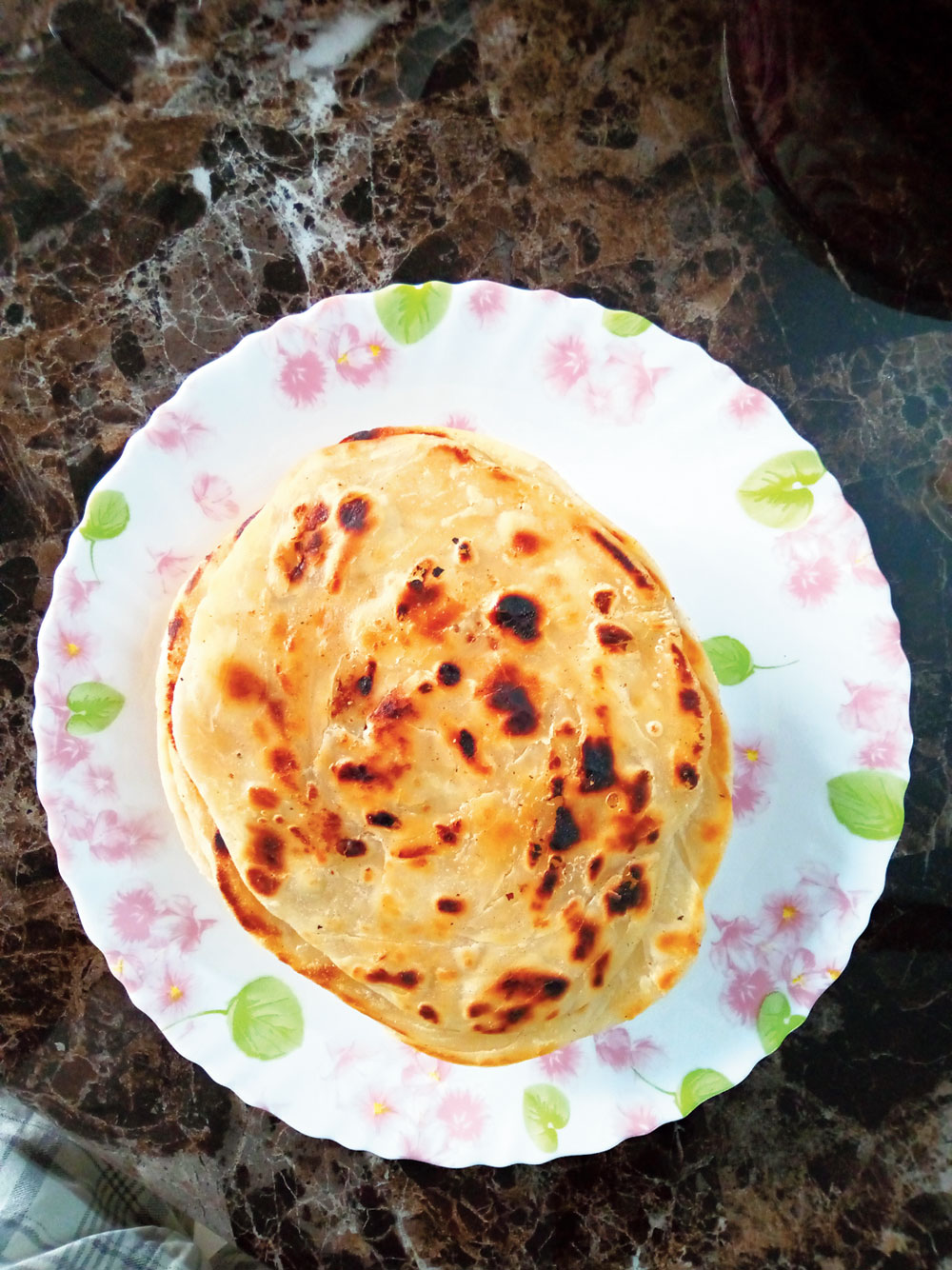 Crispy lacha pratha
(Multi-layered pratha)
Ingredients
All-purpose flour 2 cups
Egg 1
Salt ½tsp
Sugar 1tsp
Milk powder 2 tbsp
Oil 1tbsp
Baking powder ¼tsp
Water (room temperature)
Method
In a large mixing bowl, add the all-purpose flour, salt, sugar, egg, milk powder and oil. Crumble it all well with your hands and add water, as required, and start kneading. Cover and rest it for 15 minutes and then take one part out. Make a chapati-shape as big as possible and spread some oil on it. Cut the pratha in long strips with a cutter or knife gently and collect all the strips. Roll the strips with your hand and make chapati-shape again with hand. Cook it on the tawa or pan on medium low flame and cook both sides until golden brown spots start appearing. Spread oil or ghee on it and your paratha is ready to serve.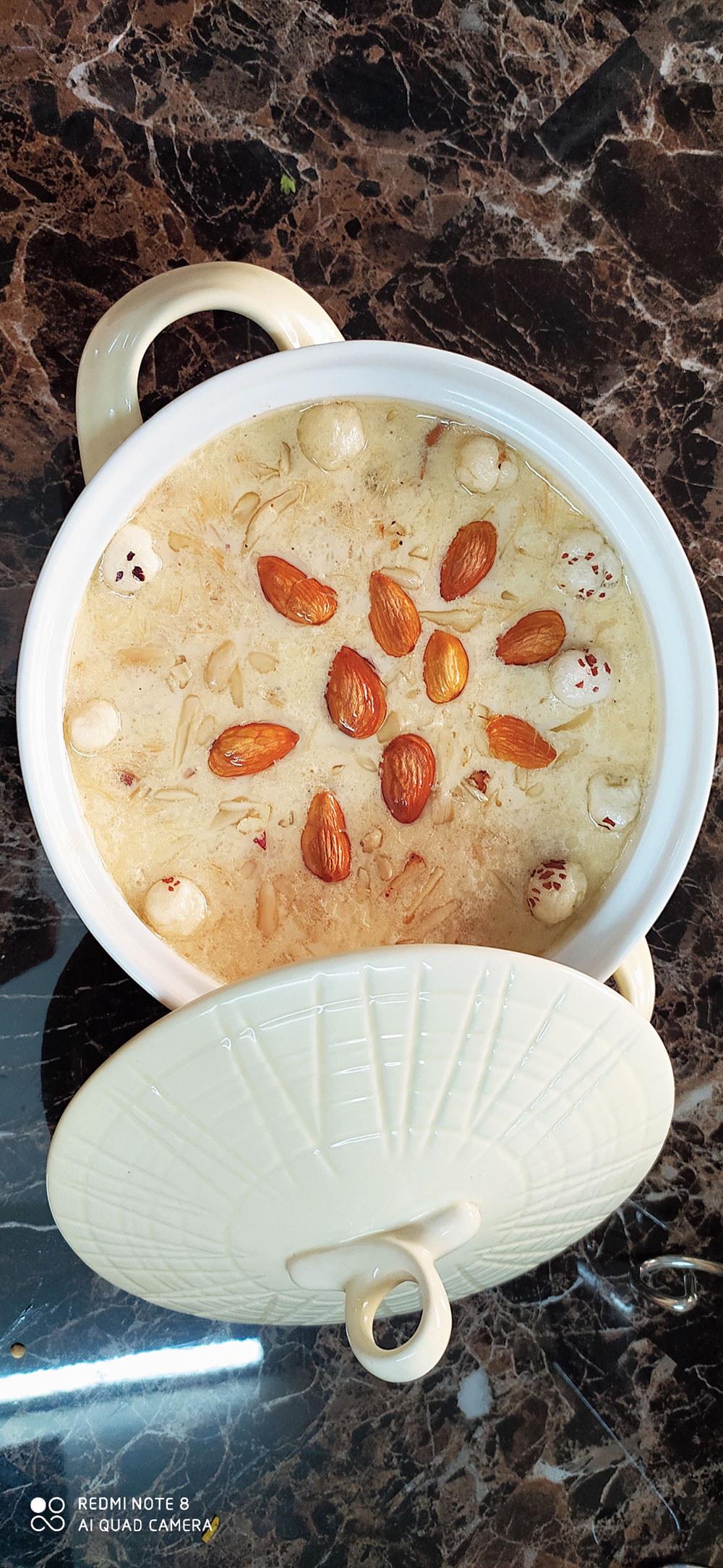 Sheer khorma
Ingredients
Full fat milk 2 litre
Almonds (chopped) 15 to 20 pieces
Pistachio (chopped) 15 to 20 pieces
Cashew (chopped) 20 to 25 pieces
Dates 10 to 12 pieces
Charoli seeds 2tbsp
Sugar 120 to 150g (or as per taste)
Pure ghee 2tbsp
Cardamon powder 1tsp
Seviyan 50 to 100g
Method
In a pan add milk let it to come boil. Heat some ghee in a pan, add dates once they are fried and then remove. Add blanched and peeled dry fruits and once they are fried, place in the same pan as before.
Add seviyan and roast until it becomes golden. Add dry fruits and dates in boiled milk and cook it on medium flame for about 20 to 25 minutes. Cook till it reduces to its original quantity and add sugar. Cook for 5 to 7 minutes and add cardamom powder and mix well. Turn off the flame and let it cool on normal temperature. Once it has cooled, keep in refrigerator. Garnish with dry fruits and serve chilled.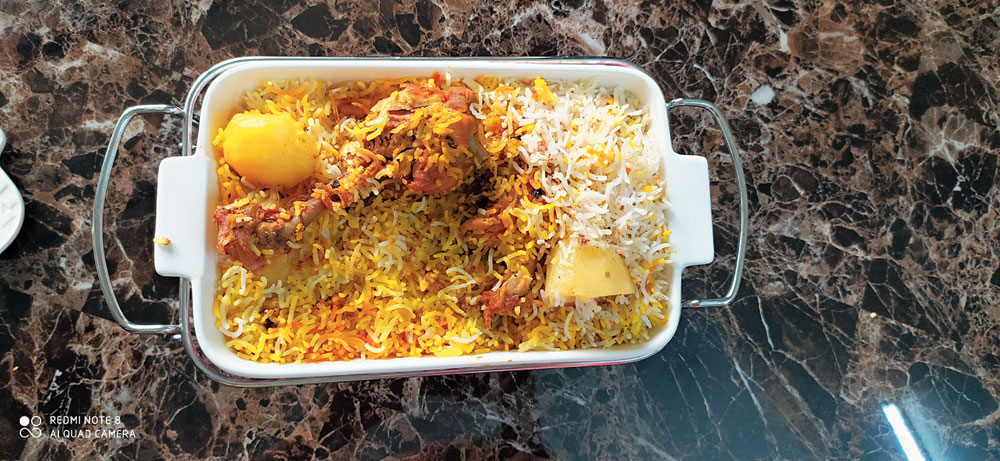 Lucknowi Chicken Biryani
Ingredients
Long grain basmati rice 1kg ( soaked for 30 minutes)
Chicken 1kg
Yoghurt 250g
Ginger paste 2tbsp
Garlic paste 2tbsp
Fried onion (crushed) 1 cup
Red chilli powder 2tbsp
Lemon ½
Turmeric ¼tsp
Green cardamom 8 pieces
Black cardamom 4 pieces
Clove 8 pieces
Cinnamon stick 2 pieces (1 inch each)
Meetha atar 3-4 drops
Kewra water 5-6 drops
Zafrani food colour 2-3 pinch
Oil 200g
Full fat milk 1 cup
Butter 2tbsp
Ghee 2tbsp lSalt as per taste
Biryani masala
Green cardamom 1 tsp
White pepper 1 tsp
Kabab chini ½ tsp
Shahi jeera ½tsp
Clove 5-6 pieces
Cinnamon stick 1 piece (of ½ inch)
Javitri (nutmeg) 2-3 piece
Method
Marinate the chicken with yogurt, red chilli powder, lemon, salt as per taste, and turmeric. Cover with a lid and refrigerate for two hours (for best results, overnight.)
Now, take a shallow pot and put oil in the pot. Fry two pieces of medium-sized onions (thin slices) until golden brown in colour. Next, crush the fried onions and keep aside.
After removing the fried onions, turn the flame to high and put four black cardamoms, two green cardamoms, and two to three cloves. Now add the marinated chicken, still keeping the flame high. Cook for 5 minutes.
Now on medium-low flame cook for 10 minutes or until the chicken gets soft. Turn off the stove and add ½tsp of black pepper powder and crushed onions into it and mix it well. Keep this aside.
On the other hand take a pan and add all the garam masala and saute for 30 seconds. Grind it into a fine powder.
Now take another vessel and put it on high flame. Add water and the remaining ingredients over the garam masala and add five spoons of salt (or as per your taste).
Let it boil and then add the soaked rice. Let the rice cook up to 80 or 90 per cent. Next, drain the water and keep the rice aside in a bowl. In the same vessel grease some oil or ghee and add half of the prepared rice.
Sprinkle the garam masala on the rice and add the chicken in the first layer. Again sprinkle some biryani masala and add ½ cup of milk evenly on the chicken. Lastly add the next layer with the left over rice and again add ½ cup of milk. Sprinkle some biryani masala along with the ghee and butter.
Now in a cup, add 1 tbsp of water and 2 to 3 pinches of orange food colour, 5-6 drops of kewra water and 3 to 4 drops of meetha atar and mix well. Add this mixture all over the rice.
Now shut the vessel with the lid and and keep a heavy item on the vessel. Keep the flame high for the first five minutes and then on low flame cook it for 10 to 12 minutes.

Your Lucknowi Chicken Biryani is now ready.