Fake IPS officer arrested after extortion attempt in Calcutta
Police said the 45-year-old resident of Belghoria, on the northern outskirts of the city, refused to talk to anyone other than an 'IPS officer' after his arrest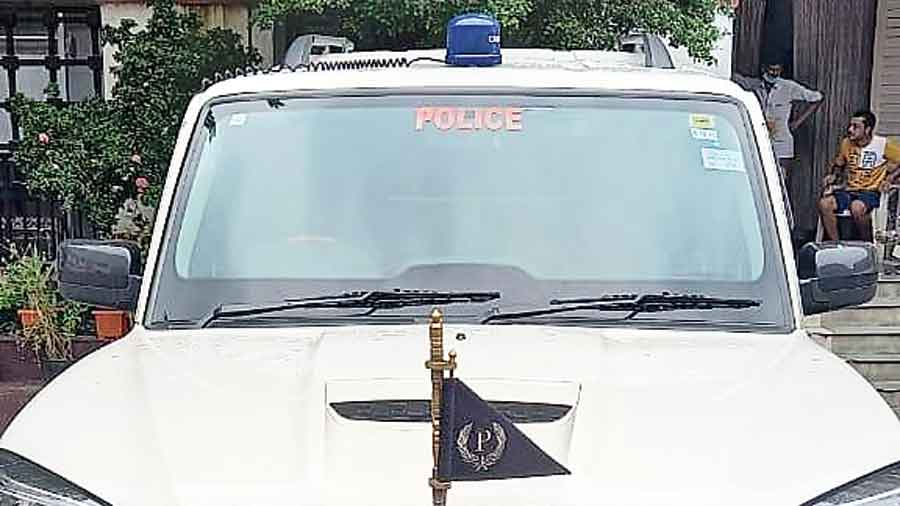 The beacon-fitted car that the fake IPS officer used
Telegraph picture
---
Park Street
|
Published 28.07.21, 01:50 AM
|
---
A man who allegedly pretended to be an IPS officer and travelled in a beacon-fitted car was arrested on Monday night.
Rajarshi Bhattacharya, the accused, allegedly posed as an officer of the National Investigation Agency and tried to extort money from a Calcuttan, threatening to arrest him if he did not pay up.
Police said the 45-year-old resident of Belghoria, on the northern outskirts of the city, refused to talk to anyone other than an "IPS officer" after his arrest, following which an IPS officer from Lalbazar questioned him.
"He said he just wanted to wear the khaki uniform of IPS officers once and got a uniform stitched. However, we have learnt from his 'guard' and driver that he was in the habit of flaunting his uniform. He went to star hotels for coffee wearing it, pretending to be a senior officer," an officer said.
Bhattacharya is said to have told the police that he had thrown his "uniform" into the Hooghly. The police are yet to verify the claim.
Officers said they found out during investigation that Bhattacharya was a physics graduate from a south Calcutta college. His late father taught at a south Calcutta college and then at a university, the officers said.
"The accused was maintaining his charade till his wig came off and he started fumbling," said an officer.
After he purportedly admitted that he was lying, Bhattacharya claimed that he was involved in trading in paintings. The police are yet to verify this.
Bhattacharya has been booked for cheating, impersonation of a public servant and extortion. Two others — Abhijit Das, whom he had hired from a private security agency to be his guard, and Mohammad Sikandar, who drove his vehicles — have also been arrested.
"Das and Sikandar have claimed that they were under the impression that Bhattacharya was a real IPS officer," said an officer.
Sources said a 0.32 licenced gun with six rounds of cartridges were found in Bhattacharya's possession. "The gun has not been seized because he has a valid licence for it. We are trying to find out how he got the licence," an officer said.