Exam time halved: Bengal's higher secondary in July, Madhyamik in August
The examinations will be held only for compulsory subjects, not additional papers, and at home centres (the school that the student attends)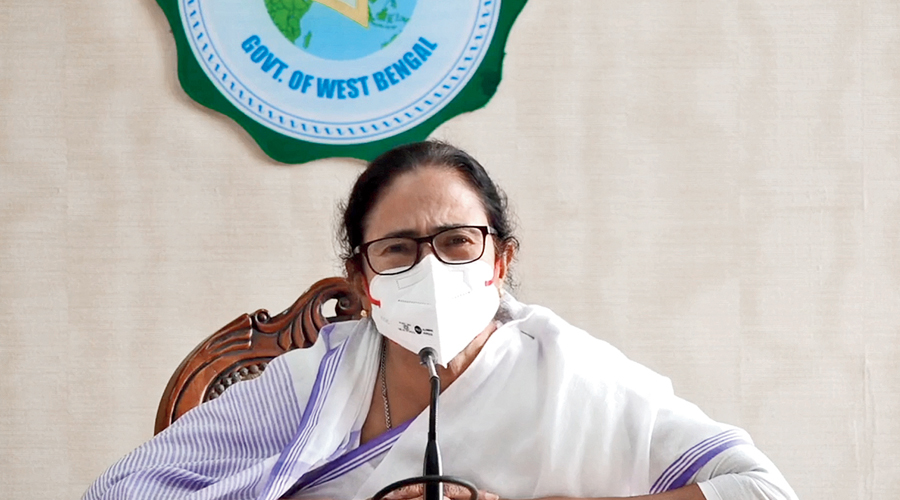 Chief minister Mamata Banerjee.
File photo
---
Calcutta
|
Published 28.05.21, 02:14 AM
|
---
Bengal's higher secondary exams will be held in the last week of July and secondary (Madhyamik) in the second week of August, chief minister Mamata Banerjee announced on Thursday.
The exams will be held only for compulsory subjects, not additional papers, and at home centres (the school that the student attends), she said.
"We are trying so that Madhyamik will be held in the second week of August and higher secondary in the last week of July... The protocol and dates will be communicated by the West Bengal Board of Secondary Education and West Bengal Council of Higher Secondary Education," said Mamata. "The details will be shared by education minister Bratya Basu and education secretary Manish Jain."
The CBSE and ISC are yet to make an announcement about the Class XII exams. Both boards are to review the situation in the first week of June.
The ICSE council has asked schools to provide by June 7 the average marks of subjects scored by ISC 2021 candidates in Class XI and XII exams conducted by the schools. The council has not said if the marks will have any bearing on the ISC results.
The chief minister said: "We will conduct HS before (Madhyamik) because students will have to take admission to various (college) courses."
Mamata said the exams will be held following Covid distancing norms. "Students will write the exams in their home centre. This we have thought because it will be convenient for students," she said.
"The exams for only compulsory subjects will be conducted. For the rest (additional papers), the school will be awarding the marks."
The government has also decided to shorten the duration of the exams by half and increase the choice of questions. "This decision has been taken for both Madhyamik and HS. Say, for example, a three-hour paper will now be for one-and-a-half hours and suppose there are 10 questions, a student will have to answer only five. So, students will now get more choice. In such difficult times we do not want students to be more stressed," Mamata said.
For Madhyamik, the compulsory subjects are languages, history, geography, math, physical science and life science.
For HS, there are 15 compulsory subjects.
For higher secondary there are about 8.5 lakh students. For Madhyamik, over 12 lakh students, the chief minister said.
The question papers will be kept at the nearest police station or government office.