Cyclone Yaas: 'Tornado-like' storm wreaks havoc near Calcutta
The giant rotating mass of wind swept the Naihati-Bijpur-Halisahar belt in North 24-Parganas and parts of Hooghly district on Tuesday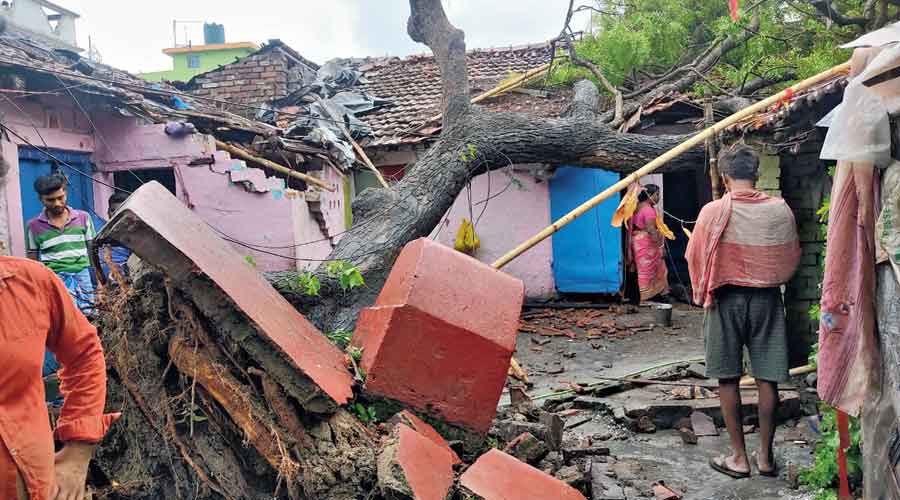 ---
|
Calcutta
|
Published 26.05.21, 02:29 AM
---
At least two persons died not too far from Calcutta as a "cylindrical system" that somewhat resembled a tornado preceded Cyclone Yaas that was barrelling towards the Odisha coast on Tuesday evening.
The giant rotating mass of wind that swept the Naihati-Bijpur-Halisahar belt in North 24-Parganas and parts of Hooghly district, between 45km and 80km from Calcutta, on Tuesday afternoon appeared to be a tornado to many people but the Met office was awaiting conclusive proof. 
G.K. Das, the director of IMD, Calcutta, said the system could also have been a mesocyclone, a rotating region in a supercell (a localised mass of thunderclouds) that often leads to a tornado. No direct link with Yaas has been established immediately.
Calcutta appeared to be out of the direct path of Yaas, according to the weather office. But winds began howling at night in line with forecasts that the city could witness wind speeds of up to 75kmph on Wednesday.
Yaas, a severe cyclonic storm till Tuesday afternoon, intensified into a very severe cyclonic storm by night.
The intensity of the rain as well as the wind is likely to go up through the night and into the morning.
Calcutta is likely to receive consistent rain throughout Wednesday, with one or two heavy spells, said a Met official.
The wind speed is likely to be 65-75kmph, with gusts clocking 85kmph.
A full moon night on May 26 and the high tide in the Hooghly that usually accompanies such celestial phenomena have added an additional threat of inundation in parts of the city if the rain is really heavy.
Calcutta airport will be closed from 8.30am to 7.45pm on Wednesday. Some of the lighter aircraft that are parked in Calcutta were shifted to other cities, and trains in some stations were chained to the tracks.
On sea
Around 2.30pm on Tuesday, the storm was over "northwest and adjoining west-central Bay of Bengal, moving north-northwest at a speed of about 15kmph," said a Met bulletin. Around 8.30pm, it was 220km from Balasore in Odisha and 210km from Digha in Bengal.
Landfall
The storm was "very likely" to hit land close to north of Dhamra (a port in Bhadrak district) and south of Balasore (the headquarters of Balasore district), around Wednesday noon, the Met bulletin said. Dhamra is around 350km from Calcutta and Balasore around 250km.
"The landfall process is likely to start around 9am and continue for around four hours. The core of the storm is tipped to cross land around noon," said a Met official.
The core or the eye of a cyclonic storm is a relatively quiet zone, surrounded by spiralling bands of winds. As the storm passes, an area will experience the peripheral winds in the front. When the relatively calm core passes through land, there will be a brief lull.
That will be followed by the passage of the rear winds, which are as strong as the ones at the head of the spiral.
Wind
During landfall on Wednesday, Yaas is tipped to unleash winds blowing at 155-165kmph, with gusts clocking 185kmph, in and around the area of landfall.
The coastal areas of East Midnapore in Bengal are likely to see winds blowing at 90-120kmph, gusting 145kmph, according to the Met forecast. Jhargram and West Midnapore are likely to see winds blowing at 80-90kmph, gusting 110kmph.
The coastal areas of South 24-Parganas are likely to see winds blowing at 80 to 90kmph, gusting 100kmph, and North 24-Parganas would see wind speeds of 70-80kmph, with gusts clocking 90kmph.
The forecast for the remaining districts:
⚫ Howrah, Hooghly, Nadia, Bankura, East and West Burdwan and Purulia — 60-80kmph, gusting 90kmph
⚫ Birbhum and Murshidabad — 50-60kmph, gusting 70kmph
Rainfall
Bhadrak, Balasore and some adjoining districts of Odisha are likely to get torrential rain as the storm hits land.
The Met office has also predicted "extremely heavy rainfall" for East and West Midnapore and Jhargram on May 26.
Bankura and South 24-Parganas are tipped to get very heavy rainfall. Howrah, Hooghly, North 24-Parganas, Calcutta, East Burdwan, Nadia, Purulia, Murshidabad, Malda, Kalimpong and Darjeeling are likely to get heavy rain.
On May 27, Bankura, Birbhum, Purulia, West Midnapore and Jhargram are likely to get one or two spells of heavy rain.
Storm surge
The sea is likely to be very rough on May 26, said a Met official.
Coastal areas of East Midnapore are likely to see a storm surge of 2 to 4 metres and South 24-Parganas a surge of 2m. "The predictions are over and above the usual astronomical tidal surge," said Sanjib Bandyopadhyay, deputy director-general of IMD Calcutta.
Post-landfall
After landfall, the storm will continue travelling in the north-northwest direction towards Jharkhand. It will lose strength because of the friction on land — in the form of trees and houses.
"By Wednesday night, the storm is likely to de-escalate into a severe cyclonic storm and further weaken into a depression by Thursday," said the Met official.
On May 27, the western districts of Bengal — Purulia, Bankura, Jhargram and West Midnapore — are likely to see rain and winds, said the Met bulletin.
Calcutta is likely to see overcast conditions on Thursday also. The weather should improve by Friday, said the Met official.