Covid: 400 Calcutta eatery staff get first Covid-19 jab on Friday
Dine-in, which had stopped because of the curbs on May 1, resumed across restaurants on Wednesday and are open for diners from noon to 8pm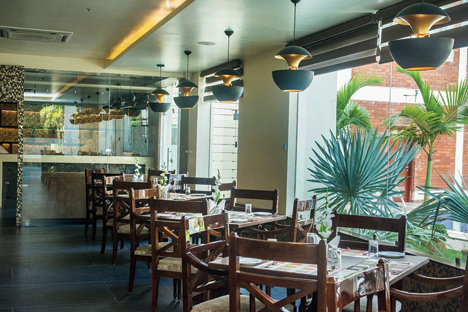 The recipients included waiters, cooks, stewards and housekeeping staff — frontline workers who interact with diners at the eateries.
File picture
---
Calcutta
|
Published 19.06.21, 02:26 AM
|
---
Four hundred people who work at restaurants across the city got their first Covid-19 jab on Friday.
The recipients included waiters, cooks, stewards and housekeeping staff — frontline workers who interact with diners at the eateries.
Dine-in, which had stopped because of the Covid-19 curbs on May 1, resumed across restaurants on Wednesday, following a notification from Nabanna. The eateries are open for diners from noon to 8pm.
One of the vaccine recipients on Friday was Sun Baidya, a 37-year-old waiter at Oasis restaurant on Park Street.
"I was jobless for over a month. Being able to join work is a blessing. But I felt vulnerable without the vaccine. If I contract the virus, my aged father will also be at risk. So, taking the vaccine was a big boost," said Baidya, who lives in Picnic Garden.
"I can breathe a little easy if all my employees have at least one jab. Since reopening, many diners have queried if the staff are vaccinated," said Pratap Daryanani, the owner of Oasis.
The drive, organised by the National Restaurants Association of India, took place at a hotel on Hazra Road in Garcha. The recipients were administered Covaxin.
Doctors and public health experts said being vaccinated under the present circumstances — when Covishield and Covaxin are the predominant vaccines available in the market — means getting two doses.
"Vaccines can never guarantee protection from infection. Chances of severe infection are almost none after at least two weeks from the second dose. But people can get severe infection even after taking the first dose," said Dipyaman Ganguly, an immunologist with the Indian Institute of Chemical Biology.
"Getting the first dose is like getting off the blocks in a sprint. You cannot reach the finish line without getting off the blocks," said another city-based doctor.
Restaurant owners said they wanted to ensure that all employees who had resumed work were at least jabbed once.
"We procured doses from the state government. We got each shot for Rs 315 and collected the same amount from the owners of the restaurants who sent their employees," said Sagar Daryani, the head of NRAI's Calcutta chapter and the co-founder and CEO of Wow! Momo.
The recipients did not have to pay as their employers bore the cost. The association bore the cost of the logistics.
Health workers from the Calcutta Municipal Corporation and the Marwari Relief Society Hospital administered the jabs.
"Our target is to vaccinate 2,000 people," said Daryani.
The NRAI's Calcutta chapter has more than 250 members and over 1,000 eateries in its fold.
"We want our employees to be protected. Their protection would contribute to the safety of our patrons as well," said Asif Ahmed, the owner of the Sanjha Chulha chain of eateries.