Covid lockdown: Relief as diners and shoppers walk in
The resumption of business was like the resumption of life itself for many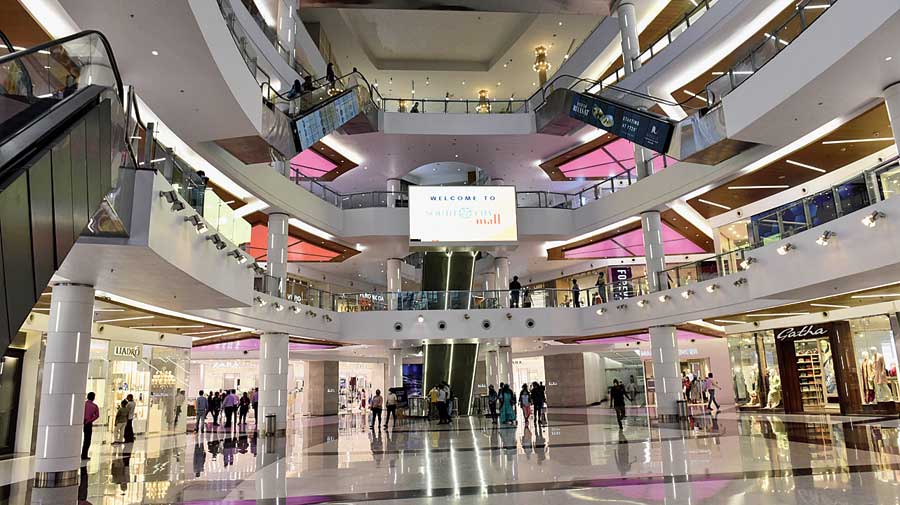 ---
Calcutta
|
Published 17.06.21, 02:04 AM
|
---
Malls and restaurants were back in business from Wednesday.
The number of visitors was few to start with. But the resumption of business was like the resumption of life itself for many. The Telegraph spoke to some of them.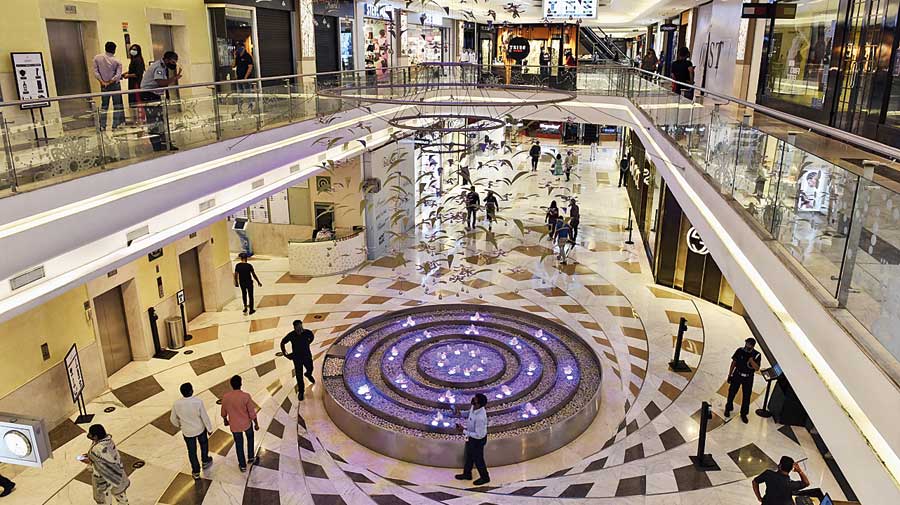 Familiar walk
Around 12.15pm on Wednesday, Umesh Kumar Singh was sorting cutlery and napkins on some of the tables at Pa Pa Ya, a Pan-Asian restaurant on the 11th floor of Magma House on Park Street.
The 31-year-old waiter had walked 6km from his Sovabazar home to the restaurant. The saving grace was the overcast conditions. It took him a little over one hour. But the relief of being able to see diners overshadowed the exhaustion from the journey.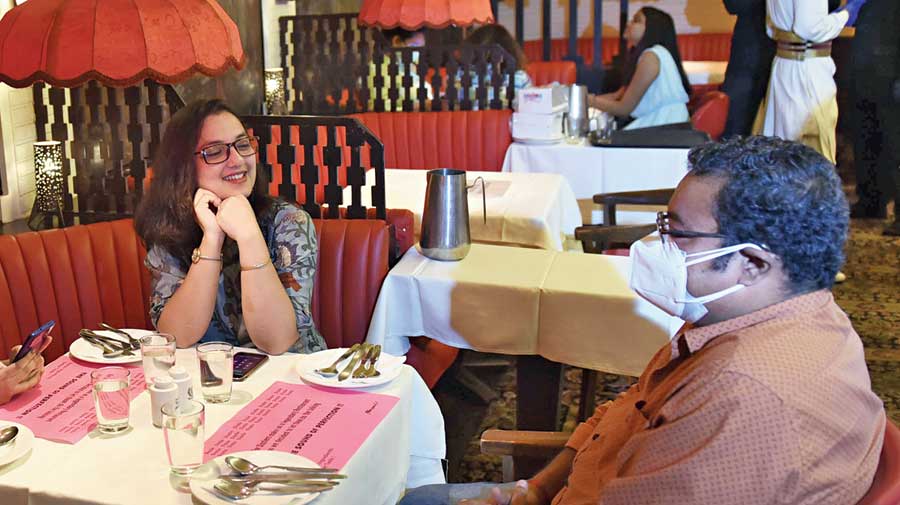 "I got my salary for May but the uncertainty was killing me. Most of the salary is spent on power bills, gas and groceries. I have to take care of my children as well," said Singh.
The salary alone is not enough for people like Singh. They depend heavily on the extra income from service charge and tip, impossible without diners.
Singh is not unfamiliar with the tedious journey, having undertaken it multiple times during the post-lockdown phase last year.
"Last year, there was no such bar on vehicles but it was still not easy to find a bus or a shuttle taxi. This time, I am prepared to walk between home and work," said Singh, who has been with the restaurant since it's opening in Calcutta in 2018.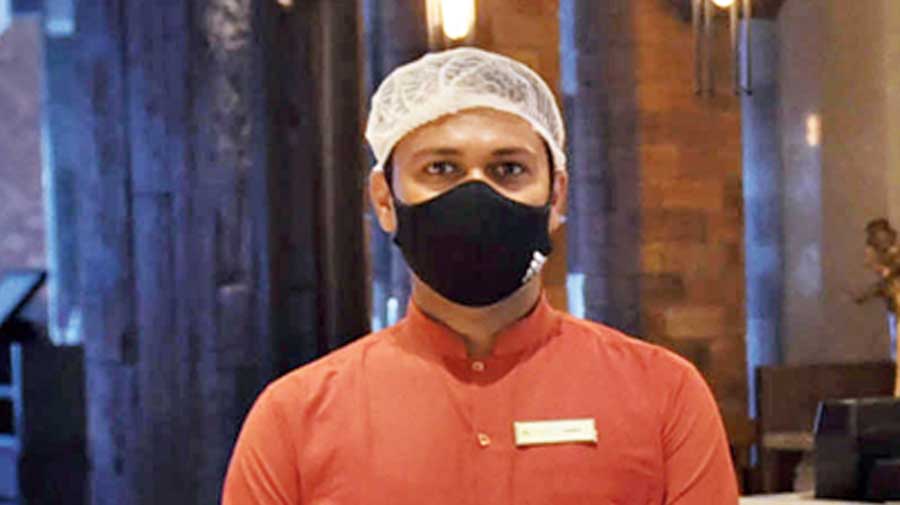 Singh lives with his wife, two children and parents. His father, who works with a "small private firm", is the other earning member of the family.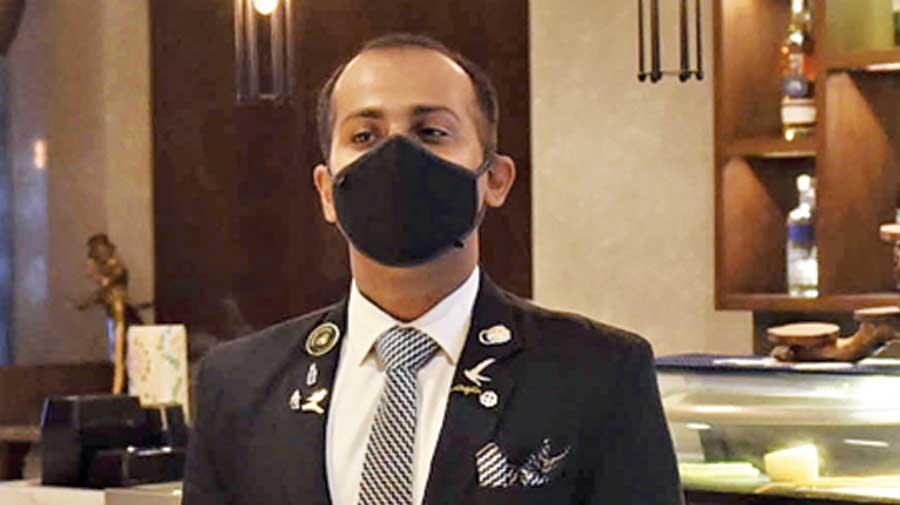 Pedal power
The assistant manager at the same restaurant, Indranil Chatterjee, had arrived in a tee and shorts. Within 10 minutes, he changed into a crisp suit.
The casual attire was meant for a bicycle ride. Chatterjee rode from Kankulia Road, between Ballygunge station and Golpark, to Park Street.
Chatterjee, 35, had bought the cycle last year to cut his travel expenses. Before lockdown 2020, he used to commute by app cab. "I am lucky to get my salary even when the restaurant is shut for diners. I know many people in the industry who have lost their livelihood," said the 35-year-old, who used to visit the restaurant even during the curbs to facilitate takeaways and online orders.
Chatterjee, a hotel management graduate, has been working in the hospitality sector for 14 years. He has won multiple awards as a mixologist, one of them adorning a wall of the restaurant.
He lives with his wife — who also works in the hospitality sector — in a rented apartment. He has a flat in Dankuni. The home rent and the EMI for the flat are the two major components of their expenses.
"I was always anxious for the past one-and-a-half months. Now, there is something to look forward to," he said.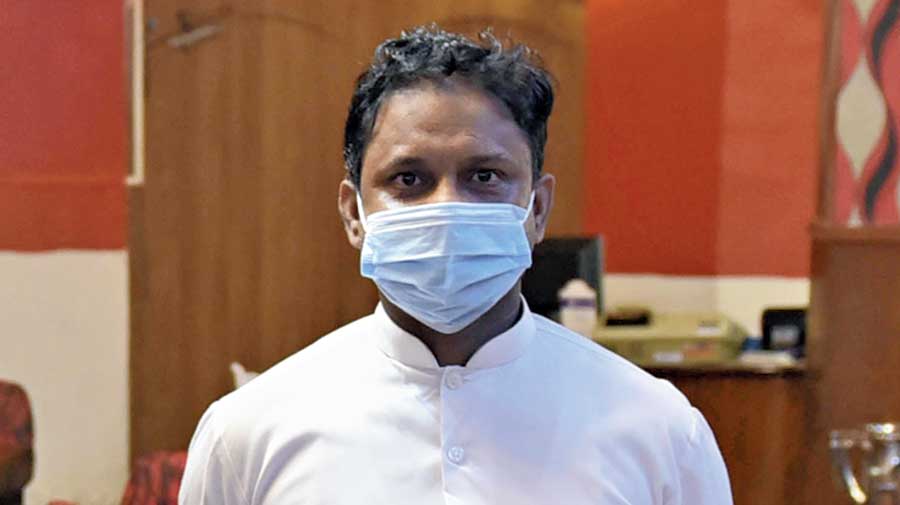 On guard
A woman security guard at South City Mall was doing the rounds of the second floor with a walkie-talkie. The woman, who did not want to be named, is less than a year old on the job.
She started working after severe glaucoma rendered her husband almost blind. The woman, who lives near Kudghat Metro station, walked to her workplace. She left home at 8.30am and reached before 10am.
She had to report for work on multiple days even during the curbs. On those days, if she was lucky, she managed to find an auto from Anwar Shah Road to South City. But the fare was often double or triple the usual.
Her husband used to own a car that served as an app cab. But it has been grounded since the last lockdown in 2020. Her husband faltered on a couple of EMIs. The couple have an 11-year-old daughter and a four-year-old son.
The woman received her salary even when the mall was shut for visitors. She used to work in eight-hour shifts for 26 days a month. She is now looking forward to an extension of business hours.
"I worked overtime regularly because I needed the extra money. Unless the timings are extended, there is no chance of overtime," she said.
A start
An ethnic wear store in South City Mall saw one purchase till 3pm on Wednesday — a man buying a kurta for his son-on-law on Jamai Sashti.
"One buyer is nothing. But it is a start, after all," said Naushad Alam, one of the two executives at the store. Their May income was zero since the store was shut. Ditto for half of June.
"I had to prematurely close a couple of LIC policies for want of money during the lockdown last year. I don't know what would have happened this time had the curbs got extended," he said.
Naushad lives with his wife and two children at Beckbagan. He walked from his home to Quest Mall and got a shuttle taxi from there. It took him Rs 50. "I started feeling guilty after getting down. I felt I should have saved the money and walked to work instead," he said.
Prayer heard
Hassan Raza, a waiter at Moulin Rouge restaurant on Park Street, was standing at the door, looking expectantly at almost every passer-by.
Raza, who has been working for two decades at the eatery, got half his salary for May when the place was shut. On Wednesday, he came walking from Panchannagram, a pocket off the EM Bypass around 8km from the heart of Calcutta. The journey took him close to 90 minutes.
"Despite the long walk, I am upbeat, looking forward to meeting old and new guests," he said. Minutes later, a couple walked in and Raza walked up to them.
Raza used to earn around Rs 12,000 a month before Covid-19 started bleeding the sector white. His son has just cleared Class XII and wants to study hotel management. "I was able to save whatever little I could till last year. But a chunk of that savings is gone now," he said.