A young man who had invested his life's savings in a car to earn a living as an app cab driver was found dead with his wife at their one-room Chetla home on Mahalaya morning, with police suspecting a double suicide.
Officers said Arijit Dutta, 32, had earned hardly anything since the lockdown began and was struggling to repay his bank loan, pay his rent and bear household expenses.
Many app cab owners in the city are in financial distress, with the service having been closed between March 25 and end-May and with its recovery since then hamstrung by people's reluctance to travel in public vehicles.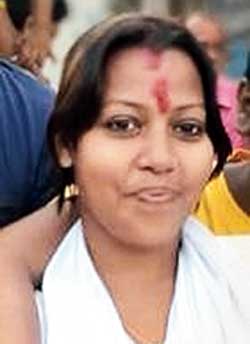 His wife Suparna Sourced by The Telegraph
Besides their financial hardship, the Duttas had suffered another tragedy: their four-month-old child died in June.
Arijit was found on the floor with one end of a snipped dupatta round his neck, which bore ligature marks, and the other tied to the ceiling fan. Wife Suparna, 30, was hanging from the ceiling fan at the end of another dupatta.
"A knife was found at the spot," an officer from Charu Market police station said.
Preliminary investigations suggest that Suparna had found Arijit hanging from the fan and used the knife to cut the noose and bring him down.
"It appears that when she realised he was dead, she too committed suicide," the officer said.
The investigators have found a diary, with a pen placed inside as a bookmark, showing a page where a handwritten line said that no one was responsible for the writer's death. The police believe Arijit wrote it.
Relatives of the couple told reporters that bank recovery agents had visited Arijit. The police said Arijit had for the past few months been unable to pay the rent of Rs 4,000 for his fourth-floor room in Chetla Road.
Arijit's landlord, who lives on the floor below him, had come to the terrace in the morning to hang clothes to dry. He found the Duttas' door shut and the room unusually quiet, he has told the police.
When the couple failed to answer his knocks, he peeped through the window and called the police. The door, locked from inside, had to be broken open.
Husband and wife were declared dead on arrival at SSKM Hospital.
Sources at the Lalbazar police headquarters said that thousands of traders and others in the city who had taken bank loans had been unable to repay their EMIs.
They said the number of suicides from financial distress in Covid-hit 2020 seemed higher than those recorded in the same period last year.
Many app cab owners are feeling the heat. "I bought two cars against loans in 2019, but I have had no income in the past few months," a Sonarpur resident who has invested in two Swift Dzires, driving one himself and hiring a driver for the other, said.
"My bank has been sending recovery agents, but I haven't been able to do much apart from requesting them for more time."