An appeal with a thought for others: 'Eat out to help them'
The spike in Covid cases since late July has prompted people to avoid stepping out to eat, especially after dark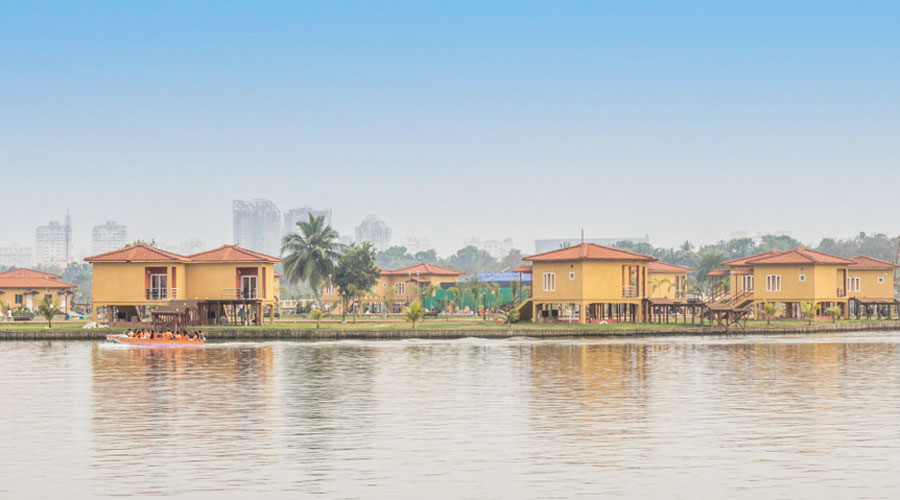 ---
|
Calcutta
|
Published 22.08.20, 03:41 AM
---
Eat out to help those who are feeling the economic heat of the pandemic, a government agency that runs three restaurants in the city has appealed to people.
The Housing Infrastructure Development Corporation (Hidco), custodian of properties like Eco Park and the Biswa Bangla Gate in New Town, has come out with an advertisement that mirrors the plight of most restaurants as they struggle to cope with low footfall.
"The chef, the server, the manager and a lot of people whom you see or who work in the background are facing the heat of the pandemic. Eat out to help them," says the appeal. The three Hidco restaurants employ about 200 people.
Debashis Sen, chairman and managing director of Hidco, told The Telegraph on Friday that the appeal was prompted by someone he knew losing his job.
"The man I know had moved on from our restaurant for a better career. But a few days ago, he wanted to meet me again. He had lost his job during the pandemic. The sector is bleeding and since we run three restaurants, I felt like making this appeal," he said.
Hidco officials ruled out immediate job cuts and said the workers' salaries would not be affected although revenues had not kept pace with expectations so far.
Many thousands who worked at other restaurants and bars across the city lacked a similar cushion. Many have lost their jobs or are on furlough, and the luckier ones have had their salaries cut.
On June 8, during the second phase of Unlock, restaurants had resumed business with a "lot of hope".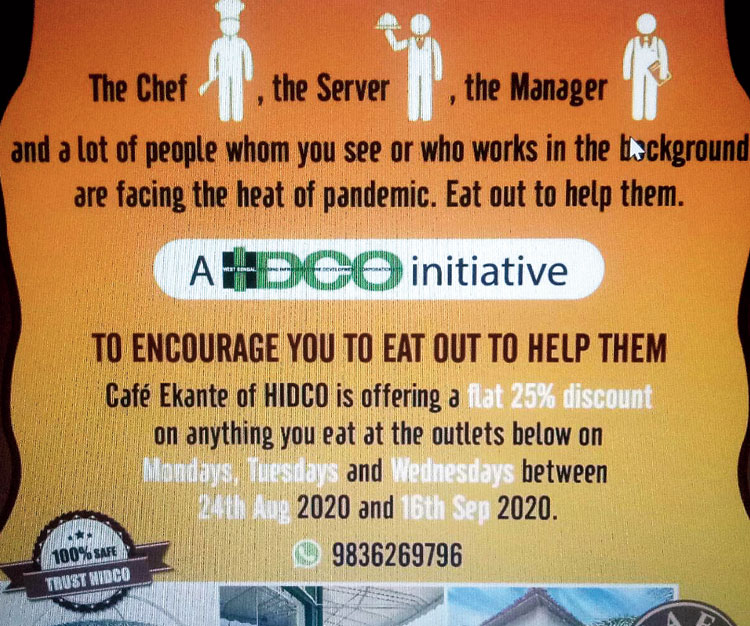 However, with a spike in Covid-19 cases since late July, the number of people stepping out to eat, especially after dark, has dropped again although Unlock III did away with the night curfew.
"The fear is there. People are thinking twice before dining out," said Debraj Bose, who runs Pa Pa Ya on Park Street.
A doctor at the Infectious Diseases and Beleghata General Hospital said: "There is no problem eating out if one follows the safety protocols and maintains social distancing.
But safety has to be ensured at both ends, by the customers as well as the restaurants. It is a continuous process that has to be followed while travelling to the restaurant, eating there and returning home."
Nitin Kothari, who owns Mocambo and Peter Cat, said people's fears had deepened after Amitabh Bachchan fell ill. "Now that he is home and safe, things are looking better," Kothari said.
Many places, including star hotels, have started food delivery and are texting promotional and curated menus to patrons. Some are offering discounts on weekdays.
Weekends are drawing diners to Dhaba Ajante, the open-air restaurant at Eco Park. "People are preferring to eat in a non-enclosed space. But in our indoor restaurants we have movable partitions that are installed between two adjacent tables the moment they both get occupied. So, people can safely come and eat," the official said.