Covid curbs: Trafficking survivors struggle to keep trade afloat
Lack of transport options shrinks market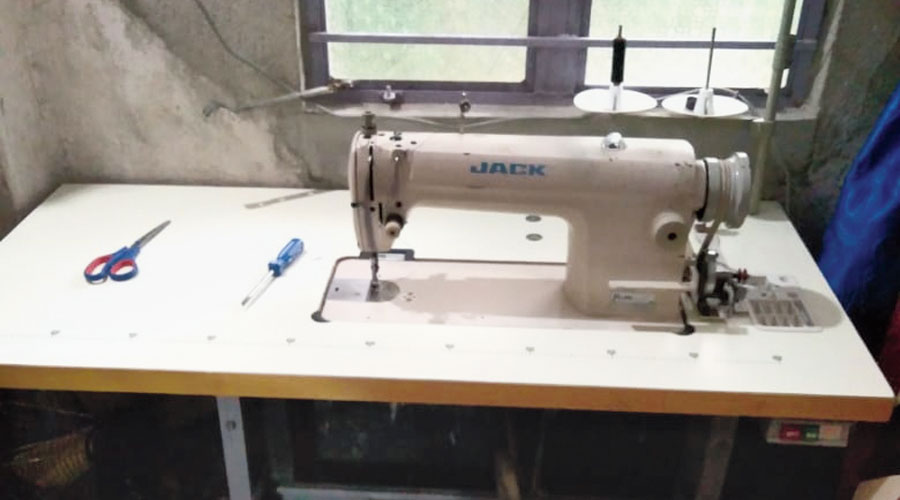 ---
Calcutta
|
Published 14.07.21, 12:56 AM
|
---
The pandemic has left in tatters the dream of hundreds of trafficking survivors to earn financial independence, key to sustainable rehabilitation and a life of dignity.
Over 250 trafficking survivors in North and South 24-Parganas, members of self-help groups engaged in small business ventures, have been struggling to keep their trade afloat because of the Covid-19 curbs.
The business ventures include trading in readymade garments, imitation jewellery and other stationeries. Some have set up tailoring units and some others have started pisciculture. The membership of self-help groups meant easy access to low-interest loans from banks, crucial in starting their own ventures.
Most of these self-help groups were benefited by the Anandadhara scheme, launched by the state government to empower rural women in 2012.
A 26-year-old woman who lives in a village near the Maina police check post in Barasat in North 24-Parganas, around 15km from the heart of Calcutta, has been running a tailoring business for over three years. She had started from scratch but by March 2020, she had around a dozen people working for her on a contractual basis. She got bulk orders, many from Calcutta, for embroidery work on saris and salwar suits.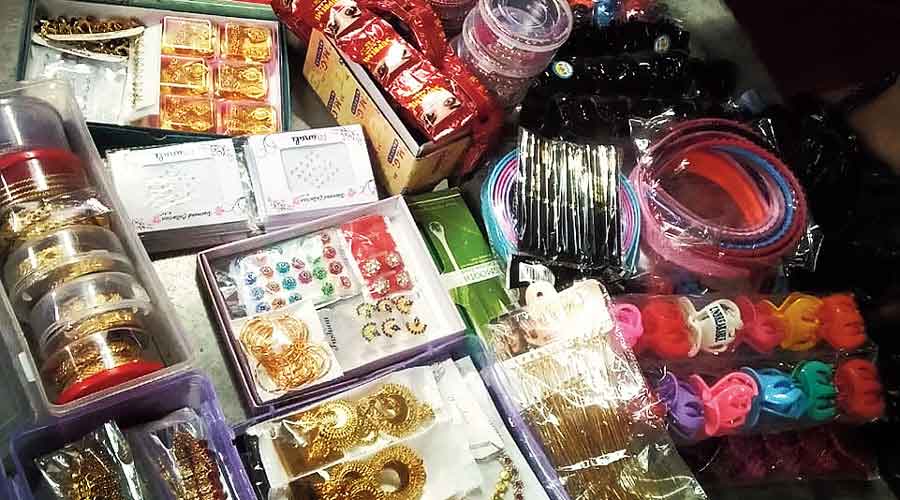 The 2020 lockdown had hit her hard but she had recovered and was earning "over Rs 10,000 every month" even after paying the contractual workers. But the curbs of 2021 — absence of adequate transport options and suspension of local trains — have again crippled her business.
"The orders from the city have stopped. I have to depend on a handful of retail customers in the village. I earn barely Rs 2,000 a month," she said. Her husband, a daily wage earner at construction sites, is out of work as well because of the pandemic.
The woman, who was trafficked to Pune when she was a minor and rescued from a brothel in the Budhwar Peth area during a police raid in 2010, had received a stitching machine from the local administration as part of a rehabilitation scheme. She also received business loans through the self-help group.
Another woman in Canning I block in South 24-Parganas, 60km from the heart of Calcutta, had started trading in imitation jewellery, trinkets, hairbands and clips. She procured her stock from Burrabazar and sold it at her village and a couple of neighbouring villages.
"I am not being able to pick up new stock because local trains are suspended. But there is no point in procuring fresh clothes because I am left with unsold stock worth Rs 5,000," said the woman, in her 20s. The number of customers has nosedived because tens of thousands of people in rural areas have lost their income because of the pandemic. The purchasing power of the local population has gone down sharply.
A handful of customers are willing to buy from her but on credit. Many customers still owe her "a lot of money". Her father, who used to work as a daily wage earner at a tannery in Tangra, has also been out of work since May.
The woman, who escaped from the clutches of traffickers on a Delhi-bound train in 2015, became a member of a self-help group a couple of years ago and got a loan of Rs 10,000. She has faltered on repayment for the past two months.
Most of the women this newspaper spoke to said they were struggling to repay the monthly instalments in the absence of fresh orders and rolling cash.
Some of these survivors have received victim compensations from the state. Some others are engaged in the long and cumbersome legal battle to get compensation. But many survivors have not been able to seek legal recourse for want of resources and fear of stigma.
Rights activists working with the survivors said the self-help groups were a step in the right direction but the pandemic took them back several years. They listed some cruel fallouts of the pandemic that were hurting the survivors, apart from the lack of transport options:
⚫ In most of the survivors' families, other earning members have also lost their income
⚫ Most of these families are yet to receive even one dose of a Covid vaccine. They feel unprotected and are weary to step out for work
⚫ The crisis has forced them to turn to money lenders who charge steep interest rates. Being financially vulnerable, the women can fall prey to traffickers once again, warn activists.
"The survivors showed a lot of courage to start their own ventures. Once they started earning, they realised that financial independence held the key to a life of dignity. Now, a virus is threatening to rob them of that dignity once again," said Sambhu Nanda of Partners for Anti-Trafficking (PAT), a network of eight organisations working in North 24-Parganas that helps in rescue and rehabilitation of trafficking survivors.
The network helped in setting up 10 self-help groups across North 24-Parganas that engaged around 130 survivors.
Kakali Das of Goranbose Gram Bikash Kendra, a network of organisations in South 24-Parganas, said she was flooded with requests for help almost every day by survivors. The Goranbose network supports around 15 self-help groups that engage around 150 survivors.
Most of them are dependent on ration from the administration and NGOs, she said.
"The women refused to give up even after taking a massive hit during the lockdown imposed last year. But the renewed curbs are threatening to deliver a knockout punch," said Das.