Teacher couple's Rs 2-lakh aid
The Bhattacharyyas have always set aside a part of their income for social work.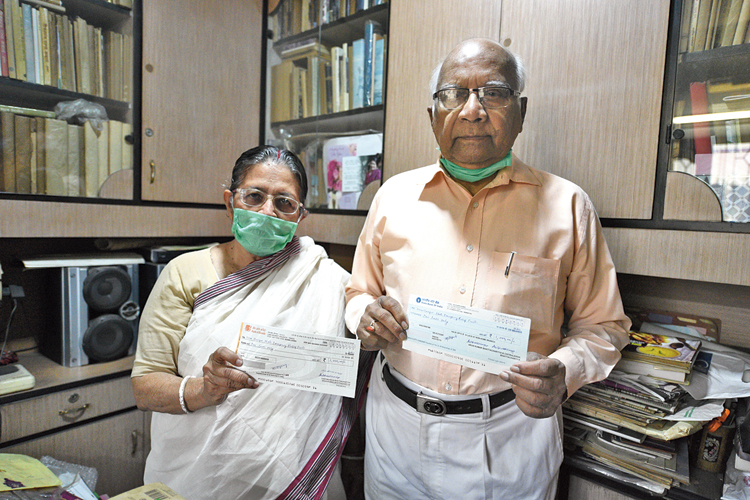 ---
|
Calcutta
|
Published 27.04.20, 09:53 PM
---
An octogenarian couple — retired college teachers — on Monday donated Rs 2 lakh to the Chief Minister's Relief Fund.
Arun Bhattacharyya, 84, who used to teach geology at Jadavpur University, and his wife Chitralekha, 81, who used to teach history at Seth Soorajmull Jalan Girls' College, wrote cheques for Rs 1 lakh each and gave them to Saurav Guha, the Trinamul councillor of Ward 87.
"This crisis is unprecedented. The two World Wars did not have such a devastating effect. What we have done is very little but we cannot turn a blind eye to what is happening around us," Chitralekha, who is writing a book on Calcutta's history, said.
She still teaches underprivileged children at a night school in Manoharpukur.
The Bhattacharyyas, residents of Tara Road in the Lake Market area, who have been involved in social work for almost two decades now, are the latest among senior citizens to contribute to the relief fund.
The couple said they chose to contribute to the chief minister's fund because they were moved by the way Mamata was "leading the battle against the coronavirus". "She has been leading from the front like a state's leader should. I admire that, strictly keeping politics aside," Chitralekha said.
Her husband said the hungry faces during the lockdown reminded him of the Bengal famine in 1943. "People begging for rice starch still haunts me. Our family had given starch to a woman and her little boy. The two had started fighting over the starch. The piping hot liquid fell on the boy and he suffered serious burns. I was a boy then. But I had promised myself that If I had provisions, I would always stand by the downtrodden in my life," Bhattacharyya said.
Their son teaches in Singapore. The couple, like everyone else, have stayed indoors for over a month now. They live with a teenager who lost his father in childhood and has been raised like a son in their house.
From teaching at charitable institutions for free to donating essential items to slum residents on the city's eastern outskirts, the Bhattacharyya couple have always set aside a part of their income for social work.
Their driver has been doing their shopping of essential items from Lake Market. "The police have been of great help. We send money and medicines to a senior citizens' home in Behala every month. Cops delivered it this month," Chitralekha said.
On April 12, The Telegraph had reported how Subhash Chandra Banerjee, a retired college teacher in Dum Dum, had called out the cops a day earlier. The policemen, part of a patrol from the Airport police station in the Bidhannagar commissionerate, thought he was hungry but were surprised when he wrote out a cheque for Rs 10,000 in favour of the relief fund to help in the fight against Covid-19.
"I always remember people like him. You also keep them in mind. Let such positive things happen for the sake of peace," Mamata Banerjee had said about Banerjee a few days later.
Sisir Roy, 80, a retired engineer from Salt Lake, had handed over a cheque for Rs 10,001 to Bidhannagar Municipal Corporation officials on April 20 to help provide the needy with food during the lockdown.