Husband steals scooter to 'gift wife'
The complexity of what might have been little more than the misadventure of a reckless man changed once he told his story of pandemic-triggered unemployment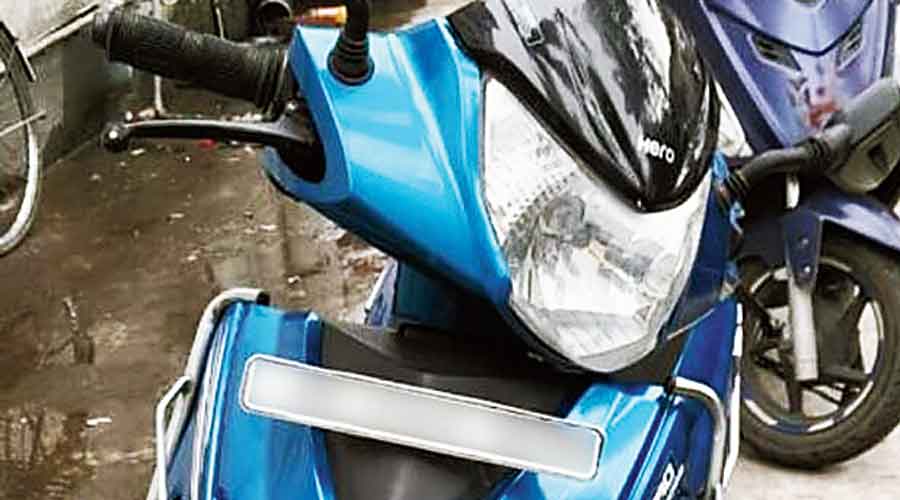 The two-wheeler that was stolen. The licence plate has been blurred by this newspaper
Telegraph picture
---
Calcutta
|
Published 23.09.20, 02:10 AM
|
---
Time and court will tell if the account holds but a lockdown story that will initially bring out the titters and then possibly a tear or two has been added to the police files in the city.
A scooterist who saw a woman park her scooter in Behala and leave the key behind by mistake parked his two-wheeler next to hers and allegedly rode away in the other vehicle with the intention of giving it to his wife as a birthday gift.
Subsequent investigations and eyewitness accounts suggest the man then came back in an autorickshaw to take his own scooter back home.
However, before he could clean the stolen scooter and present it to his wife, he was arrested and charged with theft.
The complexion of what might have been little more than the misadventure of a reckless husband changed once he told his story to the police who are yet to corroborate it.
The 39-year-old man told the police that he had wanted to present his wife with a scooter identical to his but the lockdown had left him in a financial crunch.
An officer said: "He claimed that he worked for a private firm in Ahmedabad but lost his job during the lockdown. He now works for an insurance company but said he was not in a position to buy his wife a scooter she had been asking for."
"He said he had gone back to the theft spot in an auto to bring back his scooter. He had planned to gift the stolen scooter to his wife after cleaning it but the police team reached his house before that," the officer added.
The stolen scooter belonged to Moumita Karmakar, a Thakurpukur resident who rode her scooter to work on Monday as she usually does. She forgot to take the keys from the ignition after parking the two-wheeler near Behala Blind Boys' Academy. Hours later, when she stepped out of her office, her scooter was missing.
Karmakar went to Behala police station to report the theft. Officers started looking at footage from CCTV cameras in the neighbourhood and spotted a man approaching the parked scooter and riding away.
"It was not apparent from the footage that he had parked his two-wheeler nearby. The picture quality was grainy. He was wearing a mask, making our task to identify him a little more difficult," an officer said.
Armed with still photographs of the man obtained from the CCTV footage, the police started looking around and found multiple witnesses who said they saw him park one vehicle, drive away another and return to the spot to take away the first vehicle.
After a few hours' search, the police could zero in on the man and found two scooters parked outside his two-storey home in Haridevpur, around 2km from the spot where Karmakar had parked her scooter.
Booked under a non-bailable section of theft, he will be produced before the court on Wednesday.