Cinemas resigned to lean footfall till Xmas
Halls bank on old Hindi films and new Bangla releases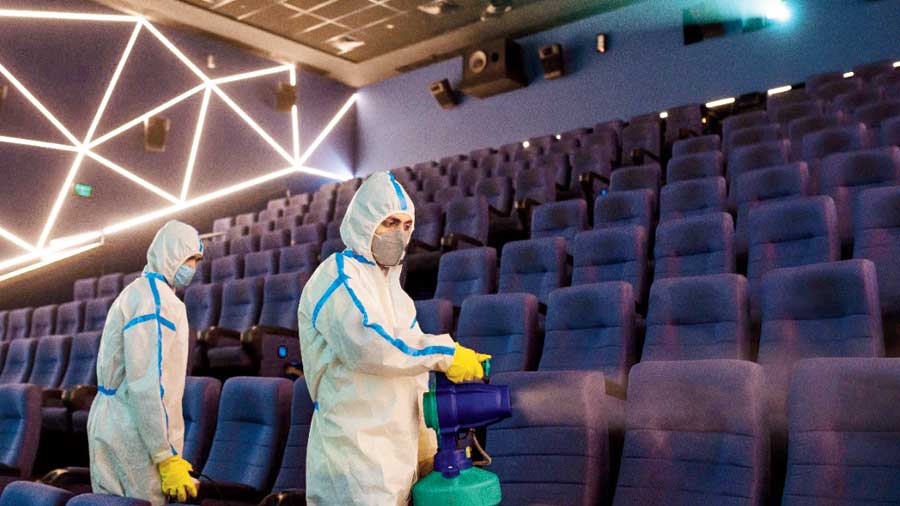 ---
|
Calcutta
|
Published 14.10.20, 02:30 AM
---
Many cinemas are set to open by this weekend or the next but owners are not expecting good business before a couple of months.
The absence of big Bollywood releases in the immediate future has dimmed the prospects of a good footfall. The halls that are re-opening, including multiplexes, will have to show re-released Hindi films or a handful of Bengali films due for release on October 21.
The Centre had greenlighted the reopening of cinemas from October 15, following which the Union ministry of information and broadcasting issued a set of standard operating procedures for halls to re-open in the backdrop of the Covid-19 pandemic. The seating capacity has been curtailed to 50 per cent of the capacity.
Sushant Singh Rajput films are the best bet for many hall owners until new releases arrive. Around 40 halls in Bengal, including some in Calcutta, have opted for Kedarnath, said sources in the Eastern India Motion Pictures Association (EIMPA).
Inox said it was "all set to welcome back" audiences from October 15. The chain said it would discontinue paper tickets and issue only e-tickets. On offer will be old films.
Single-screen hall owners are aware that old films are unlikely to draw visitors and they have curtailed the number of shows. But they want to open because there has to be a starting point after six months of shutdown.
Halls which run Bengali films are also keen to bank on the festive season, traditionally associated with big releases.
Owners are desperately waiting for the release of big-ticket Hindi films but that is not likely before Christmas, said exhibitors. The best-case, but unlikely, scenario is the release of one or two big films during Diwali, they said.
Pranab Roy, who owns Menoka on Southern Avenue and Asoka in Behala, said both would resume screening films on October 16. But instead of four daily shows, there will be two.
He will show Kedarnath and Chhichhore, both old films of Rajput, for now. "I am considering this as a trial run and waiting for our main supply line (big-ticket Bollywood films) to resume," said Roy.
Navin Chokhani, the owner of Navina, said the hall would reopen on October 21 with two new Bengali films. "Even before the pandemic, single-screen halls were not doing great. I am not anticipating a rush soon," he said.
A string of big-banner Hindi films is ready for release but the producers are holding them back because of the uncertainty in the market. Akshay Kumar-starrer Sooryavanshi and Ranveer Singh's 83 are among the eagerly awaited biggies.
"The producers want to wait for some more time…. Even if there is a semblance of normalcy, at least some mid and small budget Hindi films will be released," said Satadeep Saha, the co-owner of SSR Cinemas, which runs multiples in and outside the city.
The uncertainty in the overseas market, a big draw for Hindi films, is another reason delaying the release, said Firdausul Hasan, president of the Film Federation of India.