Covid eats into India's workforce
Survey suggests that the infection has caused more premature deaths among patients younger than 60 years in comparison with several other countries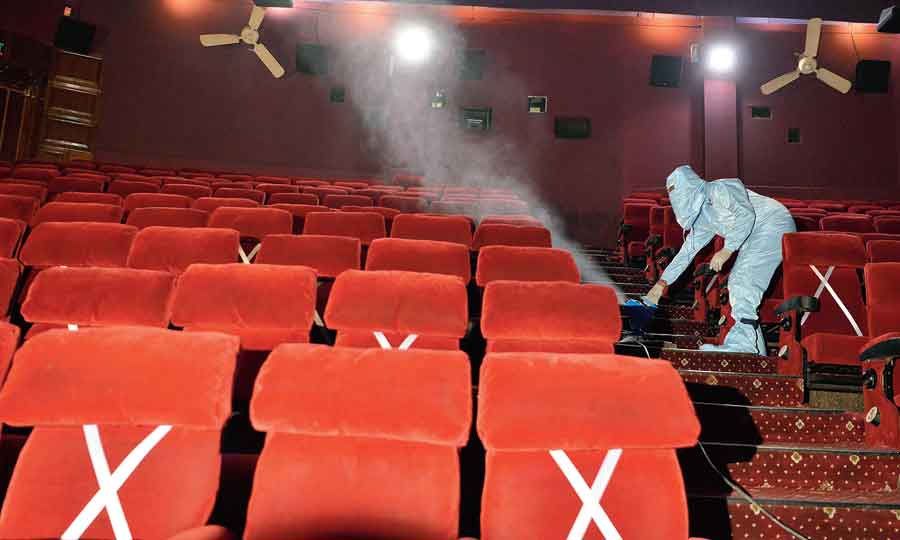 A worker sanitises a cinema hall in New Delhi on Tuesday, as multiplexes prepare to reopen from October 15
Prem Singh
---
New Delhi
|
Published 14.10.20, 02:14 AM
|
---
Nearly half of India's 1,09,000 coronavirus disease deaths have occurred among patients younger than 60 years, according to data released by the Union health ministry on Tuesday that also show over 1,000 deaths among children below 17 years.
The health ministry's mortality analysis has also found that Covid-19 patients with underlying health disorders such as cardiovascular, diabetes, high blood pressure, kidney disease or cancer have a 15-fold high risk of dying than patients without such so-called comorbidities.
The first such analysis after India's Covid-19 death counts crossed 1,00,000 have corroborated earlier indications that a significant proportion of these deaths have occurred among people aged between 26 and 60 years, representing the most productive workforce years.
Ten per cent of the Covid-19 deaths have occurred among patients aged between 26 and 44 years and 35 per cent among patients aged between 45 and 60 years. And given India's large absolute numbers, the 1 per cent mortality figure translates into more than 1,000 deaths each among children below 17 years and in young people between 18 and 25 years.
The analysis has validated early signals that the Covid-19 epidemic is eating into India's workforce, causing more premature deaths in working-age people in comparison with several other countries.
Data from the US Centers for Disease Control and Prevention updated on October 7, for instance, shows that 42,069 (21 per cent) of 1,98,809 Covid-19 deaths across the US were among people below 65 years. In India, 47 per cent of deaths are among patients below 60 years.
"The massive loss of people in the workforce is likely to have devastating social and economic consequences," said Sanjay Mohanty, a public health researcher at the International Institute of Population Sciences, Mumbai.
An independent mortality analysis by Mohanty and his colleagues in June this year — when India's Covid-19 death toll was less than 15,000 — had found that roughly 58 per cent of deaths had occurred among patients between 30 and 65 years.
The health ministry's latest mortality analysis has also underlined the risk posed by comorbidities. The overall case fatality rate among patients with comorbidities was 17.9 per cent, or nearly 15-fold higher than the 1.2 per cent case fatality rate among patients without comorbidities.
The risk of death increases with age and comorbidities. The case fatality rate among patients aged 60 years or older is 24 per cent, compared with 4.8 per cent in patients of this age group without any underlying health disorder.
A giant detailed epidemiological study on over 84,000 Covid-19 patients in Andhra Pradesh and Tamil Nadu, published last week, had found a relatively low incidence and mortality among people above 65  years, a contrast to patterns observed in Europe and the US. The researchers who had conducted the study had speculated that people in India aged above 65 years enjoy a "survivability bias" — good health, nutrition, and other socio-economic advantages — that likely shields them from the Covid-19 infection and mortality.