Bagbazar fire ravages dreams and life savings
On Friday, some teachers of NGO Calcutta Rescue went with clothes and handed them to some of the beneficiaries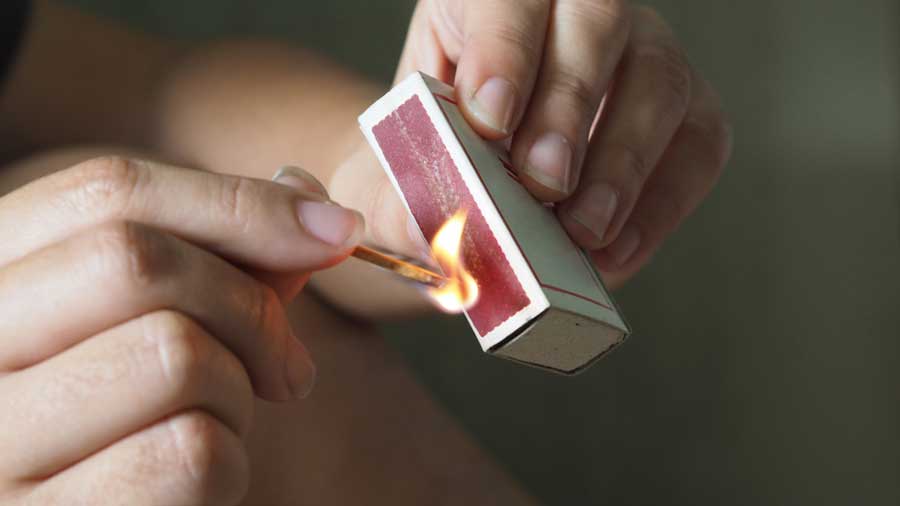 ---
|
Calcutta
|
Published 16.01.21, 04:22 AM
---
Chumki Samadder was staring at her burnt books and weeping inconsolably on Friday morning.
The home in Bagbazar that the student of history shared with her mother was gutted in the devastating blaze on Wednesday night.
Chumki was at home when the fire broke out. She and her mother ran out but could not take anything with them.
"We ran to the main road near Sanjeevani Hospital. The next day, when we were allowed to go, there was nothing left. No books. No clothes. No utensils," said Chumki.
"We tried to rummage through the contents of our almirah, but there was nothing left. I found a bag which contained my certificates. They were half burnt," said Chumki.
The almirah also contained saris and some jewellery that her mother had been saving for years for Chumki's wedding. None of that was intact.
Chumki's father had passed away in September, following a prolonged illness. Her mother runs a tea stall in front of their home, which was also gutted.
Chumki's mother could only study till Class IX but she has been relentlessly trying to ensure that her daughter completes her education.
NGO Calcutta Rescue, which has been helping Chumki continue her studies, stepped in to help beneficiaries in the area. But it will take long to rebuild their lives, said Ananya Chatterjee, the school administrator of the NGO. "We can give them clothes and ration. But we cannot restore their life savings," she said.
Chatterjee said the fire had left Chumki "shocked". "Everything has been damaged and it will take so many years to get things back again," said Chumki.
Chatterjee said they would have to provide moral support too. "We are counselling her that she would be able to get her life back on track. She will complete her graduation in a few months and with a vocational training in computers, she will be able to get a job."
On Friday, some of the teachers of the NGO went with clothes and handed them to some of the beneficiaries.
The NGO also supports Sharmila Mondal, a Class IX student whose house has been gutted, too.
Sharmila's father is a bus driver. Her mother Mamta, who works as a domestic help, tried to pull out a trunk that contained their valuables — two gold earrings and a silver trinket. "But my husband stopped me... everything is gone," said Mamta.
The neighbourhood includes two other families who are cardholders of the medical unit of the NGO.
The NGO had offered the families a temporary place to stay but they refused to move from the area. "They are scared that if they go, they might lose their space in the area," said Chatterjee.