Calcutta welcomes home Nobel son Abhijit Banerjee
Ululation greets celebrity resident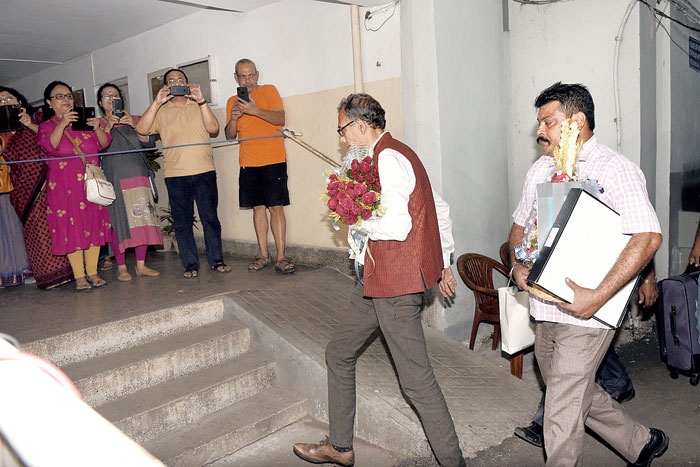 ---
|
Kolkata
|
Published 22.10.19, 07:56 PM
---
Multi-storey Saptaparni did not complain when the lift was stopped on the eighth floor and residents were told to walk up the remaining floors.
Their neighbour at 86F is now a celebrity after all.
Many of the otherwise private residents of the Ballygunge Circular Road housing complex came down and ululated and blew conch shells to greet Abhijit Vinayak Banerjee on Tuesday evening. There were many more in their balconies, mobile phone cameras rolling.
It was a sight not just unfamiliar to Banerjee but to 45-year-old Saptaparni as well.
The Nobel winner entered the housing complex at 7.55pm with a bouquet in his hand. The car stopped a few metres away from the building where he lives and he walked up a few steps as cameras kept clicking.
The sound of conch shells and ululation went on even after Banerjee went into his apartment. "It was a spontaneous reaction of residents to show him their respect," said a resident.
Banerjee had a sore throat and he looked exhausted. "Uni bolchhen onar gola bhenge geychhe ar uni khub tired (He has said that he has a hoarse voice and is very tired)," the police told media persons and residents waiting downstairs long after Banerjee went up to his apartment.
One of the residents, Jeeja Ghosh, an advocate of disability rights, was also downstairs outside Banerjee's block before his arrival.
"We are proud of him and I like this euphoria and celebrations in our complex on the occasion of Abhijit Vinayak Banerjee's visit. I would like to meet him the next time he is here," said Ghosh.
As news arrived that Banerjee's car had left the airport for his home, one of the two lifts was restricted by the police and residents either had to walk up or down.
Even hours before Banerjee's arrival, the police were constantly sanitising each floor to ensure no one was loitering. There was a policeman on every floor, keeping a close watch on the eighth floor. Not just inside, cops were also deployed outside Saptaparni.
The residents' association did not plan anything specific for Banerjee on Tuesday to respect the "mother son privacy", said M. Rajagopal, one of the directors of the housing society.
"We had asked Abhijit Vinayak Banerjee's mother Nirmala Banerjee if we could arrange a felicitation for him. But since this was a short visit of only a day she requested us not to make any arrangements. We want to honour their privacy and give them some family time together. After he receives the award and comes back to the city we will felicitate him," said Rajagopal.