Cabling mess poses firefighting hurdle
Firefighters said the challenge of making their way through the cables and wires hanging overhead delayed their attempts to fight the blaze that was growing stronger every minute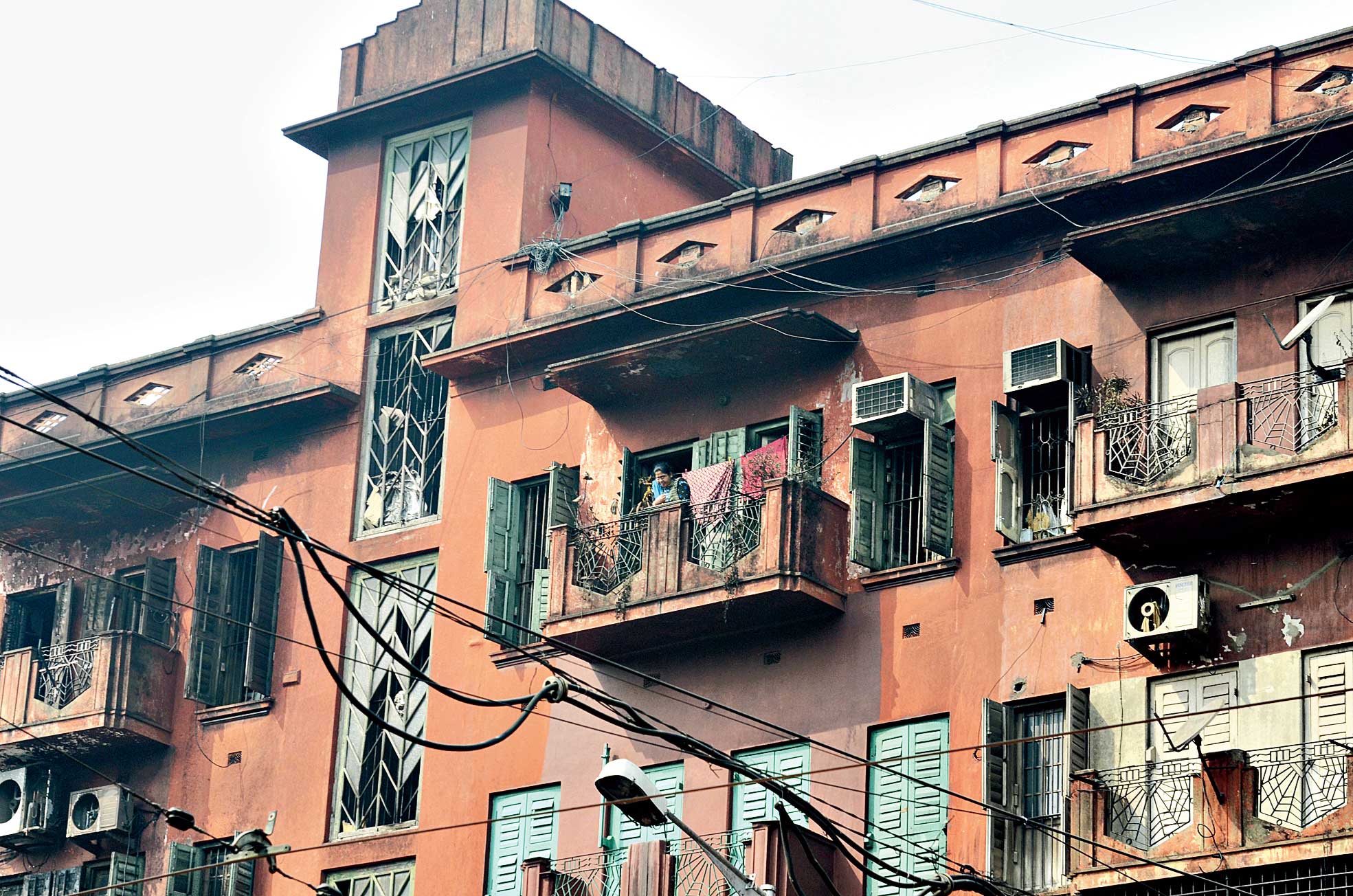 Tangled cables in front of Gurudas Mansion at the Gariahat junction.
Picture by Bishwarup Dutta
---
Calcutta
|
Published 22.01.19, 08:31 AM
|
---
The hurdles faced by firefighters despatched to douse the flames that enveloped a Gariahat building early on Sunday included the aerial maze of cables that blight Calcutta's skyline.
Firefighters said the challenge of making their way through the cables and wires hanging overhead delayed their attempts to fight the blaze that was growing stronger every minute. They had to cut some of the wires so that the fire engines could move ahead. Placing ladders for firefighters to climb up the five-storey building and spray water also proved difficult.
When Bagree Market in central Calcutta caught fire in September, the fire brigade couldn't use its skylift to take firefighters to the upper floors of tall buildings in the vicinity.
In Gariahat on Sunday, the ladder of the skylift had to be manoeuvred this way and that several times to avoid the overhead electric cables of trams.
"Our men had to first cut through the maze of overhead cables strung up near the buildings. The cables pose a safety risk that quadruples when a fire breaks out as they hinder operations," fire services minister Sujit Bose said on Monday.
Firefighters and personnel from the city police's disaster management group sliced through the wires using power saws and other cutting tools.
Cables wrapped around the lampposts and street furniture are a familiar sight. Low-hanging cables pose a risk to pedestrians, motorbike riders and motorists. There are many instances of poles laden with cables and junction boxes keeling over and falling on roads, causing accidents and traffic disruptions.
Metro had reported in August 2017 about the threat cables pose to pedestrians and motorists.
In January 2018, an 18-year-old man riding a motorbike without a helmet died of head injuries after his two-wheeler got entangled in a heap of cables lying on the east-bound flank of the Park Circus bridge.
Mayor Firhad Hakim, who is also the urban development and municipal affairs minister, had then spoken about a plan to get cable operators to take their cabling underground. Hakim announced that the state government could also create roadside conduits in municipal areas under the Green City Mission for cables to go through. In June last year, Hakim said that Park Street had been chosen for a pilot project to run overhead cables through conduits.
When Metro asked him on Monday about the progress of the project, the mayor walked away without responding. He was at a meeting of cable operators.
According to the fire services minister, cable operators preferred stringing together new cables instead of repairing old ones, thus adding to the mess.
The only place in Calcutta where cable operators are not allowed to do overhead cabling is New Town.