By next year, sensors for Teesta tributaries to check floods
Sources say experts will conduct survey during ongoing monsoon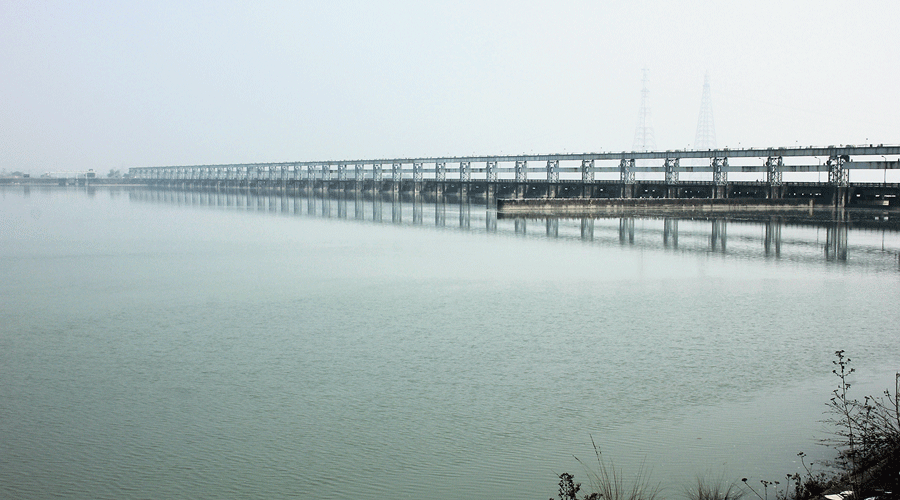 The barrage on the Teesta river at Gajoldoba in Jalpaiguri district.
File picture
---
Jalpaiguri
|
Published 01.08.22, 12:43 AM
|
---
The state irrigation department has decided to install sensor-based equipment by next monsoon in a number of rivers in north Bengal that are tributaries of the Teesta river to monitor their water discharge in a bid to prevent floods in the Teesta's lower catchment areas.
Every year, flash floods occur in many localities of Sadar, Rajganj and Maynaguri blocks of Jalpaiguri district and Haldibari and Mekhliganj blocks of Cooch Behar, which are on both banks of the Teesta.
"The discharge of water from the barrage (at Gajoldoba in Jalpaiguri) and dams (in the hilly stretches of Bengal and Assam) is measured and does not cause floods in lower catchments. It is because of the high discharge of water from its tributaries that these areas get flooded," said a senior engineer of the irrigation department.
According to him, rivers Leesh, Ghish, Chel, Mal, Zurantee, Neora I, Neora II and Nandikhola mingle with the Teesta, which enters the plains at Sevoke, crosses Jalpaiguri and Cooch Behar districts of Bengal and then flows into Bangladesh.
"Experts of the river research institute based in Haringhata of Nadia district will be engaged for a study and install sensor-equipped instruments for hydrological observation. This will help us get a clear idea of the amount of water discharged from these smaller rivers into the Teesta, especially during  monsoon," the official added.
The experts, sources said, will conduct the survey during the ongoing monsoon.
"We want the hydrological observation system to be in place ahead of next monsoon. It will also help us issue alerts to the administration so that residents of flood-prone areas on both banks of the Teesta can be alerted or shifted to safer areas if needed," said a source.
In all, the hydrological observation will be carried out in 10 rivers and streams and around Rs 26 lakh will be spent on the project.