Bus safari in Mahananda Wildlife Sanctuary
28-seater vehicle to take tourists inside forest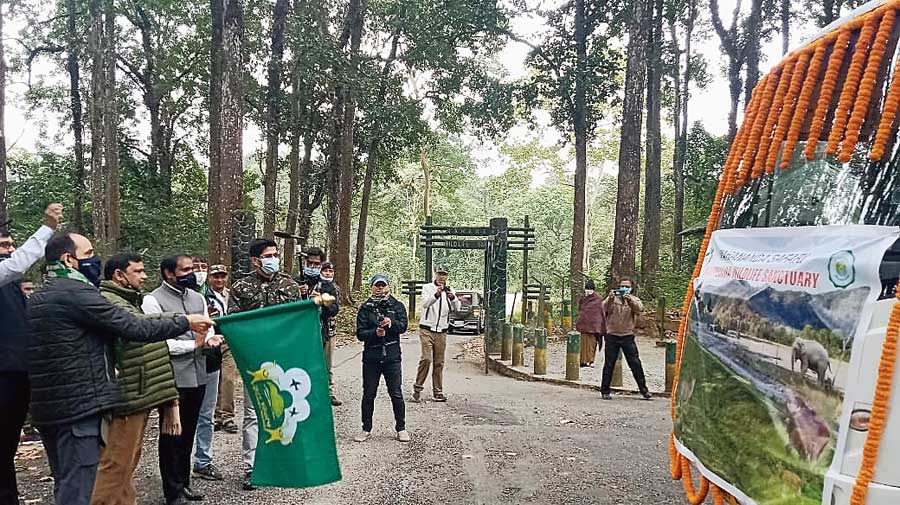 ---
Siliguri
|
Published 28.11.20, 02:35 AM
|
---
The Bengal forest department launched a bus safari for tourists in the Mahananda Wildlife Sanctuary near here on Friday. V.K. Yadav, the principal chief conservator of forests (wildlife), flagged off a 28-seater bus that would take visitors through the sanctuary for one hour.
"Visitors can enjoy the hour-long bus ride inside the jungle. There will be five trips every day from 6.15am to 4.30pm. Each visitor will have to pay Rs 300 to avail himself/herself of the safari," said Rajendra Jakhar, chief conservator of forests (north Bengal).
The Mahananda sanctuary extends from Sukna, located 10km from here, and covers the hilly tracts of Sevoke and Latpanchar. The forest is a storehouse of varied floral species. It is also known to be a habitat of elephants, bison, leopard, deer and different species of birds.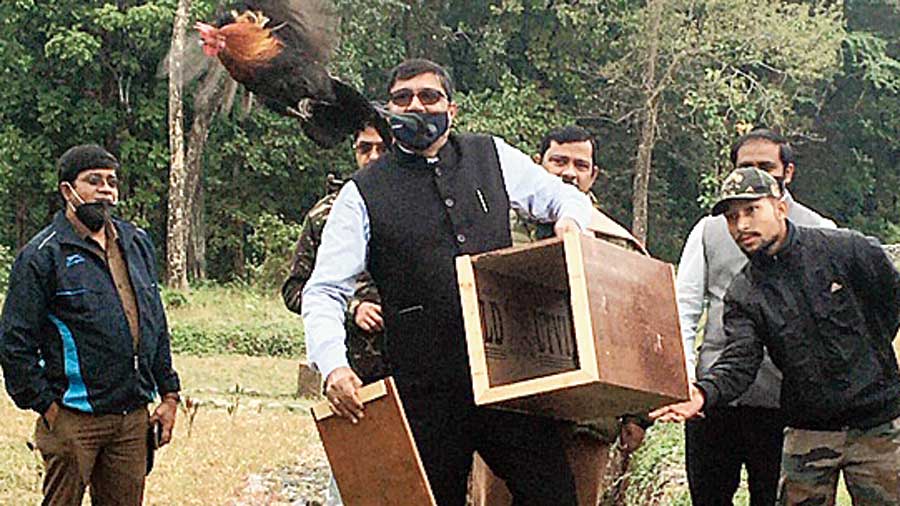 The safari, foresters said, will provide an additional opportunity to tourists to get to know wildlife in north Bengal.
As of now, vehicle safaris are available in the Gorumara National Park in Jalpaiguri district and the Jaldapara National Park, Chilapata Forest and Buxa Tiger Reserve in Alipurduar district. Besides, the Bengal Safari Park on the outskirts of Siliguri also offers car rides for visitors.
"We hope the bus safari will be popular among tourists and people of north Bengal, particularly because of its proximity to Siliguri," said a senior forest officer.
The tickets for the safari, he said, will be available at the nature interpretation centre in Sukna or online at www.wbsfda.org.
During the launch of the bus safari at Sukna, Yadav released five kalij pheasants, an endangered bird species, and 10 red jungle fowls into the sanctuary.
He said the department would organise a bird festival in Mahananda, preferably at Latpanchar, a hamlet located beyond Sevoke, before the end of this year.
"Over 850 species of birds are found in Bengal and around 600 of them species can be seen in the forests of north Bengal. The Mahananda forest is a paradise for birdwatchers and considering its rich avian population, we have decided to host a bird festival here once a year," Yadav said.
In north Bengal, this will be the second-of-its- kind festival for birdwatchers and ornithologists. Every year, a similar fest is organised by the forest department in the Buxa Tiger Reserve from January 6 to 9.