Burning rake's driver benched by Calcutta Metro
'Suo motu' metro step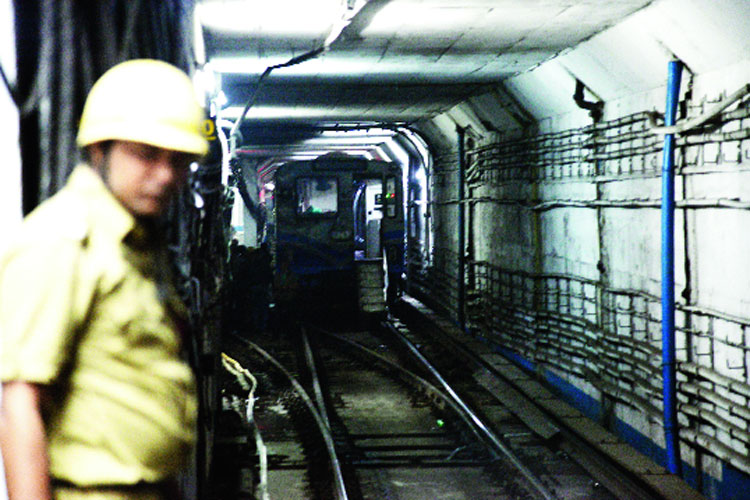 ---
|
Calcutta
|
Published 25.01.19, 08:12 AM
---
The driver of the air-conditioned Metro rake that caught fire between Rabindra Sadan and Maidan stations on December 27 has been "benched" at Kavi Subhash station, where his job is to occasionally bring trains from the yard.
A senior official of Metro Railway on Thursday described the decision to take motorman Debashis Dutta off the roster as "suo motu action" for an alleged delay in informing the control room about the fire.
"Dutta had informed the control room about the fire and the near-stampede situation inside the stalled train 10 to 12 minutes after a loud noise was first heard," the official said.
The report of the inquiry by the chief commissioner of railway safety (eastern circle) is still awaited.
A source quoted Dutta as telling colleagues that he could not call the control room immediately because his cabin was filled with thick smoke and he could hardly breathe and see. The control room first received news of the fire from Maidan station.
"The station staff saw fire in the tunnel. They could not specify what was burning — the train or the track. The motorman was at the spot and he should have alerted the control room at once," the official said.
The emergency response by Metro Railway wasn't faultless either. There was no announcement on the train about what the passengers should do, triggering confusion and panic.
Officials attributed this to the Metro headquarters being in the dark about details of the incident for almost 10 minutes.
Many passengers smashed the windows to let in air. Some jumped out of the windows and injured themselves after falling on the track from several feet. More than 40 people were taken to hospital, at least five of them with fractures.
The chief safety commissioner's brief is to ascertain the cause of the fire, fix responsibility and suggest punitive action. "We cannot take any action against the driver till the report comes. But by all accounts, he could have handled the situation better," the official said.