Hospital smashes protest lock
Burdwan facility follows chief minister ultimatum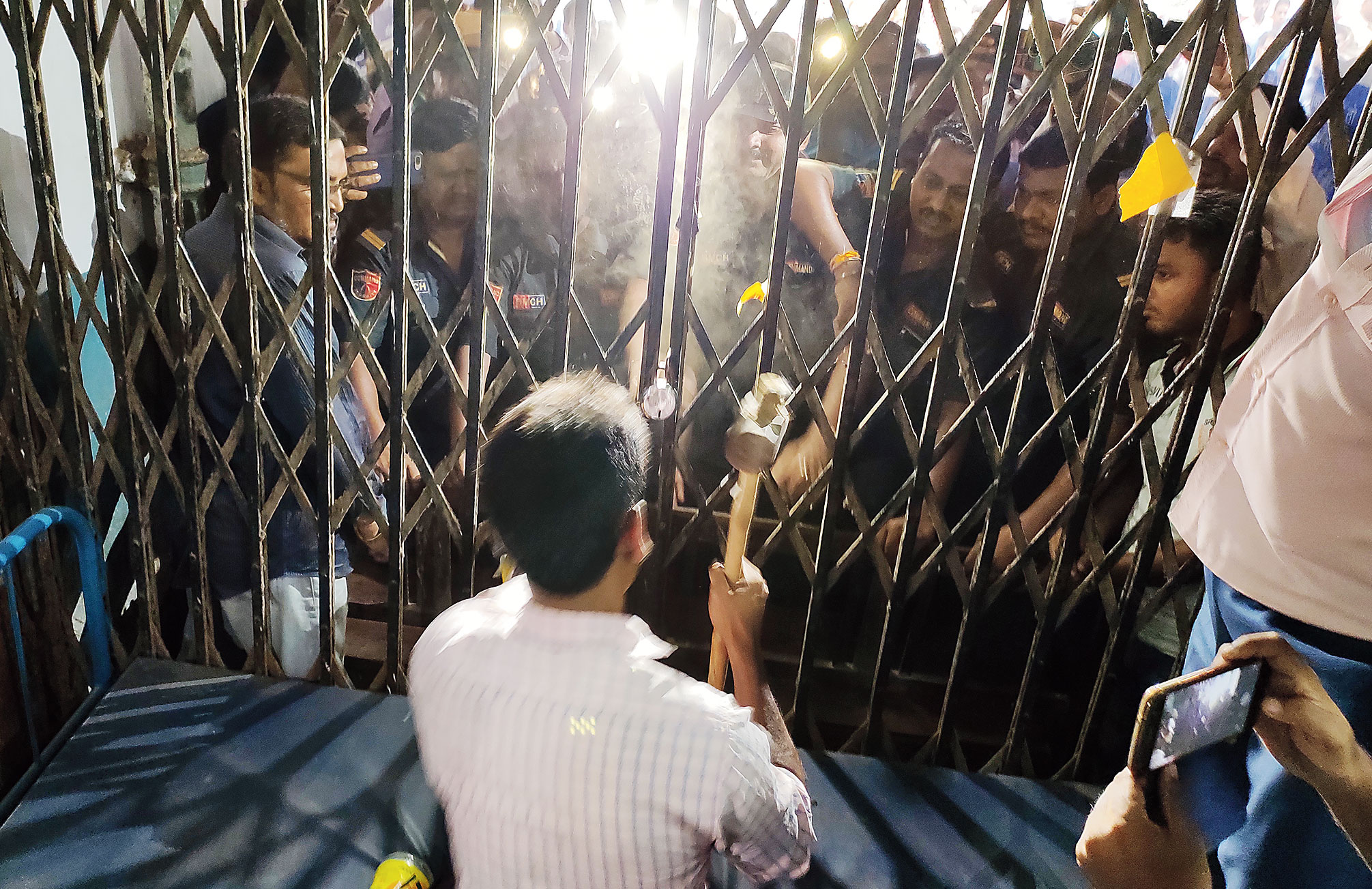 An employee at Burdwan Medical College and Hospital breaks open with a sledgehammer the lock on the main gate of the emergency ward on Wednesday so that patients can enter.
Picture by Anirban Hazra
---
Burdwan
|
Published 13.06.19, 06:34 PM
|
---
The Burdwan Medical College and Hospital authorities on Thursday broke with a sledgehammer the lock of the collapsible gate at the main entrance of the emergency ward a little after 2pm, the deadline set by chief minister Mamata Banerjee to junior doctors to end their ceasework.
Agitating junior doctors at the BMCH had locked the gate on Tuesday as part of their protest against the assault on colleagues at NRS Medical College and Hospital in Calcutta.
"We tried to find the key to the lock, but could not. So, we broke it open. The gate had remained locked since Tuesday, but we had been providing services to patients coming to the emergency ward. The patients had been entering through another gate in the same building," said Utpal Dawn, the medical superintendent of BMCH.
However, the outpatient department could not be operated on Thursday as it closes at 2pm. "We hope to resume normal services at the OPD from tomorrow (Friday), but everything depends on the situation," Dawn said.
Around 1,380 junior doctors and medical students at the BMCH continued with their demonstration on the hospital campus on Thursday.
"We will intensify our movement, but it will be peaceful. We are getting support from medical students and junior doctors from other states, including Delhi. We will not harass patients and will try to explain our grievances to them. We are not their enemies and they are not our foes," an agitating junior doctor said.
Dawn said the senior doctors and professors at the medical college were working round the clock to provide treatment to the patients already admitted and those coming to the emergency ward.
The BMCH has around 300 medical officers and teaching doctors, but the authorities said it was not enough to make up for the services rendered by about 680 junior doctors who have struck work.
The 1,236-bed BMCH is a key referral hospital in south Bengal where patients from East and West Burdwan, Birbhum, Bankura, Hooghly, Murshidabad and Jharkhand come. Around 5,000 patients receive treatment daily at the OPD, and around 2,000 patients visit the emergency ward.
A 15-year-old rape victim died at the BMCH on Wednesday night, as did a baby in its mother's womb. The relatives of the patients alleged that the deaths took place because of medical negligence.
The hospital denied the charge. "We have not yet received any complaint of medical negligence because of the ongoing ceasework," Dawn said.