Bulls terrorise veg markets
Durgapur traders seek help to tame animals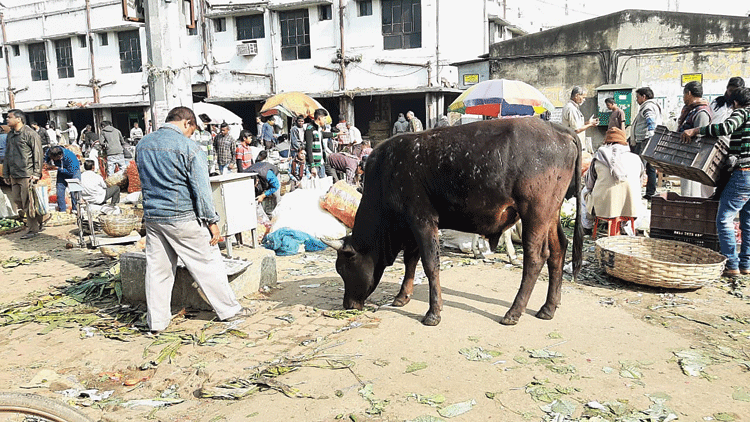 ---
|
Durgapur
|
Published 09.02.20, 07:01 PM
---
Two stray bulls have been terrorising major vegetable markets in Durgapur for the past two months, leaving 60 people injured and forcing customers to avoid the areas fearing attacks.
But the authorities are yet to act against Bahubali and Kaamdev despite repeated complaints from the shopkeepers at the two markets.
The traders said they had been urging Trinamul Congress councillor Madhusudan Mandal to take steps to tame the animals, but nothing had been done yet.
"We have been busy chasing away the bulls with sticks. We have been losing business as people have stopped visiting the markets for buying vegetables," said Pankaj Srivastava, a trader at Benachity market.
The bull had injured him a month ago.
"Kaamdev has already injured 30-plus people and damaged several two-wheelers," Srivastava said.
Shopkeepers said Kaamdev was one of six stray bulls at Benachity market. Shopkeepers offer them fruits and vegetables in the belief that it is the vahan (vehicle) of Shiv.
Sources said the socio-religious significance of the animal made it problematic for anybody to act sternly.
"The other bulls only steal vegetables from shops, but don't hurt anyone. Some of us also feed them. Kaamdev, however, has been attacking people regularly," said another trader.
At the Sen market, near Durgapur railway station, Bahubali has injured at least 30 people so far.
"The bull rammed into my left thigh with its horns. It was a very painful blow. I fell to the ground. I managed to escape further attacks because shopkeepers chased it away," said local resident Arup Mukherjee.
The distance between the Benachity and Sen markets is around 10km,.
"I have been travelling 7km to Muchipara to buy vegetables and fish. Sen market is close to my house, but I have been avoiding it, fearing an attack by Bahubali," said Chittaranjan Banerjee, a local resident.
Madhusudan Mandal, the Trinamul councillor who represents the ward in which the Benachity market falls, said he had sought the help of forest officers to handle the situation.
"Our mandate is to deal with wild animals. Domestic animals on the loose are to be handled by the animal husbandry department which has been informed," said a forest officer in Durgapur.