Bowbazar residents want to return for Arandhan
KMRC in two minds, say parts of Bowbazar still unsafe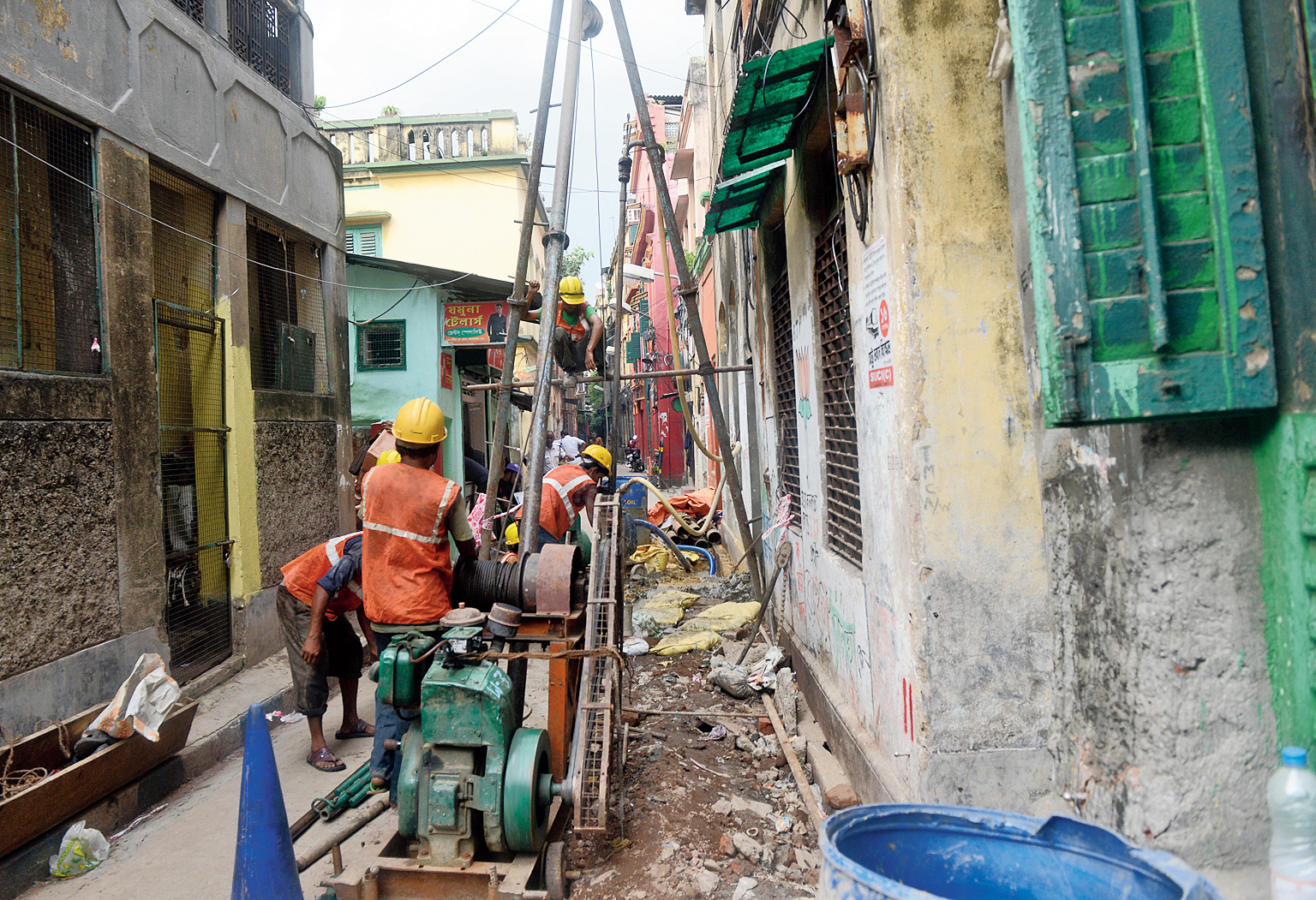 ---
|
Bowbazar
|
Published 16.09.19, 10:12 PM
---
Many of the Bowbazar residents who have been forced out of their homes because of subsidence triggered by East-West Metro work have sought permission to return home for Arandhan, a no-cooking ritual celebrated the day after Vishwakarma Puja.
People who participate in Arandhan offer food cooked the night before to Goddess Manasa.
Engineers of the Kolkata Metro Rail Corporation (KMRC), the implementing agency of East-West Metro, are not sure whether the residents could be allowed to return home for the ritual.
"Large parts of the area hit by subsidence are still too dangerous," an engineer said.
"We will be happy to see at least some families return home, but not at the cost of their lives," said a senior KMRC official.
A machine that was boring a tunnel of East-West Metro had run into a giant aquifer on August 31. Water from the aquifer entered the tunnel, causing subsidence and damaging many houses. More than 650 people had to be evacuated.
Somnath Banerjee, a resident of Gaur De Lane who is now staying at a hotel nearby with his family, said staying away from home on Arandhan would mean a break from a decades-old tradition for women.
"We have been performing the ritual for years," he said.
"We have requested the KMRC authorities to allow us to re-enter our homes so that the food to be offered can be cooked overnight on September 17."
The food cooked overnight is offered cold the day after to the deity.
Arandhan — Ranna Puja to some — involves cleaning the kitchen and offering food to Manasa. It's a kind of thanksgiving to the serpent goddess after the rainy season. It's also a chance to clean up the kitchen and larder ahead of the festive season.
The roots of the custom can be traced to incidents of snakes entering village homes when the ponds would overflow during the monsoon.
The cleaning of the house ensures that it is freed of all pests and snakes. At villages, where food is still cooked on clay overs, a new oven is made on the occasion.
"Among the items cooked on the occasion, ilish (hilsa) is a must," said Banerjee.
"Water is added to rice to make paanta, which is offered to the deity usually with five types of fried vegetables, five varieties of curries, pulses and coconut."
Pratap Das, another resident of Gaur De Lane, said: "Women holed up in hotels and lodges are keen to return home and perform the ritual."
Ritual or not, September 17 remains crucial for the displaced people of Bowbazar.
On September 14, a day after some of those evacuated were to return home, KMRC had sent them letters saying the return had been delayed by four days.
"We thought we would be back on September 13. The deadline was suddenly extended. Hopefully, they will allow us to return home on September 17," said Adhik Rao Bhavar, owner of Rahul Gold and Silver Refinery, on Gaur De Lane.