Bowbazar displaced put off festive purchases
Surgery on family mind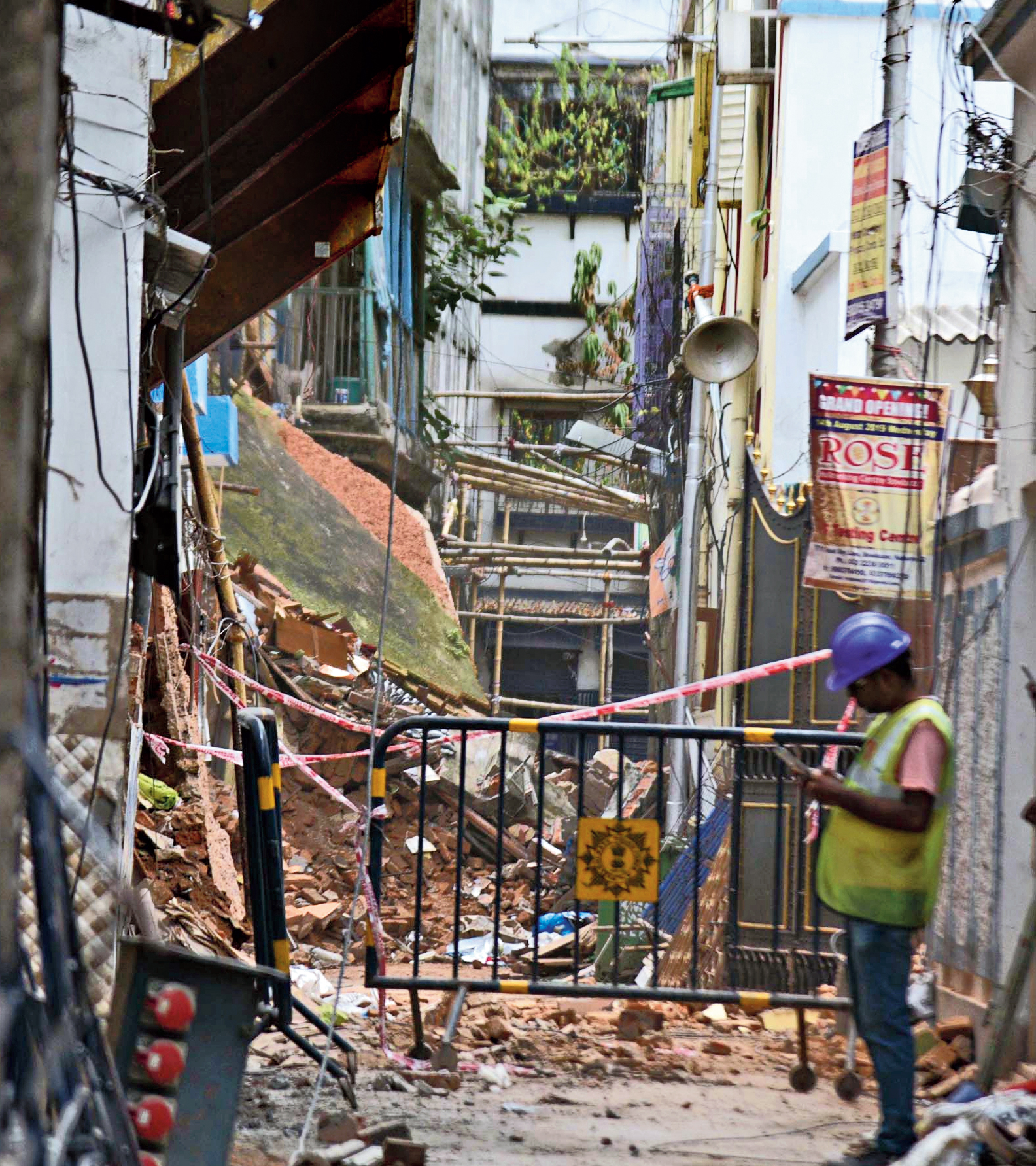 ---
|
Bowbazar
|
Published 22.09.19, 07:45 PM
---
A family evacuated from Bowbazar's Durga Pituri Lane after their house was damaged beyond repair in the subsidence triggered by East-West Metro work will not be buying new clothes this Puja.
Brothers Rajdeep and Joydeep Boral are now more worried about arranging money for their father's twin surgeries that have had to be put on hold.
"Where is the joy of Durga Puja? For us the priority now is the well-being of our parents and other family members. The surgeries would cost us Rs 1.2 lakh," said Rajdeep Boral, who works for an insurance company. "My brother and I will not buy anything."
The two sons of the Boral family had to buy shirts and trousers for going to work. Forced to leave home in a rush, they could not bring with them anything.
The four-storey house at 14/1A Durga Pituri Lane, where the Borals lived, developed large cracks and will have to be demolished.
"We couldn't bring anything from home. We were woken up at night and asked to leave within five minutes," he said. "My mother cannot walk and it was very difficult to bring her down so quickly."
Unlike many others, the Borals couldn't go back to their house to retrieve anything later as engineers said entering the building would be risky.
"The house is beyond repair, engineers told us. We have given the no-objection certificate for demolition," said a family member.
Rajdeep's father, Swapan, had spent Rs 4 lakh to build an extra floor only two years ago. "What about the money that was spent?" asked the family member.
Sources in the Kolkata Metro Rail Corporation (KMRC), the implementing agency of East-West Metro, said 688 people had been evacuated from 68 buildings in Durga Pituri Lane and Syakrapara Lane. A few buildings collapsed because of the subsidence.
The evacuation became necessary after a machine that was boring one of the tunnels for the project in Bowbazar hit an aquifer on August 31, triggering subsidence.
The KMRC has asked for the plans of 20 buildings from the Calcutta Municipal Corporation. "The plans will help us know the land and the built area of the buildings that need demolition," a KMRC official said.