Boom barrier to jaywalking
Gate synced with signal at crossing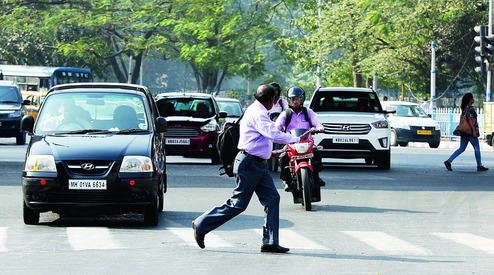 ---
|
Calcutta
|
Published 07.02.18, 12:00 AM
---
Calcutta: Some of the city's accident-prone intersections will have boom barriers for pedestrians that open and close in sync with traffic signals, police said on Tuesday.
Electronically synchronised barriers at pedestrian crossovers are expected to accomplish what unmanned zebra crossings have failed to do in this city of jaywalkers by habit and compulsion.
The system will operate like railway level crossings, the falling arm of a boom barrier signalling that traffic has resumed on the carriageway and pedestrians must stop.
The traffic police headquarters in Lalbazar has decided to kickstart the project with four electronic boom barriers synchronised with the time cycle of the traffic signals at the Park Street-JL Nehru Road, DL Khan Road-AJC Bose Road and Exide crossings.
The police have identified 75 such "dangerous" intersections in the city, three each under the 25 traffic guards. Increased surveillance to prevent jaywalking at these places is part of the plan. Boom barriers will be installed at several of these intersections in phases, police sources said.
As multiple Metro reports have highlighted, pedestrians account for the majority of fatalities in road accidents. Police records show that of the 329 road deaths last year, 171 were pedestrians.
The police had so far depended on ropes and guardrails to manually control crowds at intersections. "Haphazard pedestrian movement and spillover on the roads not only endanger life but also reduce the average speed of vehicles. With boom barriers, we will try to ensure there are no pedestrians on the road when traffic moves," an officer said.
The duration for which a traffic signal remains red for vehicles might be increased by a few seconds to allow larger pedestrian flow through a crossing and prevent crowding on the pavements.
A source said each gate, around five metres in length, would be installed on the edge of a pavement. The remaining width of the passage is to be either blocked with guardrails or permanent railings.
A 1,100-strong force of civic volunteers will regulate pedestrian movement with ropes as and when required.
A section of the police said it would be a challenge to install boom gates at intersections where pavements have been encroached on, leaving little space for pedestrians to even stand.
Pedestrians are often forced to walk on roads because the pavements have been snatched from them by hawkers.