Bogtui struggles with security and surveillance
'We thought the situation would normalise slowly but that did not happen because of the surveillance of several security agencies over past nine months'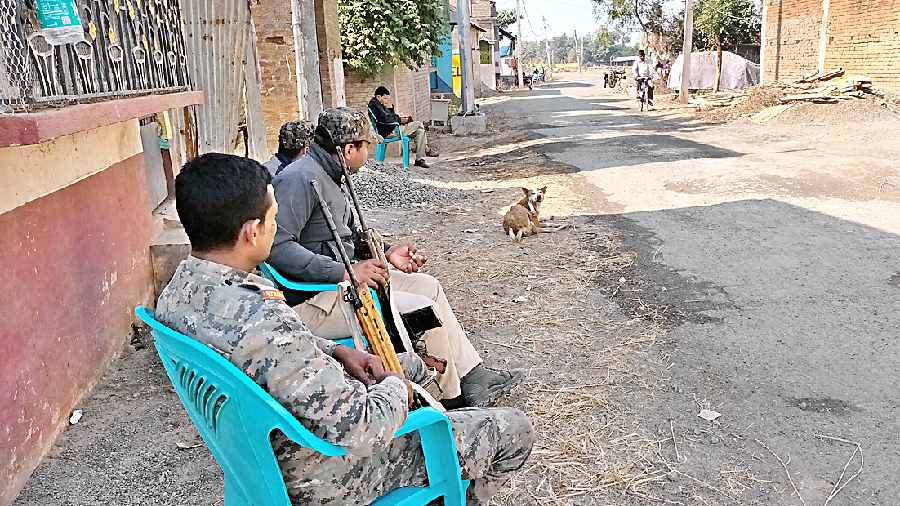 Police personnel at Bogtui on Saturday
---
Rampurhat
|
Published 19.12.22, 04:35 AM
|
---
Residents of Bogtui have been living under the strict surveillance of state police and central forces with round-the-clock vigilance of CCTV cameras ever since the March 21 attack that claimed 10 lives at the Birbhum village.
The vigilance by around 200 police personnel, their dedicated camps, visits by sleuths of multiple investigating agencies and raids by the state law enforcers and central forces have made leading a normal life a challenge for Bogtui residents.
Bogtui, which is nestled on the fringe of Rampurhat town, houses around 5,000 people and was one of the 37,000-odd villages of Bengal till the massacre that followed the brutal murder of a Trinamul leader brought the place to the national limelight on March 21.
"We thought the situation would normalise slowly but that did not happen because of the surveillance of several security agencies over the past nine months. The situation has worsened with the recent death of Bara Lalon Sheikh in CBI custody. Who wants to live under such round-the-clock vigil? We don't know when normalcy will return to Bogtui," said Samsuddin Sheikh, a 70-year-old resident of Bogtui.
The security at the village was intensified with the number of police camps going up to two and a few more CCTV cameras installed after the family members of those killed on March 21 expressed insecurity following the death of prime accused Bara Lalon Sheikh in CBI custody on December 12.
The custodial death led to Lalon's wife Reshma Biwi lodging a murder complaint against seven CBI officials. Following the complaint, the CID started a probe and the CID on Friday recorded Reshma's statement. "At present, there are around 40 CCTV cameras covering all possible entries and vulnerable points at Bogtui. An additional police camp has been set up and around 200 police personnel are guarding the area around the clock. Security has been intensified as we do not want any evidence to go missing," a senior police officer said.
Although around 200 Bogtui villagers are linked to unfortunate incidents in the recent past, all residents are facing consequences.
"Bogtui seems to be the most protected area in our state. We feel like we are living in a restricted area along an international border. If we go for a walk at night, we have to face questions. Sometimes cops take our picture assuming us to be a suspect. Do you believe that living in such a restriction is normal?" asked a high school student, who is frustrated and added that the massacre had affected their lives in several ways.
The villagers said their children were well acquainted with details of how the CBI carried out a probe and knew less about cartoon characters, football or cricket players.
"Such prolonged security presence is having an adverse effect on children," a villager said.
The police and CBI officers admitted the presence of security personnel at a Bengal village was unusual but they did not disturb innocent people knowing fully well how sensitive the situation was.
"We have only 100 police personnel per lakh population. Here, we are deploying 200 police personnel per 5,000 people and it is not so easy to arrange the force when there is a paucity of police personnel. We can't take risk of any law and order problem. We will request the resident to bear with us," said a police officer.
A police source said the presence of the law enforcers had to be intensified at the village after family members of carnage victims expressed threats to their lives.
The source added that Lalon's widow Reshma was also likely to seek security for her house.
Not only the villagers but local political leaders also wanted normalcy to return to Bogtui and it vicinity.
"Who wants to live under CCTV surveillance? It is not good to witness CBI raids, murders, and custodial death. All villagers are not involved in crime but such incidents give the place a bad name," said Nazimul Hoque, Trinamul's Bogtui village committee president.
A large number of residents think that covering the entire village with security gadgets and deploying police were not a solution to arresting crimes in an area.
"Such measures can make the government happy and help officials sleep peacefully but the damage it causes to the image of a place will be hard to erase. It is for the villagers to ensure that those involved in criminal activities are isolated. There should be people's pressure to make them shun violent activities," said RajjakAli, a Congress leader and a primary school teacher.