Bogtui carnage: Statements of injured, 4 arrested men recorded
The five accused persons, including Anarul Islam, were taken to the CB's camp office at Panthashree, for the statement recording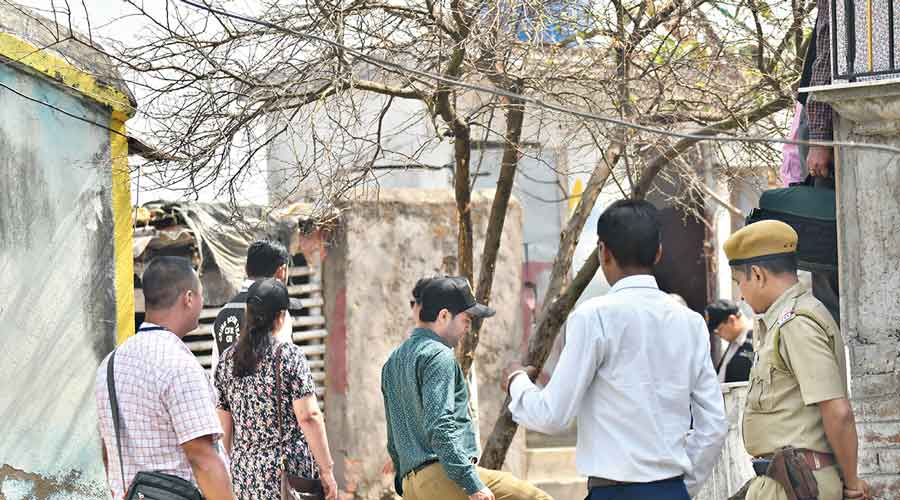 CBI officers at Bogtui on Sunday.
Pritam Das.
---
Rampurhat
|
Published 28.03.22, 03:13 AM
|
---
The CBI on Sunday recorded the statements of five persons arrested in connection with the March 21 massacre at Bogtui village in Birbhum district as well as three women who were in hospital after being injured in the incident.
The five accused persons, including Trinamul Congress block president Anarul Islam, were taken to the CB's camp office at Panthashree, a state government guesthouse on the outskirts of Rampurhat town, for the statement recording.
The interrogation was part of the CBI's process to reconstruct the chain of events at Bogtui on the fateful day and the role each accused played in the incident in which eight people were killed.
Among the five was prime accused Azad Chowdhury, who according to sources, had several interactions with Anarul on the day of the incident.
A source aware of what happened inside the camp office said the sleuths interrogated Azad and Anarul together to know what had transpired between them on March 21 and whether it had any connection with the case.
"The process of recording statements has begun.… All 21 people arrested till now would be interrogated together or separately to know their versions. They would be asked about their locations and activities on the day and the night of the incident. Those answers would be cross-checked," said the source.
Anarul's interrogation continued well past 9pm.
 The CBI officials said all the arrested persons would be in custody at Rampurhat police station but they would be interrogated at the camp office.
A CBI team headed by DIG Akhilesh Singh reached Rampurhat Medical College and Hospital to interrogate three women, who were injured seriously in the raid on Bogtui on March 21 night.
The investigators recorded the versions of Nazima Biwi (40), Atahara Biwi (50) and Gulguli Khatun and asked them how the attackers had come and set their houses on fire. Nazima is in a serious condition as she suffered 60 per cent burns.
The CBI officials apparently wanted to know how their homes had been set on fire and what kind of arms the goons were carrying.
Palash Das, the medical superintendent and vice-principal of the medical college and hospital, confirmed that the CBI officials had interacted with the three victims.
"They (CBI officials) also talked to doctors at the hospitals," said Das.
The sources said the CBI officials wanted to know the nature of the injury to understand the gravity of the attack. They also spoke the doctors to know whether petrol-like inflammable items were used to set the houses on fire.
Two CBI officials and a group of experts from the Central Forensic Science Laboratory visited Bogtui village on Sunday and spoke to some residents. The CFSL team went inside the house of Sona Sheikh where seven charred bodies had been found and collected more evidence.