Blockade over lights during open screening
Sovandeb's loyalists said Roy's supporters were not allowing street lights to be switched off to facilitate the screening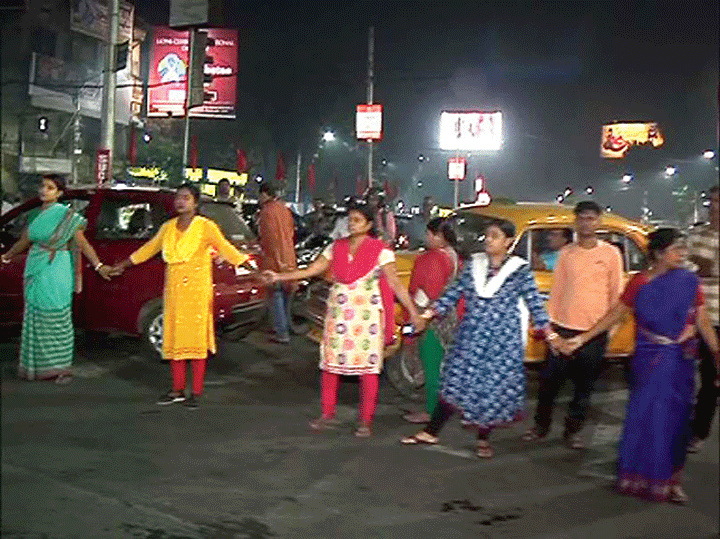 ---
|
Calcutta
|
Published 12.11.19, 09:02 PM
---
Traffic around the Rashbehari Avenue crossing was stalled for half an hour from 9pm on Tuesday after supporters of minister Sovandeb Chattopadhyay set up a roadblock to protest alleged manhandling of their leader by followers of Mala Roy, the Trinamul MP from South Calcutta.
The point of discord was switching off of street lights during the screening of a film in the open near the crossing of Sahanagar Road and Pratapaditya Road, a few metres from the Rashbehari crossing, as part of the Kolkata International Film Festival.
Chattopadhyay loyalists said Roy's supporters were not allowing street lights to be switched off during the screening. Roy's supporters, on the other hand, claimed that the minister's followers were switching off more lights than required.
While Chattopadhyay is the local MLA, Roy represents the area in Parliament.
Police said Chattopadhyay's supporters blocked Rashbehari Avenue for around half an hour from 9pm, stalling traffic to and from the Gariahat crossing. Police said some of the vehicles were diverted through Southern Avenue.
A large number of commuters failed to get any transport after getting off from Metro. Around the same time, a group of supporters of Roy, who is also chairperson of the Calcutta Municipal Corporation, blocked the intersection of SP Mukherjee Road and Abdul Russel Avenue. As a result, north-south traffic was hit, too.
Power minister Chattopadhyay said the film show was being organised as part of the state government's initiative to take this year's film festival to neighbourhoods — "paray paray cinema". The film chosen was Prosenjit-Rituparna Sengupta-starrer Praktan.
"All necessary clearances were taken, including from the civic body, to switch off some street lights during the screening," Chattopadhyay said.
The screening was to start at 6pm. But street lights were not turned off at the scheduled time, alleged some supporters of Chattopadhyay.
"I called up the DG (in charge of the lights department) in the civic body. He said the lights would go off in another 30 minutes.... Soon after the screening began, the lights were switched on again. The lights were being switched on and off for some time," Chattopadhyay said.
"Then Mala Roy's supporters heckled me. Finally, we had to call off the screening," he alleged.
Roy told Metro that people had become angry because the minister's followers had switched off lights across a large area. "No one would have objected had Sovandeb's followers switched off the lights on the stretch where the film was being screened," she said.
"Instead, they switched off lights on stretches of many roads, including SP Mukherjee Road, Rashbehari Avenue and Sri Mohan Lane.... When people protested, his followers manhandled people. What is most unfortunate is that Sovandeb himself pushed and shoved women. Then people got really angry."