Blessing of right at Sonagachhi puja
Some writers, artistes and social workers organised games at the puja on Dashami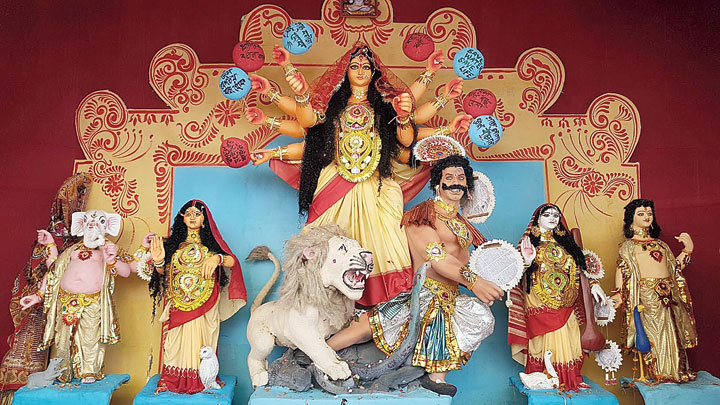 The puja by Durbar Mahila Samanwaya Committee
Telegraph picture
---
Calcutta
|
Published 13.10.19, 08:53 PM
|
---
Sex workers of Sonagachhi now have a puja to call their own.
Durbar Mahila Samanwaya Committee, an organisation that works for the rights of the 65,000 registered sex workers in the state, has been organising the puja at Sonagachhi for the past few years.
"Now that we have our own puja I can offer anjali. Earlier, I didn't have the courage to walk into the pujas of the neighbourhood. What if they humiliated me and threw me out?" said a 50-year-old woman, who moved into the red-light area three decades ago. "I helped with the flowers and bhog, too. No one can ask me to leave. This is my puja."
This year's puja budget was Rs 3 lakh, raised from sponsors, the government's Rs 30,000 allowance for all-women pujas, donations and subscriptions. The organisers managed to set aside money for charity and turn the focus on environment, with Durga's 10 hands holding up eco-friendly messages instead of weapons.
Some writers, artistes and social workers organised games at the puja on Dashami. Most of the participants were over 50; the younger ones were hesitant to join despite assurances.
"I give you my word that no photographs will be clicked. Please feel free to come for games and sindur khela," a man announced repeatedly.
Durbar was set up in 1995 but started organising the puja only in 2013. "It was a tiny affair in our office. In 2016, we decided to scale it up and shift it to the road but everyone ridiculed us and created obstacles," said Bishakha Laskar, president of the group's central committee. "The official reason was that the puja would block the road."
A court battle later, Durbar received a go-ahead to hold the puja on the road two years ago.
"Every puja takes soil from our doorstep to sculpt idols, yet we have never been allowed into these pujas," said Durbar secretary Kajal Bose. "We are women, just like the Durga they worship. Then why ostracise us?"
Change is in the air and there have been invitations to sindur khela from some pujas or to play judge.
"Every aspect of society comes together, as if to make up a body. If one hand suffers, the other hand cannot be at peace. So we must work to ease the pains of sex workers," said writer Sanchita Sengupta, who organised contests like laddoo-making and dhunuchi dance at the puja.
Kakali Ghosh, inspector-in-charge of Baruipur women's police station, joined the celebration "My area has a home for the children of sex workers, so I have developed a personal relation with them."