Black bears stray into localities in Jalpaiguri, claim people of 2 places
While one of the animals was beaten to death by some locals after it killed a boy on Wednesday, the other was darted and rescued by foresters from a village on Saturday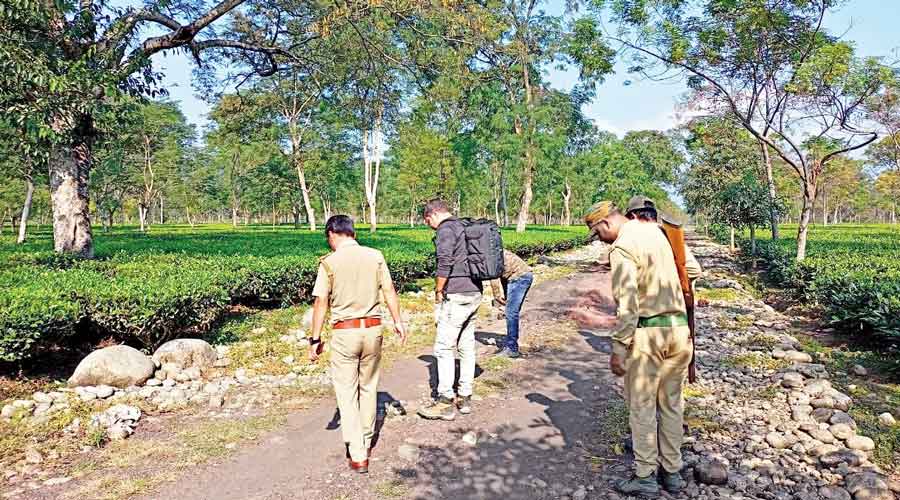 Foresters look for bear's pugmarks in the Soongachi tea garden.
Biplab Basak
---
Jalpaiguri
|
Published 29.11.21, 03:15 AM
|
---
People living at two locations of the Malbazar subdivision in Jalpaiguri district said on Sunday morning that Himalayan black bears had strayed into their areas and were roaming around.
While residents of Soongachi tea estate, on the outskirts of Malbazar town, said they had seen bear's pugmarks in the garden, those living in Masjidpara, a locality in Dhupjhora of the neighbouring Matialli block, echoed them and said they had also seen scratch marks, usually caused by bears, in some trees of the area.
"As we got the information, our quick response team rushed into both the locations and examined the marks. We suspect those to be pugmarks of bears but as other animals, especially cattle, have moved through the area, the pugmarks are not intact. Nevertheless, we are on alert and have also made public announcements in both Soongachi and Masjidpara, urging the residents to be on alert and inform us if they see any bear," said Dipen Subba, the warden of Malbazar wildlife squad of state forest department.
It may be mentioned that in past four days, two Himalayan black bears —– a species that usually lives in upper reaches of Darjeeling, Kalimpong and Sikkim hills and also in forests of the neighbouring state of Bhutan — have been sighted in different areas of Western Dooars (in Malbazar sub-division).
While one of the animals was beaten to death by some locals after the bear attacked a boy which led to his death on Wednesday, the other was darted and rescued by foresters from a village of Nagrakata block on Saturday.
"We are vigilant and do not want the bear to attack the residents. Also, the residents should not resort to attacks as a section of them did last Wednesday which left the bear dead," Rajendra Jakhar, the chief conservator of forests (north), said.
As the foresters visited both sides, they asked the residents to act safely and keep children and seniors under watch.
"None of these children and elderly persons should move alone in their places. We are trying to get confirmation about the pugmarks and pulling all stops to ensure peoples' safety," the forest officer said.
According to him, it is unusual that instead of going into hibernation, these animals are descending to Dooars. 
"We need to find out whether this is a new trend among the bears. Also, the bear that was rescued yesterday, was released in the Neora Valley National Park (in Kalimpong district) on Saturday morning," Jakhar said.