Sukanta Majumdar green-lights BJP's Durga Puja this year
It will be held at the Union government's Eastern Zonal Cultural Complex in Salt Lake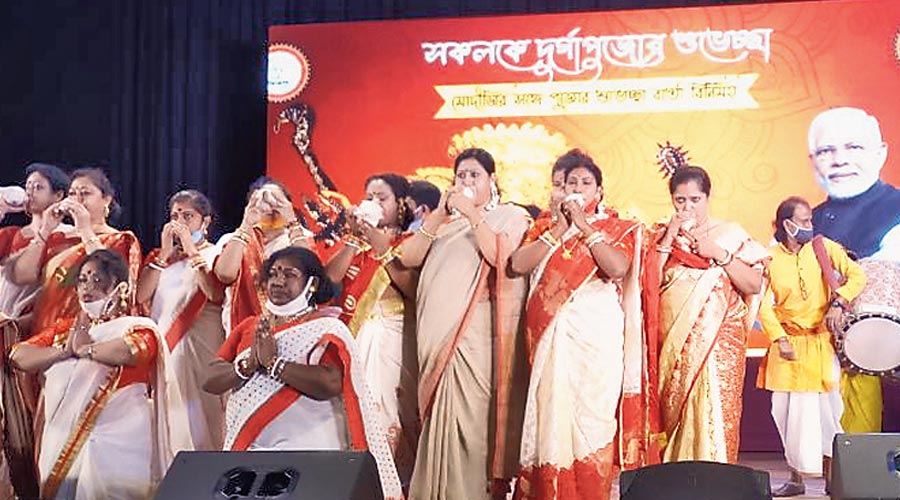 ---
Calcutta
|
Published 05.10.21, 02:18 AM
|
---
The BJP has decided after much deliberation to organise Durga Puja this year with the move being seen as one of the first signs of the party's new Bengal president Sukanta Majumdar changing his predecessor Dilip Ghosh's decision.
"The party will hold Durga Puja this year. Sukantada has agreed to our proposal," a BJP youth wing leader told The Telegraph on Monday.
The Puja — like last year — will be held at the Union government's Eastern Zonal Cultural Complex in Salt Lake near Calcutta.
Majumdar is said to have put his strength behind the pro-Puja lobby in the BJP even though Ghosh had categorically rejected the idea saying "it isn't a political party's job to organise a Puja".
Ghosh and the lobby led by him had vehemently opposed the idea of the BJP organising a Durga Puja last year as well. However, the Puja happened anyway under the patronage of the party's minder for Bengal Kailash Vijayvargiya.
In August, the state youth and women's wings of the BJP had approached Ghosh yet again seeking permission to organise Puja. Sources said Ghosh had clearly stated his disagreement with the plan.
Although state BJP functionaries had publicly said over the past few weeks that the idea was still being considered, sources in the party had confirmed that the likes of Ghosh had rejected the proposal.
However, in the evening of October 2 when BJP leaders, including Ghosh and Majumdar, met, the state chief had sought the opinion of others on organising the Puja, a source said. The source added that the state youth wing chief and Bishnupur MP Saumitra Khan had pressed on the "inevitability" of organising the Puja this year as well.
"Saumitrada told Sukantada that we should be serious about Durga Puja since our scriptures mandate one to hold any Puja consecutively for four years once it is started," the source said. Later, Majumdar gave his consent to the puja.
The leaders considered close to Ghosh are, however, still unhappy with the decision. They said the very idea of a political party organising a Puja was flawed at multiple levels.
"Political leaders get an opportunity to connect with local people at these social events. That can be done in several ways. How does it help if the party is busy with its own Puja which will not have any public participation?" a BJP leader asked.
The leader added that even if last year's Puja was considered as a political event — since it was done with an eye on the Bengal Assembly polls — organising the Puja again this year was pointless.
However, these reservations about Puja will remain unheard since the centre of power within the party has shifted and Majumdar is clearly trying to come out of Ghosh's shadow.