BJP parleys to minimise impact of Arjun Singh's switch
BJP leadership didn't waste any time and called a meeting within 24 hours of the Barrackpore MP returning to Trinamul Congress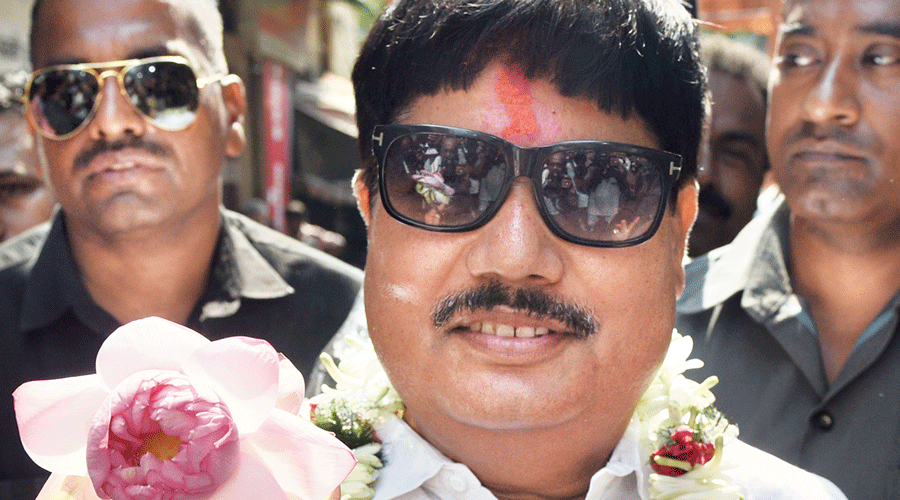 ---
Calcutta
|
Published 24.05.22, 01:51 AM
|
---
BJP leaders went into an unscheduled huddle on Monday to assess the possible impact of MP Arjun Singh's return to the Trinamul Congress on the BJP's organisation in Bengal, especially in Barrackpore.
Unlike in the past, the BJP leadership didn't waste any time and called a meeting within 24 hours of the Barrackpore MP returning to Trinamul.
Monday's meeting was presided over by state BJP chief Sukanta Majumdar, Opposition leader Suvendu Adhikari, party's co-minder for Bengal Amit Malviya and state general secretary (organisation) Amitava Chakraborty. Dilip Ghosh, the national vice-president of the party, took part in the meeting virtually from Delhi.
According to sources, a series of meetings with each district unit of the BJP had been prescheduled. But it was decided on Sunday that the series of meetings would kick-off with office-bearers from Barrackpore organisational district. "We had been informed about these meetings three days back, but it was only last night that we were told that ours would be the first," a Barrackpore BJP leader said on Monday.
Although BJP leaders tried to put up a brave face on Monday claiming Singh's defection would have little impact on the Barrackpore organisational district, it was decided that Adhikari would hold a meeting with district leaders on May 25 to take stock of the organisation. The meeting will be followed by another one by Majumdar on May 27. Both these leaders will be visiting the district on several occasions in the near future.
"Suvenduda will hold an organisational meeting on May 25. He is going to meet party workers," Sandip Banerjee, BJP's Barrackpore district chief, said. He also said Majumdar's meeting was yet to be finalised.
Asked whether people close to Singh — who are still members of the Barrackpore district committee of the BJP — would be a problem for the party after the MP's defection, Banerjee said: "Everyone who is a member of the BJP is a BJP worker. There are no associates of Arjun Singh. We will see how to go forward."
Singh is said to have placed a number of his own associates at important positions in the Barrackpore district committee. The BJP leadership is wary whether those leaders will follow him into Trinamul soon. Hence, the first task at hand for the BJP is to ensure that further desertions don't create much impact. Sources said following Adhikari's meeting in Barrackpore, there would be an overhaul of the district committee.
A tweet by BJP's national secretary Anupam Hazra led to further embarrassment for the party. Hazra, a former MP, on Monday morning tweeted that the BJP must admit that defections were hurting the party. He said the party's "nothing-will-happen" response to defections had only harmed the organisation.
"There is no point in discarding the reality, because at a time when it has become difficult to win a councillor seat, if someone of much higher authority quits the party it is a loss for the party," Hazra tweeted.