BJP marches to Lalbazar and avoids conflict with police
Thousands of police personnel were deployed in central Calcutta to prevent any untoward incident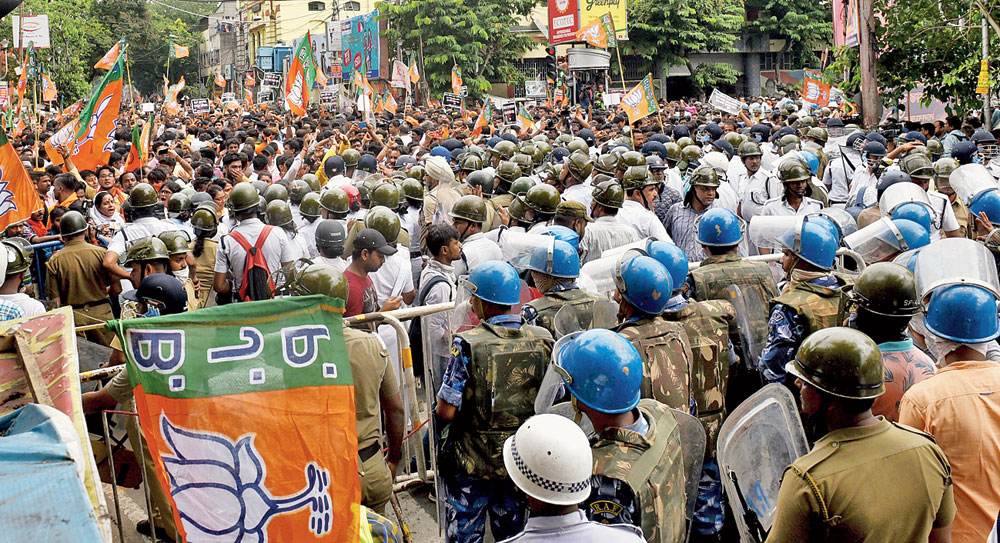 ---
|
Calcutta
|
Published 12.06.19, 07:51 PM
---
The BJP's march to Lalbazar ended in less than two hours on Wednesday amid conflicting interpretations on whether the saffron camp had enough fire power or Bengal's main Opposition party decided to call it off as part of a strategy.
Thousands of police personnel were deployed in central Calcutta to prevent any untoward incident during the march to protest against the post-poll violence. Though the police baton charged some unruly BJP supporters and used water canons and tear gas shells to disperse the crowd, the march ended without any major disruption or violence.
"We did not want to push things beyond a point. The idea behind the decision was to send out a message to the government that if the party wanted, it could have probably brought life to a halt in Calcutta on a day when doctors were agitating across medical colleges," said a senior state BJP leader.
The estimate of turnout varied. While the BJP leaders claimed more than 50,000 people had joined the show of strength rally, police sources put the number at 7,000 to 8,000. "Still, the number was enough to create chaos, which they didn't," said a police source.
Some in the BJP said the show ended in a whimper and it was not good for the image of the party that had emerged as the main Opposition force in Bengal.
The march had some of the newly elected BJP MPs walking down with supporters chanting 'Jai Sri Ram'.
"We feel sorry at the plight of some police officers. They are good. But they are being forced to make adjustments," said state BJP president Dilip Ghosh.
"After what happened in Sandeshkhali and junior doctors continuing with their agitation, this government will not last long. Don't worry. We will be there," he added.
The message from a loudhailer wasn't lost even as thousands of party supporters continued battling teargas and a water-jet attack at the intersection of B.B. Ganguly Street and Central Avenue on a sultry afternoon. Clearly, the BJP was trying to reach out to a section of disgruntled bureaucrats.
Around 1.40pm, nearly half an hour after the procession began, a section of BJP supporters tried breaking through the first-line of defence on way to Lalbazar near Phears Lane. The police pulled on the water jets from vans and lobbed teargas shells. They announced that all in the rally were arrested and released at the spot unconditionally.
"Mamata Banerjee might have lost her mind totally. Otherwise, without any provocation from our end, how could her police attack us with water cannon, tear gas and lathi-charge a peaceful protest rally with senior BJP leadership in the front? It is a shameful act in democracy," said BJP's Bengal minder and national general secretary Kailash Vijayvargiya.
He, along with Dilip Ghosh, Rahul Sinha, Mukul Roy, Sayantan Basu, Locket Chatterjee and S.S. Ahluwalia sat on the B.B. Ganguly Street and C. R. Avenue crossing during the procession.
Later, Ghosh told a news conference at the state BJP headquarters: "Mamata is scared and fearing the growth of the BJP in Bengal. Her government has lost confidence and control over everything. Her police attacked a peaceful protest march. Despite provocations, we had shown patience as a responsible political party. But I want to tell the police and the state administration to show restraint. Otherwise, our future political rallies might not be peaceful."
By 3pm, vehicles started moving along BB Ganguly and Central Avenue. Lalbazar, too, heaved a sigh of relief.
According to BJP sources, around 10 workers and state general secretary Raju Banerjee were admitted to a city hospital for treatment.