BJP doesn't need Binay Tamang: Darjeeling MP
Union minister of state Ahluwalia said Tamang has joined hands with TMC and wouldn't be essential to BJP for the 2019 elections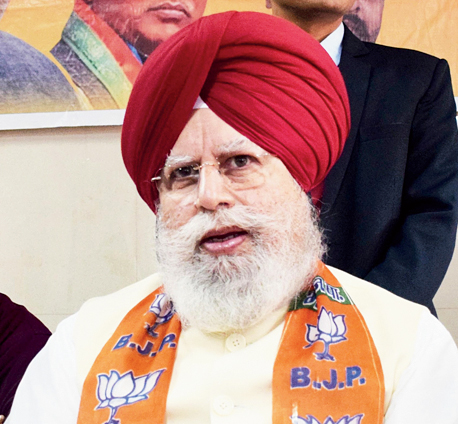 ---
|
Siliguri
|
Published 25.11.18, 07:45 PM
---
Darjeeling MP and Union minister of state S.S. Ahluwalia on Sunday said the BJP did not need the support of the Binay Tamang faction of the Gorkha Janmukti Morcha for the coming Lok Sabha polls and claimed that Bimal Gurung still had supporters in the hills.
Even during the third visit of the MP to his constituency after the shutdown last year, he didn't go to the hills. Ahluwalia left for Delhi on Sunday evening after spending four days here.
"Binay Tamang is nothing but an individual and I don't need his support (for the elections). He is with Mamata Banerjee and as of now, there is no one else in the hills other than him and state police. But sentiments of the hill residents are still with Bimal Gurung. If he (Tamang) claims himself to be the son of the soil, he should contest the polls," said the MP.
Ahluwalia was speaking on the sidelines of a BJP meeting held here to make preparations for a rath yatra that the party has planned next month in Bengal.
Tamang, the Morcha chief, has lashed out at the MP and challenged him to contest again from Darjeeling.
"He (Ahluwalia) should come here again as an official candidate of the BJP in 2019. We will prove whether Bimal Gurung is popular or us. I will take my decision on the contest when he or some other leader higher in rank than him in the BJP decides to fight the polls. This is my challenge. Not only in Darjeeling, but we will defeat them in Alipurduar and Jalpaiguri also," said Tamang.
Political observers said the BJP MP's statement that Tamang had a close relation with Trinamul and the Bengal government had put Trinamul in an advantage.
"Tamang is enjoying the support of the state government and is also the chief of the board of administrators to run the GTA. He is the most prominent political face in the hills now while Bimal Gurung and his associates are away from public life. The MP's statement works to the advantage of Trinamul," said an observer.
Ahluwalia's assertions have not gone down well with a section of BJP leaders, said party insiders. "There is no point in speaking for Gurung. This can antagonise our supporters in other parts of Bengal and would create space for Trinamul to raise fingers at us," said a BJP insider.
Additional reporting by Vivek Chhetri in Darjeeling