BJP acid test in Dinhata bypoll
Last victory margin was a mere 57 votes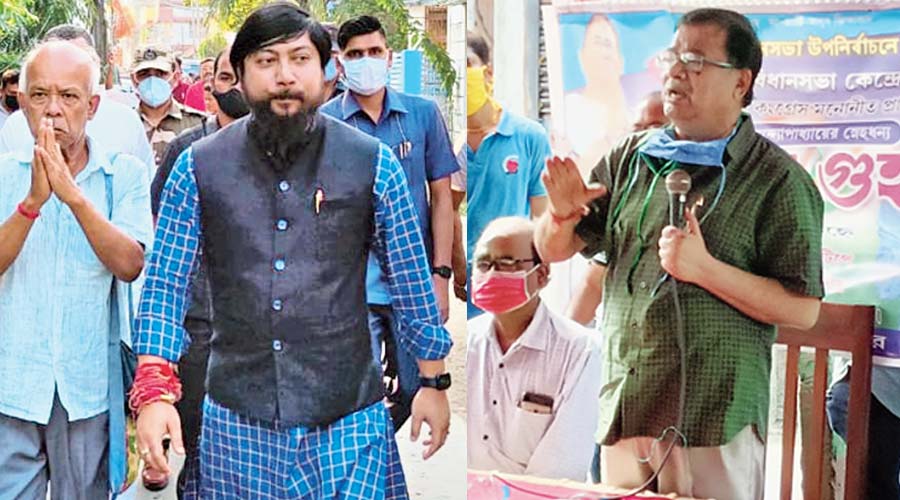 BJP's Dinhata bypoll candidate Ashok Mondal (with folded hands) and Nisith Pramanik (in blue), and his Trinamul rival Udayan Guha (right) on campaign trail.
Main Uddin Chisti
---
Cooch Behar
|
Published 28.10.21, 02:21 AM
|
---
The Dinhata bypoll on October 30 is an acid test for the saffron camp in Cooch Behar.
At the Assembly elections this year, the BJP had fielded Nisith Pramanik, its Cooch Behar MP, from the seat. Pramanik managed to topple Udayan Guha, the Trinamul candidate and then sitting MLA, by a wafer-thin margin of 57 votes.
The seat became vacant as the BJP asked Pramanik to continue as MP. 
An observer said that the slender victory margin a few months ago made this Dinhata bypoll crucial for the BJP, although Cooch Behar district as a whole was a BJP stronghold. "In 2019, the BJP was ahead of Trinamul by 15,539 votes in the Dinhata Assembly segment, but in the state polls this year, the BJP won by 57 votes in this seat," he said.
Cooch Behar voters elected Pramanik as MP in 2019 and seven BJP MLAs of nine in the district this year.
Trinamul in Cooch Behar is beset with infighting. Observers, however, pointed out that in Dinhata, Trinamul leaders had tried to revive their support base.
A senior functionary of BJP admitted Dinhata was important for them as it is the stronghold of Pramanik, now Union minister of state.
For the bypoll, BJP has fielded Ashok Mondal, a former Trinamul MLA who  defected to the saffron camp. Trinamul fielded Guha again. Abdur Rauf of Forward Bloc is also in the fray.
The BJP is trying to play the polarisation card, with its leaders referring to the violence in Bangladesh.
Trinamul is underscoring the recent notification of the Union home ministry that has extended jurisdiction of the BSF from 15km to 50km inside Indian territory from the international border.
"Dinhata is close to the India-Bangladesh border and both these parties are playing their own cards," said an observer.
Both Guha and Mondal are confident of victory.
"People of Dinhata elected an MLA (Pramanik) who shunned them. They will not vote for the BJP," said Guha.
Mondal said if people are "allowed" to vote, the BJP will win. "Trinamul is trying to intimidate voters. If people vote fearlessly, Trinamul can never win in Dinhata," he said.