Survivors recount details of Bogtui massacre and their escape
Mihilal Sheikh along with his elder brother Banirul walked 16-km to get away from killers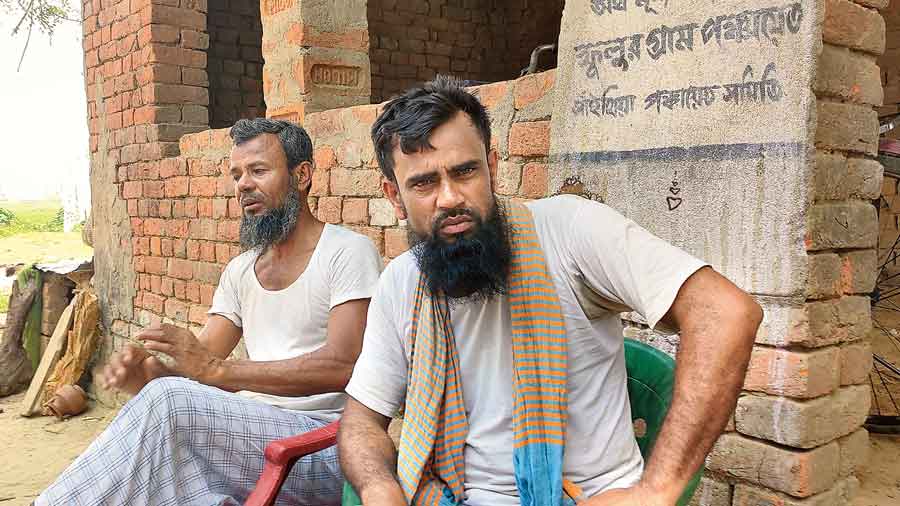 Mihilal Sheikh (right) and his brother Banirul at Gopaljal village near Sainthia on Wednesday.
Picture by Amarnath Dutta
---
Bolpur(Birbhum)
|
Published 24.03.22, 12:56 AM
|
---
Mihilal Sheikh, 40, had to run at least 12km through paddy fields, along with his elder brother Banirul, after their homes were set ablaze at Bogtui near Rampurhat in Birbhum district on Monday night.
Mihilal, a grocer, lost eight family members, including his wife, eight-year-old daughter and mother, in the carnage. The siblings took refuge at the home of Mihilal's in-laws at Gopaljal village near Sainthia, 36km away from Bogtui, on Tuesday night.
Mihilal and Banirul had run 10km to reach a relative's house at Margram and then walked 6km to Bishnupur. Finally, they took a battery-rickshaw to reach Murshidabad's Sherpur, from where they travelled to Gopaljal by bus.
Speaking to The Telegraph, Mihilal recounted the events he had witnessed on Monday night and dismissed the offer of assistance from the Trinamul Congress, saying he had "lost faith" in police and would back whichever party that brought the CBI to investigate the killings.
The eight deceased are: Sheli Bibi, 32 (Mihilal's wife), Tuli Khatun, 7 (his daughter), Nurnehar Bibi (his mother who Mihilal claimed was a 75-year-old widow), Rupali Bibi, 44 (his elder sister), Jahanara Bibi, 38 (his sister-in-law), Lili Khatun, 18 (his niece), Kazi Sajidur Rahman, 22, (Lili's husband) and Mina Bibi, 40 (Mihilal's sister-in-law).
Barring Mina, the other seven were attacked when they took shelter at the home of one Sona Sheikh to escape from a killer squad.
"We had never imagined that such a tragedy would strike me and my family members would lose their lives suddenly. We were just doing ordinary things on Monday night, chatting and watching TV. The children were studying," Mihilal said on Wednesday.
"We heard that Bhadu Sheikh had been killed and within half an hour, at least 100 miscreants swooped on our house.... Bombs were hurled indiscriminately and suddenly, the area was engulfed in smoke and screams of many people rent the air. Sona Sheikh's house was concrete so I sent all my family members there for hiding and locked the grille from inside. But soon after, the goons broke open the grille with a gas cutter and entered the house," he added.
The grocer said the gang had ridden into Bogtui on motorbikes. "They targeted victims individually, setting their bodies on fire afterward. Banirul and I leapt out and made our way through paddy fields."
Altogether, eight houses were set afire by the criminals. Mina's body was found at a different house.
According to the trader, his brother Anai's two grandchildren were at the same house where Mina took shelter and they are missing. The siblings are Akash Sheikh, 7 and Surjya Sheikh, 8, whose parents died three years ago. "We suspect their bodies have been concealed," he said.
"The assailants showed no mercy to even women or children," he added.
Mihilal alleged that police were "mum spectators" to the entire incident and fire brigade had been held back at the order of a block-level Trinamul leader Anarul Sheikh.
"Authorities reached the scene only yesterday morning," he said.
According to Mihilal, Bhadu Sheikh, the deputy chief of the Trinamul-run local gram panchayat, was a "known extortionist" with strong links to the police and block-level party leader Anarul, who has been named as the prime accused in the Bogtui carnage.
"Anarul ordered the police not to enter Bogtui and to stay on the perimeter," claimed Mihilal.
Asked to comment on Mihilal's allegation, Anarul said the charges were hurled to malign the ruling party's image and the Bogtui massacre was "orchestrated by the killers of Bhadu themselves".
Mihilal, Banirul and two other survivors of the massacre are currently at Gopaljal in the Sainthia police district. They were reportedly offered large amounts of money by Trinamul "agents".
"But I cannot take money…. I have lost my entire family," says Mihilal.
Saber Ali Khan, the Sainthia block president of Trinamul, also talked to the survivors.
Mihilal and Banirul said they hadn't been contacted regarding the bodies of their loved ones. The eight deceased persons were buried at Bogtui on Tuesday night.
"We wanted to give them a proper burial," said Mihilal.
"We had always been with Trinamul. We no longer support the party. We will cooperate with whichever party that brings in the CBI for the probe at the earliest," said Mihilal, who wanted capital punishment for all accused people.
TMC worker shot at
A 43-year-old Trinamul Congress activist was shot at by unidentified persons while he was walking home at a village near Hanshkhali in Nadia district on Wednesday night.
Sahadeb Mondal, who was shot at from the close range, has been admitted to the NRS Medical College and Hospital in Calcutta in a critical condition.
Sources said the assailants had fired at Mondal, whose wife Anima is a member of the local gram panchayat, at Bogula-Muragacha village around 9pm. One of the bullets hit the back of Mondal's head.
Local Trinamul leaders blamed the BJP for the attack. But the BJP has denied the charge. A large police team was deployed in the area.