Binay camp takes on BJP with wish list
The demands, which resemble the party's manifesto for Bengal 2021 elections, surprised many with their stress on issues to be decided by the Centre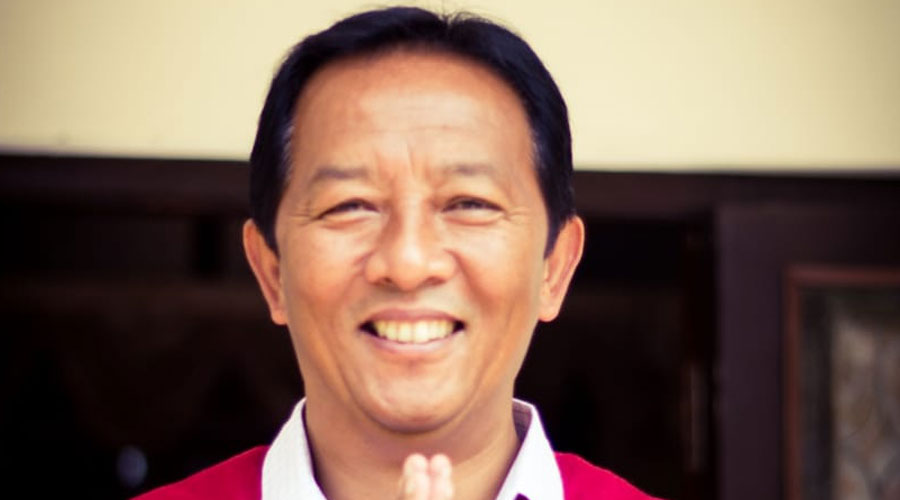 Binay Tamang
File picture
---
Siliguri
|
Published 26.08.20, 01:22 AM
|
---
The Binay Tamang camp of the Gorkha Janmukti Morcha has placed demands before the state, the Centre and the Election Commission that observers believe is an attempt to take on the BJP.
The demands, which resemble the party's manifesto for Bengal 2021 elections, surprised many with their stress on issues to be decided by the Centre.
The Binay camp, an ally of Trinamul Congress, is at loggerheads with the BJP. It is unlikely that the Centre would warm up to Binay Tamang's demands before Bengal polls.
"The Binay camp is trying to turn the tables on the BJP that is raising hill issues," said a political observer in the hills.
The Binay camp had made the demand for land rights for tea and cinchona plantation workers its major issue during the 2019 Darjeeling Assembly bypoll, which Binay lost to BJP's Niraj Zimba. But the camp wants to raise this issue louder before state elections, as over 70 per cent of hill people do not have land rights.
But the BJP is also raising the land rights issue, loudly.
On August 22, the BJP's Darjeeling MP Raju Bista issued a statement, "ministry of tribal affairs will be working with the ministry of environment forest and climate change to ensure that all pending praja patta (land rights) issues related to forest dwellers are resolved at the earliest."
On August 14, Bista made public a letter by the ministry of rural development to Bengal's land and land reforms department principal secretary, directing the state "to take appropriate action (need to give land ownership rights) …and to reply to Hon'ble MP directly…"
Binay Tamang said the demands were chalked out during a recent central committee meeting. "We will work on them through the year, we've started working for land rights to forest dwellers," he said. Party insiders believe they may be able to put pressure on the BJP with demands such as scrapping of Article VII of
the India-Nepal friendship treaty which allows free movement of citizens of both countries, and for inclusion of Gorkhaland Territorial Administration in the ministry of development of north eastern region.
Indian Gorkhas believe that the free movement clause in the India-Nepal friendship treaty has blurred their identity with Nepal citizens.
Arrest
Kiran B.K., president, Gorkhaland Sanyukta Sangharsh Samiti (GSSS) , a group advocating the demand for Gorkhaland, was arrested from Chowrasta, Darjeeling while organising a blood donation camp to observe "Balidan Diwas" (martyrs' day) on Tuesday. Balidan Diwas marks the hanging of Gorkha freedom fighter Durga Malla by the British. Police said no permission was sought for the event. All mass events are banned amid the Covid-19 pandemic. "He also had some warrants pending against him and we are trying to find out if he got bails in these cases," said a cop.